How to Book / Payment Method
For advance booking, please deposit the 25% amount of the Tour cost to process the booking and balance will adjust during the tour.For your convenience we have multiple channels through which payment can be made. Payment can be made by credit card through an online secure gateway, By Cash / Cheque / Demand Draft/ money transfer (RTGS & NEFT) pay pal or via bank transfer.
Payments : All payments are to be paid in behalf of Gujarat Expert .
Cash Deposit ATM / Debit Card / Net Banking 24 X 7 Hours Payment Gateway
1- By Cash Deposit:-
Account Name :-
Account No. : -
Bank Name : -
Account Type :-
RTGS/NEFT IFSC Code :-
Branch :-
You can walk into any branch of SBI Bank & deposit the cash on below A/c.
Gujarat Expert
211005005164
ICICI Bank Limited
Current
ICIC0002110.
AMBAR TALKIES ROAD, KANKIYA PLOT, JETPUR - 360370, RAJKOT DIST., GUJARAT
GST Details
Company Name :-
GST Number : -
Address : -

Gujarat Expert
24AHYPV4995Q1ZP
Fulwadi Station Road,Jetpur , Rajkot , Gujarat , India
By Google Pay :
No Charges.
We support online secure payment provided by Google (Details of Google Security center).
Using Google Pay secure online payment
Please Scan QR code For payment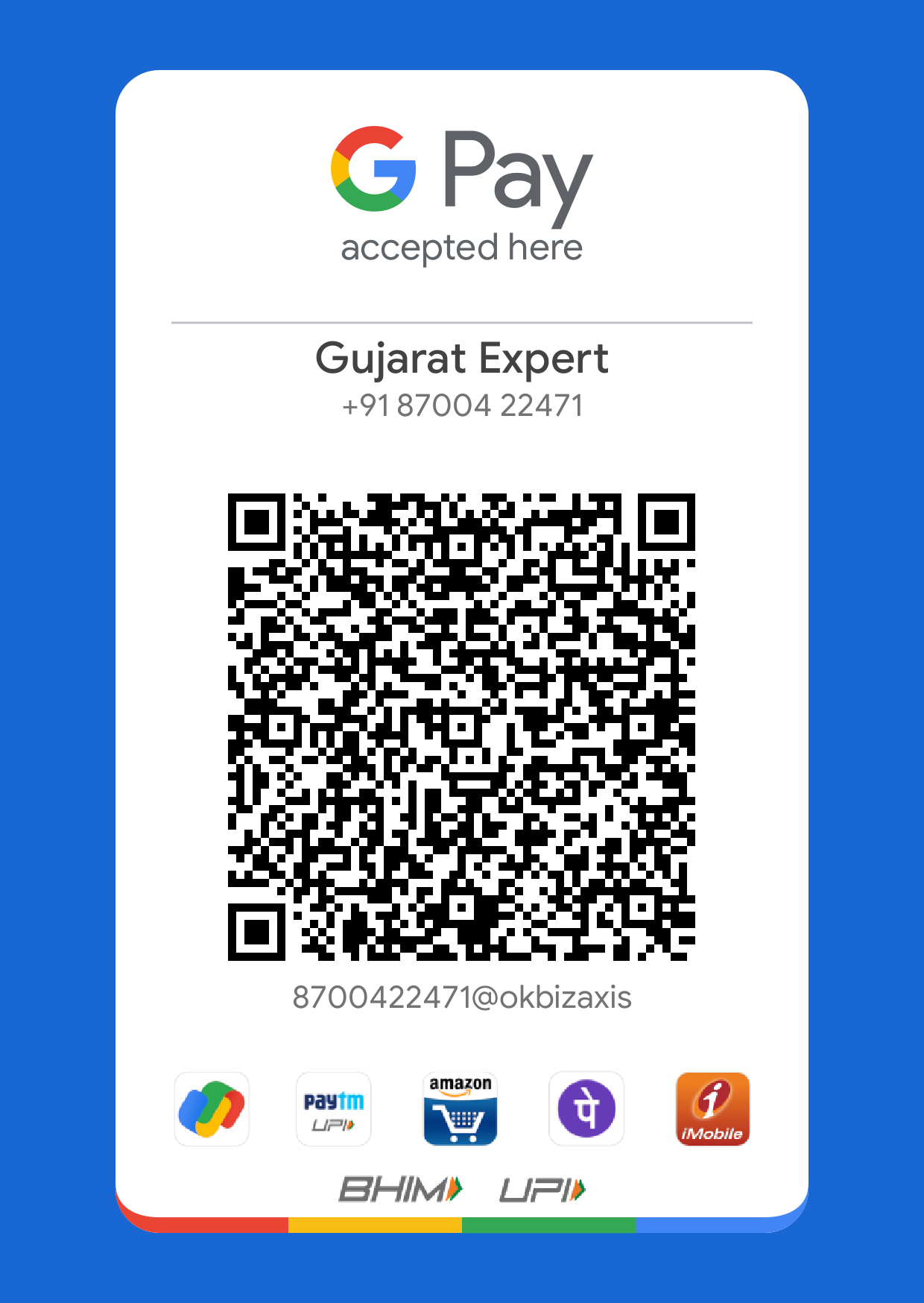 3- By ATM / Debit Card / Net Banking :-
Using Secure Online Payment Gateway Please Click We accept all ATM / Debit Cards / Credit Cards

Note:In case of payment through Credit card and Wallet, Please add 3% Bank charges to the total amount payable while transferring the amount.

Note: In case of payment through Net banking, Please add 2% Bank charges to the total amount payable while transferring the amount