Dwarka, a city situated on the seashore of Arabian Sea is a perfect place which one can visit as a pilgrimage or a place to chill out. The city is studded with many beaches like Tithal Beach, Nargol Beach, Dwarka Beach, Dwarka Lighthouse but Dwarka Beach is one of the best beaches in Gujarat which is a perfect spot for every age people either it is senior citizens, young age people or teenagers. It is located near to many temples in Dwarka like Dwarkadhish Temple, Gopal Krishna Temple etc. Tourists can enjoy the eye-catching view of sunset and can do swimming to make their day special. As compared to other beaches in Gujarat, Dwarka beach is the most crowded one as the sea along which the beach is located contains clean water and its unique and beautiful sandy view mesmerizes tourists a lot. Local fauna and some species of aquatic animals like Dolphins, octopus, starfish etc are the other attractive elements of the place.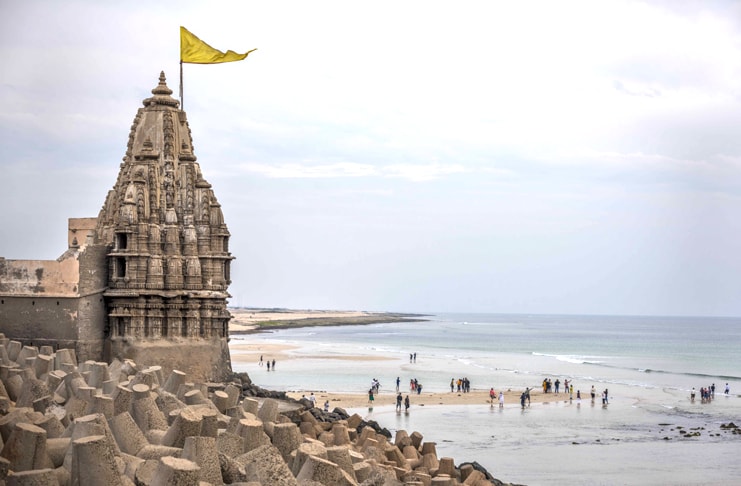 Nearby Places to Visit
Beyt Dwarka: An island which is not so big but still holds a great place in Gujarat excursions. Tourists can enjoy camping, marine expedition, can organize a picnic and even can do the philosophy of god. One can reach to the temple by sailing through a boat after reaching the railway station.
Gopi Talab: it is a pond in Dwarka with which many spiritual stories are related like last time Rasa Lila of Lord Krishna with Gopis and some more stories are there. There are many temples connected to this pond.
Dwarka Lighthouse: Dating back to early 19th century this lighthouse was established at Rupen Creek and worked as a lighthouse whose maintenance was highly appreciated by many people and now serves as a major tourist destination.
Dwarkadhish Temple: The holy temple is dedicated to Lord Krishna and has 2 doors i.e. Swarga Dwar which serves as an entrance and the other one is Moksh Dwar which serves as an exit door. The structure of this temple is unique which serves as an attraction to tourists.
Somnath Temple: The temple is dedicated to 2 lords Lord Mahadev and Lord Krishna. The story of the temple has been mentioned in the holy scriptures of Hindu "Rig Veda". The temple has been renovated seven times to get the originality.
Samudra Narayan Temple: The temple is situated on the Gomati River Ghat which is quite near to Dwarkadhish Temple. Inside the temple premises, one can find 5 wells behind which there is a belief that it contains sweet water.
Accessibility to This Place
By Air: The nearest Airport to reach Dwarka is Porbandar Airport which is 98km from Dwarka.
By Road: Gujarat is well developed in road transport so it is easy to connect from any city.
By Rail: there is a particular Dwarka Railway Station which is connected through many cities in Gujarat.
Note: If you are opting for a private cab or an auto then it is advisable to fix the rate before hiring as afterwards it may create a chaos.
Best Time to Visit
Though one can visit Dwarka (Gujarat) any time throughout the year but still winter is the best time to approach towards Dwarka as the weather is quite pleasant at that time and the tourists would not fill tired by doing sightseeing or outdoor activities. During summer the temperature goes very high resulting in the warm temperature which doesn't allow a tourist to enjoy much especially during the outdoor activities.
Accommodation
If you are planning a trip to Gujarat then you need to be tension free about the accommodation because it is very easy to find a perfect place to stay in Dwarka. There are many hotels which provide the best services to you as per your budget.