Depending on how you choose to handle the experience, traveling can be either rewarding or taxing.  There aren't exactly any strict travel rules you should adhere to, but if you follow these 10 Commandments of Travel you're much more likely to enjoy your trip and handle all the ups and downs that come along with traveling.
I: THOU SHALL NOT BE CLOSE-MINDED
Not everything is going to be the same as it is at home, but that's why you're traveling right?  It's natural to experience some culture shock, especially when traveling to a place that is far different from what you're used to.
Do not travel with certain expectations and stereotypes.  Keep an open mind and don't compare everything to what is familiar at home.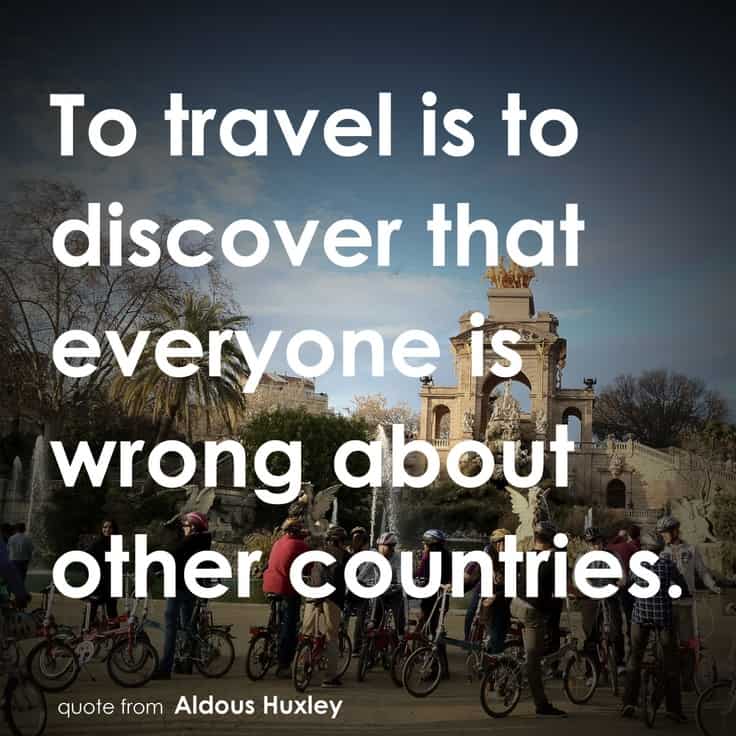 II: THOU SHALL NOT FEAR LAST MINUTE GETAWAYS
Planning a trip in advance can help you save money and be better prepared.  Last minute getaways, though, can be exciting and sometimes even more affordable.
If you find yourself with some extra free time, look into booking a quick three day getaway.  Airlines may be scrambling to fill empty seats and you could save hundreds of dollars by taking advantage of this.
III: THOU SHALL NOT CLIMB TO THE TOP OF THE EIFFEL TOWER JUST BECAUSE EVERYONE ELSE IS DOING IT
Nothing is wrong with visiting the most famous landmarks, even if they are considered strictly tourist attractions.  But make sure you visit the leaning tower of Pisa because you want to, not because some guidebook tells you to.
Don't fall into the 'everyone does it' mentality and beat yourself up for not doing a 'must do'.  If you'd rather skip the line at the Eiffel Tower there's no reason to feel like you're missing out.
Life is too short to eat crappy food!
IV: THOU SHALL NOT EAT MCDONALD'S
I have never understood why one would travel half way around the world only to end up eating their lunch at McDonald's (or some other fast food joint).  Life is too short to eat crappy food!
Eating local delicacies and dining in non-touristy restaurants is all part of the experience when traveling.  Don't deny yourself of this.
V: THOU SHALL LEARN THE LANGUAGE
You don't need to be fluent in the language of the country you're visiting, but you do need to learn how to communicate basic phrases.
"Thank you", "Please", "Do you know…", "How do I…", "How much…", and "Where is…" are all vital phrases you should be able to say to locals.  Even if they understand English, it's respectful to at least try and communicate in their language.
VI: THOU SHALL PUT DOWN THE CAMERA ONCE IN AWHILE
It's natural to want to take a lot of photos to show your friends and family where you were.  Photos are some of the best souvenirs.  But if you spend your entire trip looking through the camera lens, how can you truly appreciate the moment?
You can make memories without getting the perfect shot.  Take some photos, but don't be afraid to put the camera away and soak up the experience sans DSLR.
VII: THOU SHALL NOT STICK TO A SCHEDULE
Remember how dad would rush you, your brothers, sisters, and mom along from one tourist attraction to the next, all while saying, "We're making great time!"
Don't be that person.
Of course you need to be on time for flights and trains.  But if you force yourself to stick to a scheduled itinerary you'll lose the feeling of freedom you left home for.  If you're afraid you'll miss something, go back and read the third commandment again.
VIII: THOU SHALL KNOW THE CUSTOMS
This goes along with learning the language.  If you want to be a good traveler, you need to know and respect the local customs.  Most locals will understand you're a tourist and forgive you if you make a flub, but once they correct you apologize and follow their suggestions.
IX: THOU SHALL BE PATIENT
No matter how much you plan, something will inevitably go wrong.  From missed connections to overbooked hotels, there are things you simply cannot control.  Take a deep breath and remind yourself how fortunate you are to be traveling at all.  It will all work out eventually.
X: THOU SHALL BE CONSIDERATE OF OTHERS
Squeezing into a jet with hundreds of strangers is definitely one of the most uncomfortable parts of traveling.  Often the best flights are ones when all the passengers seem to ban together to be considerate of others in order to endure the 19 hours in air.
No matter how grouchy you are, be considerate of others.  Don't hog the armrest.  Don't leave your window shade open when the person beside you is clearly trying to get some sleep.  Don't take off your shoes and socks and proceed to prop your feet up on the seat in front of you.  Don't eat a triple bean burrito before a long flight.