We had gone to Gandhinagar –Gujarat, recently for some work last month. After completing the work, we still had a day off as the weekend was nearing.  Our relative, at whose place we were staying at suggested that we stay one more day and visit some nearby tourist places. His suggestion was quickly approved and everyone got into deciding where to go. After much discussion and debate, we finally zeroed in 2 places- Science city and Sarkhej Roza. We decided to visit these places in day time and afternoon.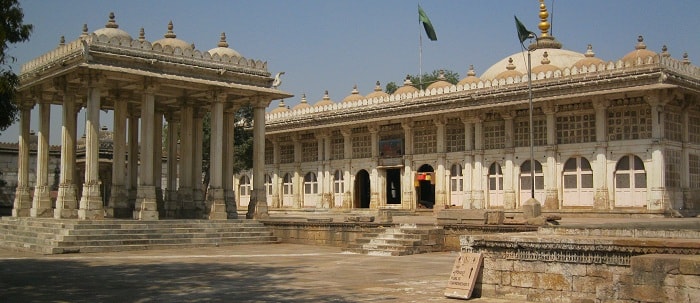 We all were in a group of about 12 people including 4 children. It was decided that Sarkhej Roza be visited in morning time and science city after lunch. As is the unsaid culture in our home, the children were urged to search about the place they were going to visit in the morning. They quickly opened their laptops and began searching about the place.
The next day, after a good breakfast, we hoped into our shining Innova car and started our journey towards Sarkhej Roza. The time was nearing 9 am and the early morning had just opened up with birds and animals coming out in the open to have a sunbath and people going about in their daily chores.
In the car, we asked the children to tell us about the history of the place-Sarkhej Roza and they came up with this one by one. Each had to speak for 5 minutes- an exercise in storytelling.
History of Sarkhej Roza
Sarkhej Roza is a mosque which is one of the very oldest and longest near/in Ahmadabad. The construction was started by Sultan Ahmed shah who built the Ahmadabad city. In his time, Sarkhej was a small village located near Ahmedabad. The place got connected with the name of a Sufi saint 'Shaikh Ahmed Khattu Ganj Baksh, who was an advisor to the sultan. It was on the saint's suggestion that Sultan Ahmed Shah set up a city on the banks of the Sabarmati, known as Ahmedabad.
The saint died when he was about 111 years and to honor the saint, Sultan Mohammed shah- built a mausoleum along with a mosque. The construction was completed by Sultan Mahmud Begada, the descendant of Sultan Ahmed shah in 1451 A.D. A central tank and some pavilions with a private mosque were added. Soon, it became a place for meditation and holiday place for the royal family. A garden was also added afterwards. Sarkhej is known for its architectural creation which has Islamic style influence taken from Persia and some Hindu and Jain features.
History over, Now we asked our relative about the geography of the place as the children were getting impatient and wanted to enjoy the nature outside. Our relative told us that Sarkhej was originally outside Ahmadabad, but with developments happening over time, the city spread and it is now enjoying its place in the city's limits.
Geography of Sarkhej Roza
Sarkhej Roza is located in the village of Makraba which is 7 km south-west of Ahmadabad. For those who want to go to this place; they can go upto SG Highway and then turn left. They can also ask for directions from the locals if they are unsure. They can also take the city bus as well as private transport cars to reach there.
The Administration and the Maintenance
The courtyard is big for many people to come and sit but the overall surroundings and the area has been neglected totally or partially by the authorities. Given its historical significance, it is being severely neglected by the historical department and the local authorities. Restoration is an immediate need. Half of the people do not know about this place in Gujarat because it is not advertised properly. The lake which is mentioned before has dried up and garbage is seen lying around. The lake gets filled only in the monsoon. It would be a beauty to watch the lake all the year as it would add some grandeur to the wonderful carved monuments and the place. The people who come here leave their waste papers. Grass has also grown on few tombs regretfully. We get to know that the place only gets cleaned up when some VIP is coming or some state function is held up.
We also saw 'love marks' on the walls made by people who expressed their love to the world by writing or scribbling their names. Such a lowly form of dirtying a good place. They do not understand the importance of any place and instead dirty the place.
The authorities need to come into action and make this place more tourists friendly and marketable like other places. Locals can be trained to keep this place safe and clean and they can act as guides also. We learned that AUDA is trying to revamp and make changes to Sarkhej Roza on its own.
By the time, we finished off the seeing of the place, it was time to go. It was nearly 11:30 am and lunch time was approaching. The children were happy to leave as it was getting boring for them. So we hoped into our car again and went back to the city to have food. After having food in a good restaurant, it was time to visit science city, which all were sure to enjoy.