There are different kinds of Antler luggage. This particular kind of luggage comes in different sizes, styles and colours and can easily be purchased online, no matter where you live. Prices vary depending on what particular suitcase you want to buy and where you buy it.
Antler Cabin Luggage: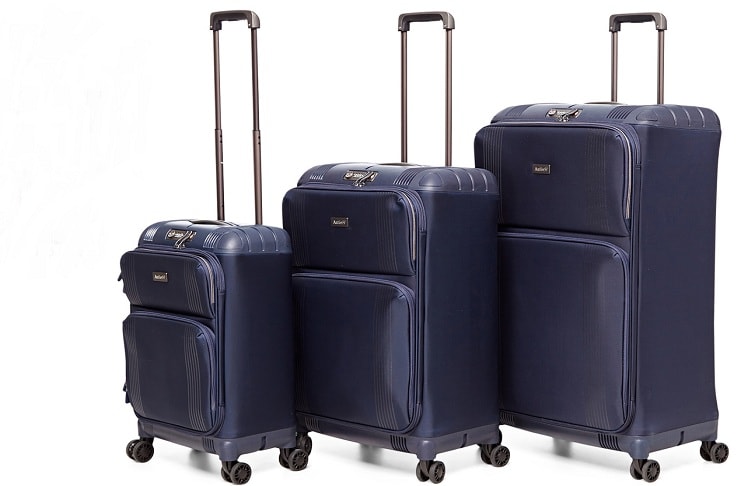 This category encompasses Antler grab bags, cabin suitcases and rolling duffel bags. The exact piece of cabin luggage you chose would most likely depend on how large or small a piece of luggage you need and the purpose of your trip. For businessmen, a smart looking cabin suitcase would most likely be the best option. Grab bags are also quite handy as this gives you a place to put items that you will need throughout the flight and immediately after you land.
If you are looking for an Antler grab bag, then a good site to check out would be www.luggage.com. This site is currently selling Antler New Size Zero 14″ Grab Bags in either bronze or black for $39 each. Antler rolling duffel bags cost between $79 to $99 depending on the size you purchase. These can be found at online retail sites www.coloradobaggage.com and www.altmanluggage.com.
Antler cabin suitcases are usually made from fabric but there are a few that are hard case. The Antler Novanta Cabin Suitcase can be found at www.coloradobaggage.com for $99 and features a central locking trolley system and TSA fixed combination lock. The suitcase alone weights around six pounds and comes with a ten-year guarantee. It should be noted, however, that around 30% of airlines will not recognize this as cabin luggage. The Antler Camden Town 20.5 inch Carry-On Upright Spinner is yet another option; it costs quite a bit more and $149 and can be found at www.luggage.com. This particular suitcase has four wheels, the same locking system as the above-mentioned model and can be bought in blue, silver or pink.
Antler soft case suitcases are not only easier to find and lighter in weight, they also give a bit of extra room to pack items. If you want something small and affordable, then the Antler Transair 570X45 Small Cabin Suitcase selling for $99 at www.luggageguru.com may be just what you are looking for. This small cabin suitcase is more readily accepted by airlines as cabin baggage and comes with the same locking system and guarantee policy as the Antler Novanta Cabin Suitcase.
If you want a larger cabin suitcase, there are a number of models to choose from. The Antler New Size Zero 22″ Super Lightweight Carry-on and the Antler 20 in. Cabin Expanding Rolling Case are both good options; these cost
$199 and $140 respectively and can be found at online retail sites luggageguru.com and luggagepros.com.
Antler Suitcases:
Large Antler suitcases can also be a good buy. While a bit pricey, they are well made and come with a ten year guarantee. If you are looking for a hard case suitcase, then the Antler Novanta Large Suitcase selling at Amazon.com for $140 is sure to catch your eye. Antler Camden Town Upright Spinner Suitcases are another good option; these can be found in both medium and large sizes from www.luggage.com in pink, dark blue and silver. Prices range from $169 – $189 depending on what size you buy.
Soft case suitcases vary in price. Some of the more affordable models are the Antler Litestream II Medium 26″ Expandable Roller Case selling for $119 at Luggage.com, the Antler Translite 24.5" Medium Expandable Rolling Upright Suitcase selling for $140 at luggagepros.com and the Antler Litestream 29″ Large Expandable Rolling Upright Suitcase selling for $140 at Amazon.com.
Cheap Antler Luggage:
If you are looking for cheap Antler luggage, you may want to consider purchasing this used. Used luggage is often still in good condition and you can find Antler cabin luggage, Antler Size Zero Luggage and Antler lightweight luggage for good prices if you are willing to consider a second-hand item as opposed to a new one.
A good site to check out is Ebay; if you need cabin luggage then you may be interested in either the larger sized red Antler 20″ Weekend Expandable Rolling Carry On suitcase selling for $139 or the gray Antler Litestream 22″ Expandable Carry On suitcase selling for a more affordable $99. Smaller rolling duffel bags cost between $79 and $89 while a larger rolling duffel bag currently sells for $109.
There are also a number of larger suitcases selling on this site at good prices. Some affordable options include the Antler Translite 28″ Expandable Rolling Upright Suitcase in either red or black, selling for $159 each, and the Antler Transair Medium 28″ Upright Spinner In Black selling for $139.
You may also be able to find Antler luggage for sale second hand on craigslist, especially if you live in a large city. The newspaper classifieds are another good place to look. While you may not find the same variety there that is offered on eBay, you will have the advantage of being able to see the actual suitcase before purchasing it.