There are many different types of travel neck pillows, so many in fact that it can be quite difficult choosing which one is best suited for your travel needs. Following is a brief summary of the different types of pillows available, with recommendations concerning their use. Of course, when deciding on which travel neck pillow to buy, your own comfort should be the main criterion you base your decision on. After all, there is no sense in buying a recommended pillow only to find that it is not quite right for you, especially if you finally come to that conclusion half way through a trans-Atlantic flight.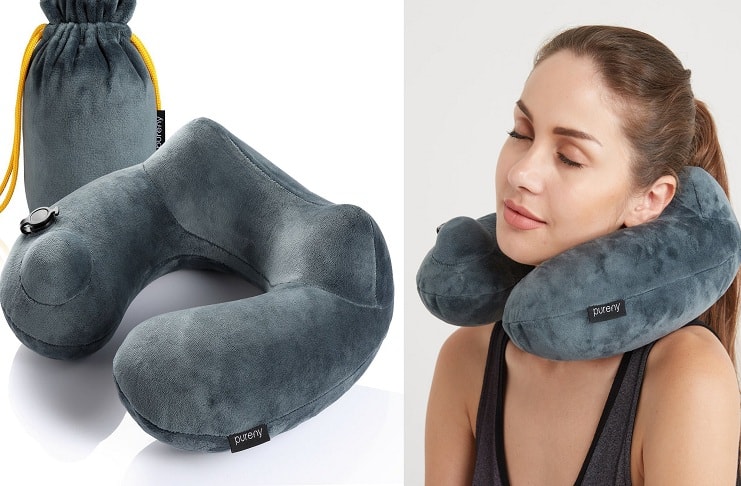 Horseshoe or U-shaped travel pillows were primarily designed to help support your neck and head while traveling in a vehicle. They are often used for air travel as well. You can easily find inflatable u-shaped pillows, which are usually less expensive than those with a fabric covering.
Therapeutic or Contour Pillows: These are usually rectangular shaped pillows, often filled with memory foam. The plus with this type of pillow is that they are often contoured so as to not only support neck and head, but also your upper back and shoulders. They can also be used for vertical sleeping, thus are handy if you have a long layover and would like to rest in-between flights.
Inflatable Travel Neck Pillows: The advantage with inflatable pillows is that you can easily deflate them so that they take up very little space when traveling. You can also adjust the firmness of the pillow by letting a little air out of the pillow until it is soft enough for you rest comfortably. Plastic does tend to make you sweat more than usual so it is best to look for an inflatable travel neck pillow that has an accompanying soft cover, preferably removable so you can wash it after use. On the downside, even the best quality inflatable pillow can sometimes feel a little stiff, even with a cover, which can be trying if you are using one on a long flight.
Foam or Fiber Contour Pillows: Providing you buy the right one, these can be much more comfortable than their inflatable counterparts, depending on the filling. One of the most popular fillings for these pillows is memory foam, which gives great support while traveling. Pillows filled with memory foam are usually quite a bit more expensive than other travel pillows, although this may be worthwhile if you travel a lot or have a long trip ahead of you. They are not as compact as regular foam pillows and take up a good deal more room than a deflated inflatable pillow, so you will need to make sure you leave room in your check on luggage for it. Many are also covered with a thermo fabric that helps keep you cooler while you rest.
Some pillows are filled with Styrofoam beads or millet hulls. The disadvantage of choosing a pillow filled with these substances is that the filling tends to move around and bunch up on one side or the other, requiring you to constantly readjust it. They are usually fairly inexpensive and a good choice if you are not traveling long distances or if you do not mind having to readjust the pillow from time to time. You do need to be careful that they do not come undone at the seams or are ripped; if they do, they can make quite a mess. Check the quality before buying one.
Some neck pillows for travel have other features that can help make your journey less stressful. For example, you can find some horseshoe pillows that have Velcro snaps on the ends. While it is fairly easy to pack up an inflatable pillow, it can be quite a scramble packing up your firm travel pillow once the plane lands. If the pillow has Velcro snaps on the end, or a small strap with snaps on the end, you can quickly strap it around the handle of your carry-on bag without having to fuss with trying to pack it away. It is also a good idea to look for a pillow that has either a removable cover or an extension that can be removed for easy laundering. If you are planning to purchase an inflatable pillow, look for one that has an easy to get to air release valve. The air release valve allows you to quickly adjust the hardness of the pillow in flight without worrying that you are going to end up deflating the whole pillow.
It is often best to try the pillow before you buy it. Some shops will allow you to try the pillows in their shop, however if you are purchasing one online that is obviously not possible. In that situation, you may want to ask some of your friends or relatives if you can test theirs. Comfort should be your main concern when buying a travel pillow, while cost and quality also important factors to consider.