The quickly developing westernmost state of Gujarat is not only known for being home to the endangered species of Asiatic lions, its vast salt coverings of Kutch or for being one of the cardinal points for the holy char dham yatra of India but it is also known all over the world for being a culturally colorful mosaic of age old traditions and also for being blessed with an opulent collection of heritage. From their clothing and language to their enigmatic celebrations and delectable food, Gujarat wonderfully represents its vibrant culture which is laced deeply into its everyday as we as its social life. It is also a blend of both modern as well as the ancient traditions that has shaped the current Gujarat, which is in a peaceful coexistence with technology and nature.
Get to know more about the culture of Gujarat so that you are able to enjoy your visit to this unique state even more:
Music: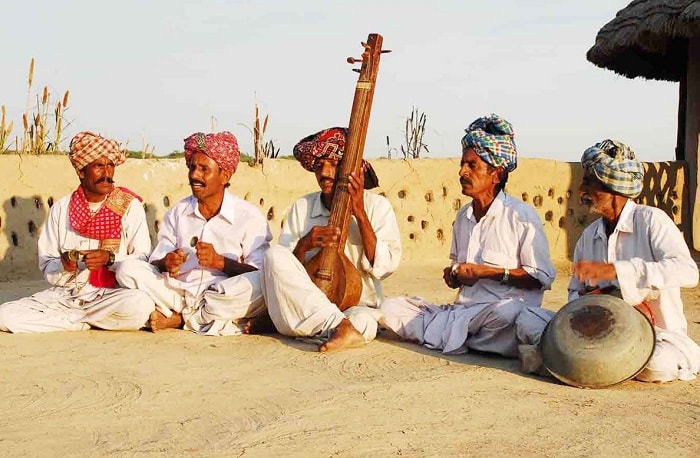 Gujarati music has gained some attention and has been making its vital contributions since a very long time. There are several rags who's original roots can be traced back to Gujarat these include – Gujari Todi, Bilaval (from Veraval), Sorathi, Khambavati, Ahiri and Lati. These are a few of the many priceless gifts of music that Gujarat has given to classical Hindustani music. Gujarat has been successful in preserving its musical authenticity and have actively been involved in not losing its musical heritage that is now a pride of Gujarat. Rann Utsav is one of the ways through which you can experience the glorious culturally enriched musical gift of Gujarat. The community who is to be thanked for keeping their music alive are the communities of Charans and Gadhavis, whose hereditary profession has been to carry on the lineage of Gujarati folk music. Some common types of Gujarati folk songs are – Lullaby, Nuptial songs and festive songs.
Dance Forms: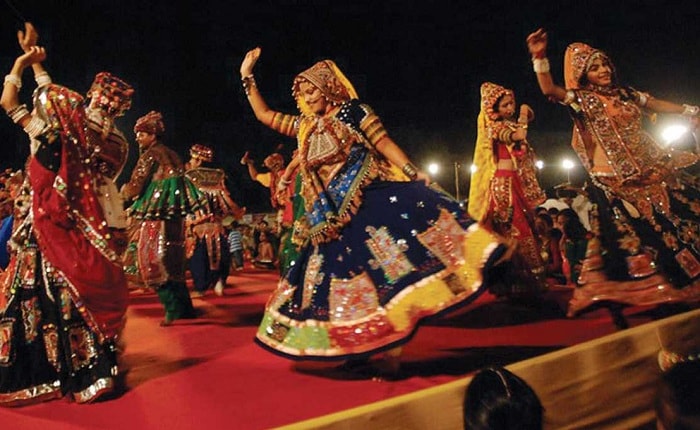 Dandiya Raas – This famous dance form was originated in Gujarat and is characterized by being energetic, playful along with being romantic. The men and women taking part in this dance dress themselves up in traditional colorful clothing and dance around while simultaneously moving in concentric circles while clicking their bamboo sticks that they hold in either hands with each other.
Garba – This graceful traditional dance form is performed primarily by women arranged in a circular form. This dance is performed to offer reverence to goddess Ambaji. The dance involves rhythmic singing and clapping while moving around the goddess. Women dress up in colorful and elaborately embroidered Ghaghra, cholis, anklets, bracelets etc.
Garbi – Initially and originally this dance form was performed by the men of the Gujarati community. They used to perfumer this dance when they used to return victoriously back from a battle. The songs which they used to dance to used to be of the spirit of Valour and this dance was the characteristic of fascinatingly forceful movements. Nowadays even women take part in this dance.
Fairs And Festivals: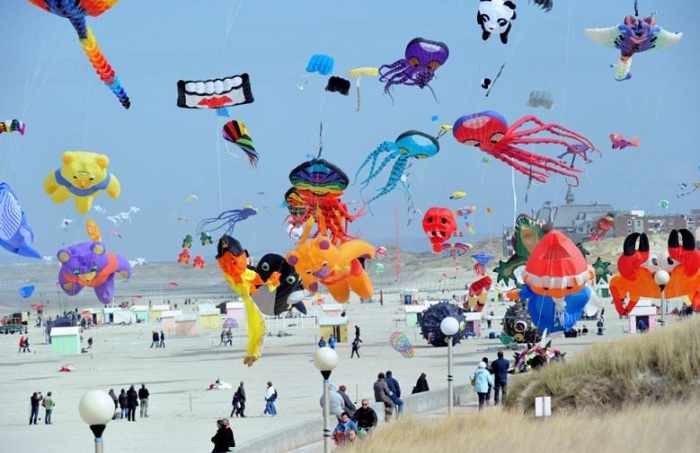 Bhavnath Mahadev Mela (February) – This fair takes place at the Bhavnath Mahadev Temple that is located on the foot of the holy mount Girnar in Junagadh. This fair takes place for 5 days in the month of February around the festival of Mahashivratri. During this fair, the Mahapuja of Lord Shiva takes place at midnight inside the temple on the 14th day of the dark half of the month of Magh. It is a popular belief that during this time, Lord Shiva himself visits this shrine.
Chitra Vichitra Mela (March) – attended by almost 60,000 to 70,000 tribal people this fair is known for being one of the largest tribal fairs. This festival takes place 14 days after the festival of Holi. The temples that are set up overlook rivers like Sabarmati, Akul and Vyakul. The fair is named after the two sons of King Shantanu Chitrangad and Vichitravirya.
Makar Sankranti (January) – Also known as the kite flying festival this festival is celebrated with great vigor and enthusiasm. This festival marks the sun's direct reaching to the tropic of Capricorn after the completion of the winter solstice. It involves flying of colorful kites, folk music and traditional dance performances. Known as Uttarayan in Gujarat, it is also the time when preparations like Undhiyu and sugar cane juice is served.
Bhadra Purnima (September) – The full moon of bhadrapada is also known for being one of the four most vital festivals that are celebrated in Gujarat. To mark this occasion a large fair is organized on the full moon days and the evening times are filled with performances of folk drama – Bhavai. All the farmers and agriculturists go to the holy shrine of Ambaji.
Cuisines:
Khandvi – This popular Gujarati cuisine is made in the form of thin layers of gram Flour that is cooked in buttermilk and converted into delicious small rolls. For the final stages these rolls are seasoned and sautéed with sesame seeds as well as other spices.
Undhiyu – The word undhiyu is derived from the Gujarati 'Undhu', that means inverted literally. This is called so since this dish is prepared using an inverted clay pot. This is one of the most landmark dished of all time and is prepared using a combination of eggplant, Papdi, Surt, Methi and bananas amongst other such vegetables and items which is slow cooked and results in each bite bursting with flavours.
Aam Shrikhand – This famous Gujarati sweet dish is created using saffron, condensed milk, chopped mangoes, sugar, Cardamom powder along with some cream. Some people also season this sweet dish with pistachios which brings out the flavors of all the ingredients that went into its making.
Gujarati Kadhi – This is another famous Gujarati food item which is popular across the globe. This is especially a saving grace during the summer time when the scorching heat becomes unbearable. It is created using sour curd that is spiced with gram flour and is also best enjoyed while consumed with Chapatis or steaming hot basmati rice.
Wedding Ceremony:
Just like every other wedding ceremony in India weddings in Gujarat has to be one of the most awaited celebration not just for the couples and their families but also for the guests attending it. These rituals go back to the Vedic era and the ceremonies are started with the Varghodo wedding procession and on arrival the groom and their families are welcomed in the Swagatam. Kanya Daan is also a crucial part of this wedding procession where the father of the bride hands her over to the groom in front of all the guests. After the main wedding rituals the rituals for Ganesh puja commences which is also known as Vivaan. The procession of Mangal Phera also takes place along with the traditional Saptapadi or the seven sacred steps that the couples take place around the flaming kund. This religious and traditional wedding ceremony comes to an end and to the closing when the holy thread or the Mangalsutra is tied around the neck of the bride by the groom, after which he applies Sindoor on the bride's head and declares their new marital status of being a Suhaag.
Beliefs:
The population consists of a heterogeneous group of people following various beliefs, gods and goddesses. They also honor the cows and call it Gau mata. The population is home to Hindu beliefs, bhakti movement, Jainism, Zoroastrianism as well as Gujarati Muslims. All the lifecycle ceremonies are performed by Brahmans where the most important ceremonies are – birth, thread ceremonies, marriage and death. The major festivals here are Diwali and Navratri (the night of nine nights). The Gujarati population in general are full of life and enjoy mingling with each other no matter the caste or communities.
Language:
The population that resides in Gujarat belongs to various different castes, religions as well as communities. This results in people speaking various different languages while the official language of the state is Gujarati, which is also known for being the 26th most widely spoken language in this state. This language also has eleven different dialects that are spoken in different parts of India. Since Gujarat shares its boundaries with Madhya Pradesh, Maharashtra and Rajasthan a small fraction of the population located around these regions speak Hindi, Marwari and Marathi. There are also people who speak Urdu and Sindhi. The mother tongue of people residing in the Kutch region is Kuchchi and an important language of this region.
Ornaments:
An integral and vital part of every Gujarati costume is the Gujarati accessories and jewelries. The stand out feature of their jewelery is its intricately and finely designed bangles, earrings, chains, necklaces among others. A tassled key ring which the women carry on their hips also makes up for their traditional dress code. Every jewelery is carefully and finely crafted, the Gujarati men have the option of wearing gold chains, rings and even accessorizing their outfit with a studded and embellished turban. Women living at the core regions and village of Gujarat, adorn themselves with metallic or silver jewelry and in the present day is a modern fashion statement.
Gujarati Culture Video