Traveling is now part of everyday life for more and more people, and it already starts at home. How to pack a lightweight luggage and save hassle and time at the airport? And how does the way you pack your suitcase help the nature? These two things are actually closely related.
There are some very simple things one can do in order to lower their carbon footprint. You can start by traveling light. Think about what to pack. Use eco-friendly bags and packing cubes. Avoid unnecessary security wrapping and all useless accessories that clutter your bag.
1. Lightweight Carry On luggage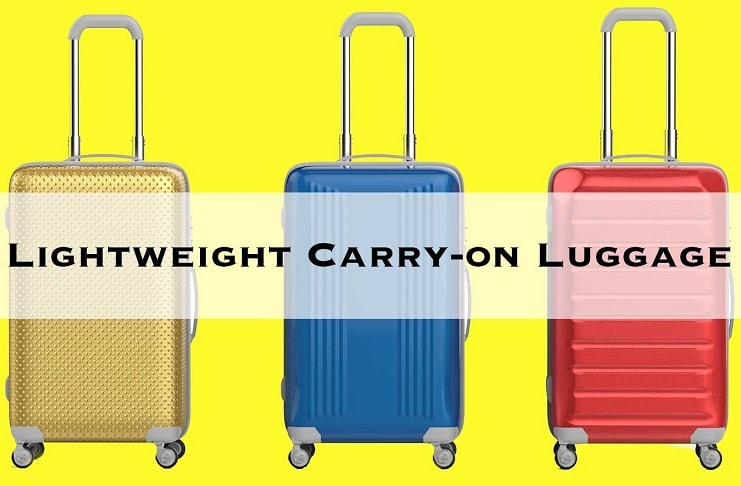 The best lightweight luggage is small enough to use as a Carry On luggage but big enough to fit everything in. Let's say you are traveling from New York to Paris for 2 weeks. Long business trip ahead and you need to meet a few customers, you want to do some sports and you want to go sight-seeing during the weekend.
Here Is What You Need:
2 suits
3 shirts
2 ties
3 sets of underwear
1 pair of trousers
2 T-shirts or shirts for sight-seeing
One pair of shorts, one sports T-shirt, one pair of sports shoes
Your toilet bag
Your computer and some accessories. Adapters, chargers.
Do you need more than that? All of that can fit easily in a small lightweight piece of luggage, and you will end up with a lightweight carryon luggage, which saves you heaps of time both before and after the flight. I do it all the time. Of course you need to choose your bag carefully. There are several lightweight suitcase options to choose from. Choose a hotel which has a iron so you can iron your own shirts if you decide to wash them by yourself. And I guess I don't even have to even mention that it is not really necessary to wash your suit every day.
2. Use Eco-Friendly Bags and Travel Cubes
Most bags are made of plastic or polyester and metal. Some brands are already proposing bags for responsible travelers. Eagle Creek for example is selling packing cubes made of recycled plastic bottles. These packing cubes are remarkable in many ways and not only for their environmentally friendly aspect. They help you to organize your bag, making you save time when trying to reach for items in your bag. I use theme every time I travel and I am a huge fan of packing cubes. I have some in every size and colour. When I pack, they make me save time, during the trip they make me save time, when returning from a trip they make me save time. Once you try them yourself, you will not want to travel without them anymore. They are simply awesome.
3. Avoid Security Wrapping
Sometimes you need more than just a carryon luggage, for example when going on a honeymoon cruise to some great honeymoon location, where you will not want to worry about doing the laundry or ironing the one shirt every day. If you are going to check something in, avoid security wrapping. This has to be one of the most unnecessary and useless invention of the past 10 years. What is the point of such a thing? You want to make it difficult for anyone to open your bag or your suitcase?  Are you afraid of baggage handlers? Are you afraid that your suitcase may break and open?
Difficult To Open
If the airport security needs to open your suitcase, they don't care about your security wrapping. If they want to open it, they will. Period. If you look at all the efforts which are made in order to improve the security in airports and aircrafts, a simple plastic wrapping is completely useless to change the mind of a security officer. Most security officers will tell you the same story. They have a lot of luggage to handle, and they cannot spend a lot of time on each piece of luggage. The bags are scanned on different layers and analysed. If an item needs special attention, they will scan it again with different settings. An automatic software will highlight suspicious items in the luggage. If it requires opening, they will open it. A typical opening should take less than 2 minutes. If it takes more than 2 minutes, the agent can use force or even break the suitcase in order to open it. So think it through. 1 minute to get rid of the plastic wrapping, 1 minutes spent on the secret code and the locks… too late, we have to break in. Your wrapping just cost you your suitcase.
Afraid of Baggage Handlers?
Then avoid storing anything valuable in your suitcase. Or, don't check-in any suitcase and travel light. That's the best way to protect yourself from dodgy baggage handlers. Once I got a pair of sport shoes stolen in Varna, Bulgaria. It was my fault. The country is not the richest on the planet and I checked-in a backpack with no lock. There was a nice and brand new pair of shoes. When I got the bag back the pair of shoes was replaced by a smelly pair of 10 year old sneakers… I never should have checked that bag in!
Afraid that the suitcase may break and open?
Change your suitcase! Or travel light and take a soft suitcase that cannot break. I have a big suitcase that I use for special trips and it's getting older and older. The locks are not working very well but enough to keep the suitcase sealed. I usually use all the locking systems available on the suitcase itself. Close it, lock it with the code, lock it with a key and wrap it with a strong band that minimize the efforts on the locks. I have one band, it's strong and I've used it dozens of times.
All in all, there is one good way to avoid using the plastic wrapping: travel light. These wrappings considerably increase your carbon footprint. What do you usually do with it once you arrive to your destination? I've never seen any of these stations recycle used wrappings.
4. Avoid Accessories
Casual travelers are very good customers of airport shops that sell you all the travel gadgets. The truth is that almost all of these gadgets are completely useless. Most of them only take space and don't really bring any value, especially if you are planning to stay in a hotel. Here are some examples: a passport pouch, an ear phone set, a lightweight towel, an around the neck pillow, a portable iron, a small size kettle… All these items are here to make you feel comfortable but think twice before buying them: do you really need them? Avoid everything unnecessary and your bag won't be cluttered with things that you use once every two years, if ever. That helps you to keep your luggage light.