The city of Rajkot was founded in the year 1612 by Jadeja Rajputs and during the colonial era it had become a premium headquarter for britain's administrative centre for almost 400 princely states in the regions of Saurashtra, Kachchh and Northern Gujarat. This is the fourth largest city in the state of Gujarati and is the center of Saurashtra. Not only is Rajkot known for its enigmatic history it is also known for being the home to the father of the nation, Mohandas Karamchand Gandhi, who spent his youth and young schooling years here. Apart from being the fastest growing city in India, Rajkot is also one of the prime cultural capital of Saurashtra state. Frequently referred to as 'Rangilu Rajkot' meaning colorful Rajkot, this place is a mosaic of various cultures and heritages all put together?
Some of the prime tourist attractions of Rajkot include places like – Jubilee garden, Watson museum, Kaba Gandhi no Delo, rotary dolls museum, Saurashtra cricket association stadium among a plethora of others. The city is also famous for its collection of traditional sweets, dandiya and garba among other cultural relevances. Not only is Rajkot quickly becoming a centre of tourist attraction but it also ranks among one of the cleanest cities in the entire Indian subcontinent. Falling halfway through the Kathiawar peninsula, right between Ahmedabad and Porbandar Rajkot offers an immense sense of spirituality and tranquility in its atmosphere. Dotted with green covers, patches of forests, glimmering lakes and a warm homely surrounding this place is one of the best options for people seeking some peace of mind and as a ways of getting away from the maddening crowd of the city life.
Here are Some Places to Visit in Rajkot:
1. Swaminarayan Temple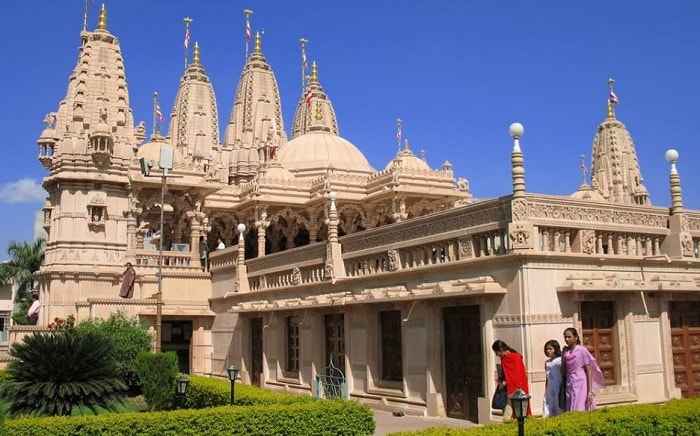 Established in the year 1907 by Shastriji Maharaj of Bochasanwasi Akshar Purushottam Swaminarayan Sanstha this temple is known for being one of a kind. The unique feature about the temple which makes it worth the visit is the fact that this temple has been constructed out of hand carved stones. Sitting inside the temple is a beautiful and charming idol of Lord Swaminarayan clad in a royal cloth, visiting which is said to rid you of all your mental troubles and frustrations. This temple is especially known all around the world for its social work services and humanitarian works since this temple runs a charitable trust which is dedicated to provide its services to people going through hard times like natural calamities.
Visit Timings: 10 am to 7 pm
2. Jagat Mandir
Also popularly known as Dwarkadhish temple this temple is considered to be extremely significant for the local as well as the visiting population. Carved out of red sandstone and built in the year 1934 this temple houses the main deity as Shri Ramakrishna Paramhansa, whose gleaming white marble image sits in the main hall area of the temple. The architectural style of this temple is unique due to its attempt at embodying the various religions like Hinduism, Islam, Christianity and Buddhism. Another unique feature of the temple is a shrine which is balanced on 60 pillars of sandstones and granite.
Visit Timings: 7 am to 12 and 2 pm to 7 pm
3. Aji Dam Garden
Located at a mere distance of 8 kms from the main town of Rajkot and built over River Aji this dam is one of the most popular tourist attractions of Rajkot and attracts vacationers and holiday goers from all across the globe. This attractive and charming garden houses a fun filled amusement park for entertainment purposes, food courts serving delicious food items to kill those hunger pangs and a children's park for the children. The fun doesn't stop here this place is also home to a wide variety of birds in its aviary, a mesmerizing zoo and a crocodile park as well. Winter is the best time to go on a visit to this place since the trees and the collection of flora blooms to its full potential during these times making activities like picnics and strolling extremely enjoyable.
Visit Timings: open 24 hours
4. Ramakrishna Ashram
Established in the year 1926 during the visit by Swami Madhavanand Ji (who later on became the 9th president of Ramakrishna mission) this place is situated in the enigmatic city of Rajkot, and is known for being a hub and a centre for imparting the universal teachings of Vedanta. This ashram is a glorious representation of the ideals and morals which were followed by Swamiji who was primarily focused on promoting religious harmony and a feeling of universal brotherhood in the entire world. This ashram is also involved in performing notable work in the field of rural development, rehabilitation, cultural and spiritual work among others.
Visit Timings: 5 am to 7:30 pm
5. Mahatma Gandhi High School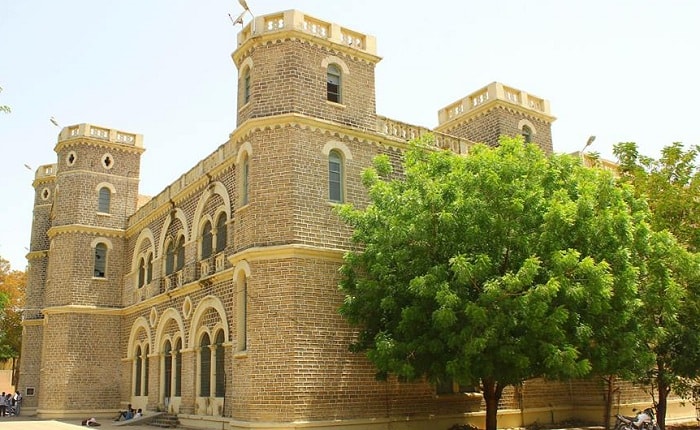 Famous for being the high school for the father of the nation, Mahatma Gandhi, the original name of this school is Alfred high school, which was established in the year 1853. The imposing building structure gives off a vibe of the bygone British raj since it was built in the Gothic Norman style. The school is popular for extremely high standards of education requirement and its strict rules. As mentioned in one of his stories this is the place where Mahatma Gandhi had misspelled the word 'kettle'. A visit here will give you a peek in to the life and times of Mahatma Gandhi as well as the bygone British age. In 2017 the school was shut down for functioning and converted into a museum since this truly is an iconic location.
Visit Timings: 11 am to 6 pm
6. Ishwariya Temple
Dedicated to Lord Shiva this temple is not only a popular religious tourist destination in Rajkot but it is also famed for being the oldest temple. Located on the hilly terrain in outskirts from the main city of Rajkot, the temple serves a dual purpose of spiritual upliftment as well as giving a peaceful experience owing to its scenic location. A small pond present close to the temple serves as the perfect picnic spot for families and friends and it is also the place where an annual small fair is organized. Although Rajkot is one of the fastest growing cities in India, it has managed to keep its authenticity, tradition and heritage intact and in its pure form.
Visit Timings: 10 am to 8 pm
7. Kaba Gandhi No Delo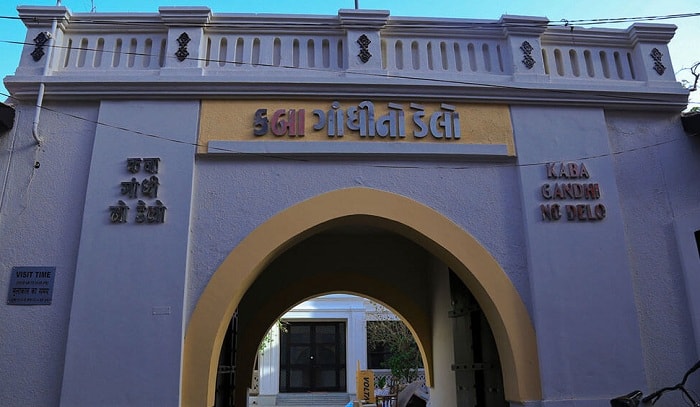 Currently converted into a Gandhi museum or Gandhi Smriti, this place was the primary residence for the great Indian leader and revolutionary Mahatma Gandhi until the year 1915. this place was the residence of Mahatma Gandhi's father Karamchand who stayed here while serving as the prime minister to the king and Mohandas Karamchand Gandhi also spent a few of his years here between the years of 1881 and 1887. This is a traditional housing facility which now displays an interesting photo series depicting the life and times of Mahatma Gandhi. Not just photographs this place also holds precious objects and other ornaments which were utilized by the father of the nation.
Visit Timings: 9 am to 7 pm
8. Jubilee Garden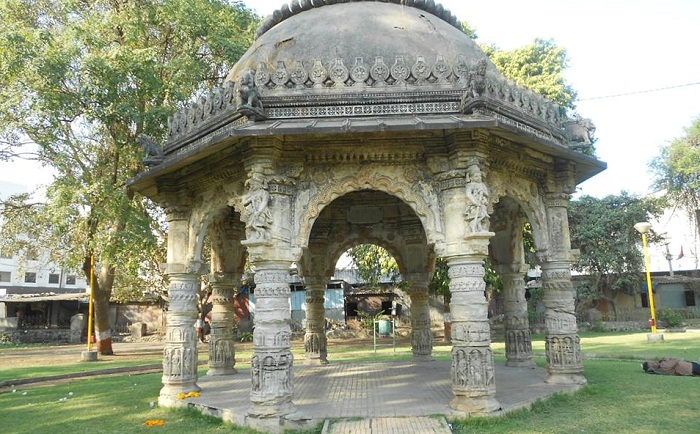 Another popular tourist attraction in Rajkot is Jubilee Garden which is known for its enchanting natural environment and tranquil atmosphere. Situated in the heart of the city this place attracts not only kids but also adults who visit here to have some peace of time and take a break from the busy hustle bustle of the city. Strolling among the clean pathways and neatly lined trees guarantee you some much-needed peace of mind. One of the most interesting features about this garden is the availability of a special 'chutney' known as 'Chevdo' which is available at the food joints present inside the garden.
Visit Timings: 9:30 am to 6 pm
9. Watson Museum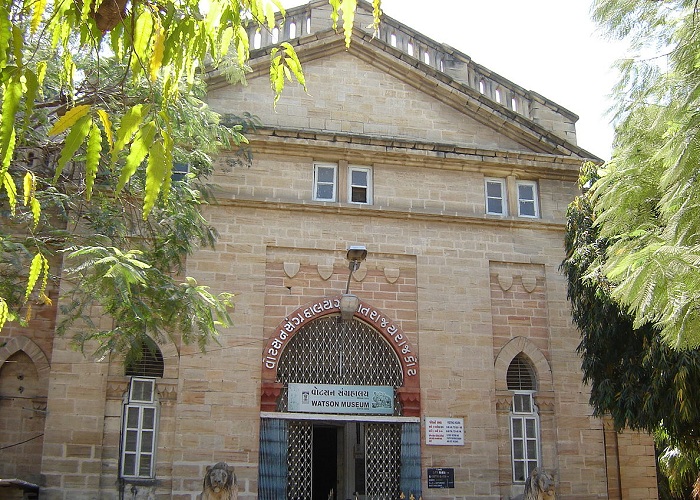 Considered to be one of the prime and the most significant museums present in the Saurashtra regions of Gujarat state this museum houses some of the most precious objects and items of interest which are founded by the Jadeja Rajputs. This place holds some extremely valuable items like photographs, artifacts and so much more. Present inside the museum is a reference library which is home to some of the most invaluable articles and other important pieces of information. The entire museum is divided into several sections like coins, folk embroidery, wood work, natural history among others. Named after the British political agent, Col John Watson, this museum is also famed for being the 2nd most important museum in the entire state of Gujarat.
Visit Timings: 9 am to 6 pm
10. Rotary Dolls Museum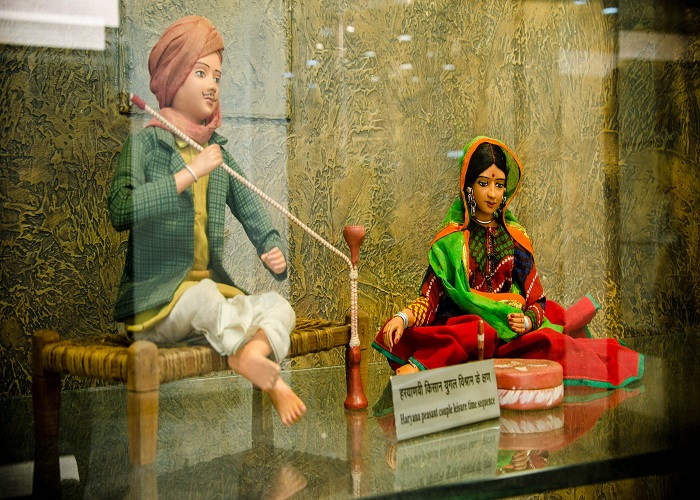 This truly is a one of kind places to visit in Rajkot. Featuring innumerable unique dolls from all over the world one gets an insight into the various traditions and cultures of the lives of people from across the globe. The rotary club is to be thanked for generously donating these unique pieces and making it one of the prime centres of tourist attractions in Rajkot. Established in the year 2001 this museum is a fun place of visit for both kids and adults alike. There are more than 1600 dolls present on display at the museums with over 102 countries from all across the globe making this place an interactive and fun global village.
Visit Timings: 9:30 am to 1 pm and 4 pm to 7:30 pm