India is known for its natural beauty and for being an oasis to nature lovers. The subcontinent is surrounded by water on three sides and landlocked from just one side. The entire region is replete with numerous beaches with varying degrees of beauty. You can find various colourful beaches like pink beaches, black beaches and white sandy beaches which guarantee to take your breath away. India is one of the prime choices among tourists and travellers looking to spend their vacation in a tropical manner. We are going to talk about seven attractive beaches in India that are usually not noticed by tourists a lot. Thus, you have seven serene and unpopulated beaches for your romantic vacation or for some lone time with your family.
Since these beaches are not usually visited by tourists, you cannot find tourist activities here. All you have here is the beach and these beaches are extremely tranquil.
List of the 7 Most Famous Beaches in India
1. Guhagar Beach, Ratnagiri:
Guhagar is located in the Ratnagiri district, Maharashtra. Due to the fact that Maharashtra has a lot of beach cities, Guhagar went unnoticed. It is a little away from the city of Mumbai. This beach stretches for 6 km with nothing by water, waves, white sand and almost empty landmass. This beach is a sandwich between the Mountains of Sahyadri and the Arabian Sea. This beach has the perfect scenic element with backdrops of mountains for photographic enthusiasts.
2. Yarada Beach, Visakhapatnam: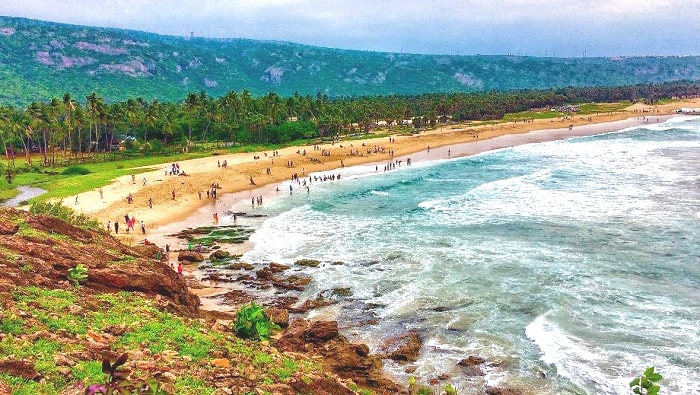 This beach is located in Andhra Pradesh. This beach is never mentioned in most of the tourist articles that you would come across. This beach is 15 km away from Vishakhapatnam. This beach has an uninterrupted coastline with golden sand. The beach is surrounded by green hills on three sides and the Bay of Bengal on one side. Watching sunrise and sunset from the golden sand is a real treat. Since the population in this beach is very less, you can always enjoy a peaceful picnic time with your family.
3. Radhanagar Beach, Havelock: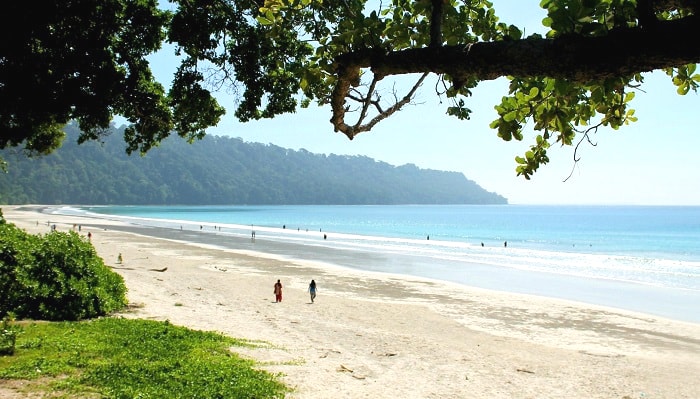 This beach is located in Havelock, Andaman group of islands. Since it is very close to Havelock's ferry pier, this beach has been overlooked always. This beach has white sand and turquoise water. If you are on a romantic vacation and want to enjoy a beach picnic with your special one, this is the best beach. You would have absolutely no interruption and the chances of finding another couple at the same time will be very less. It is very far away from the hustle of city life. This beach is announced to be the best beach in Asia by Time Magazine.
4. Talasari Beach, Orissa: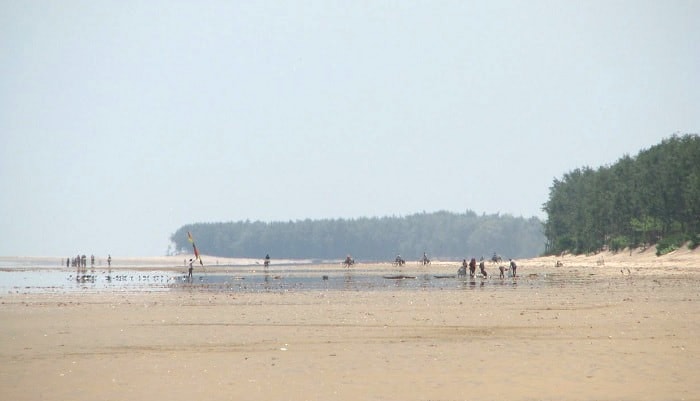 Talasari is located in Orissa. This beach has deep blue waters and white sand. You can always enjoy the cool breeze brought by the Bay of Bengal. It is almost 88 km away from the city of Balasore. The sea is not turbulent and thus, you can enjoy swimming here. This beach has a perfect picturesque element for your photographs. You can find a few people now and then on this beach. This is the beach that is absolutely calm and would suit romantic vacationers.
5. Tarkarli Beach, Mumbai: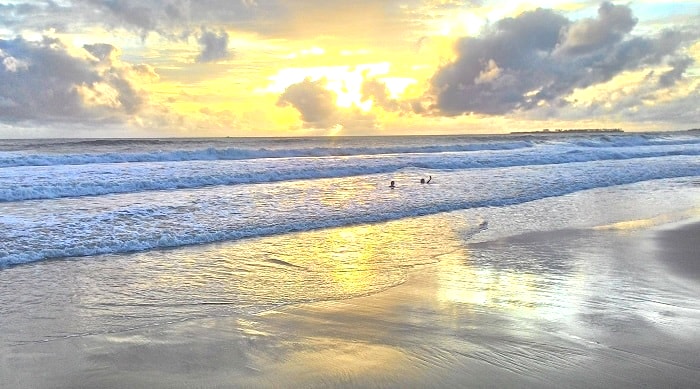 This beach is located 550 km away from Mumbai and 6 km away from Malvan. This beach is at the point where the river Karli joins the Arabian Sea. Though it is an unexplored beach, you can find some adventure lovers here for activities like scuba diving, snorkelling and parasailing. Apart from these adventure activities, there is one other speciality in this beach. The depth of the sea is just 20 feet. Thus, on a clear day, one can see the sea bed.
6. St. Mary's Island, Udupi: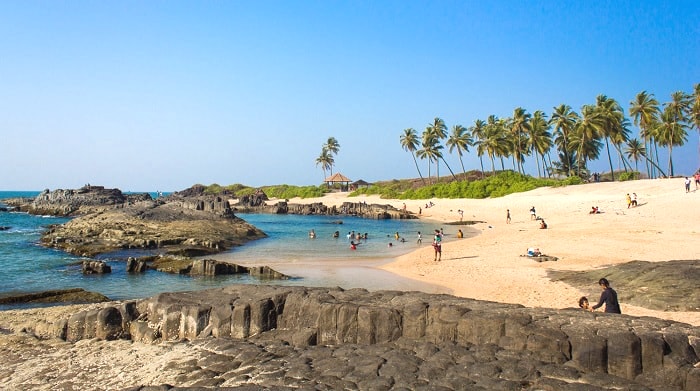 The beach of this island has clear water of the Arabian Sea. The beach has golden sand and this island is 6 km away from Udupi. It can be reached by boat ride. The island has hexagonally shaped basalt rock surrounding it. You can find tall and lush coconut trees, rare shells and red crabs here. This whole landmass is a serene beauty. The best time to visit this island in December when the vegetation is lush. The beach is very picturesque and would suit those who love to take photographs. Since the population in the beach is always very little, it is the best place for a romantic getaway from Udupi.
7. Secret Beach, Kerala:
As the name indicates, this beach is almost a secret because of the other interesting and very popular beaches in Kerala. The state is filled with a lot of beaches and backwaters and this beach always gets missed out in most of the itinerary. This beach is commonly used for those who want a tranquil vacation. The beach has white sand, placid water and is shadowed by palm trees. This beach is isolated from the tourist rush and is the best place for relaxation. This beach is located 13 km away from Alappuzha and this is the main reason for this beach going unnoticed. The backwaters of Alappuzha pull all the tourists towards the town and this beach is all reserved for people who want some lone time away from tourist activities. You can take Kerala tour packages and visit the God's own place in India.
Just because these beaches are always missed it does not mean that these beaches are not attractive. It is mainly because they tend to be near a very attractive place that always pulls the tourists towards it or it is in the middle of nowhere such that people refused to visit the beach just for the beach alone. When it comes to attractiveness, these beaches can even beat a few popular beaches that you know. You can plan a south India tour in India with your family or friends.