The Dada Bhagwan Temple is a beautiful non-sectarian Trimandir that's inspired by the famous Akram Vignani and is built by the Dada Bhagwan Foundation. The temple is a unique concept where statues of all branches of religions are placed on one platform. The revered Gnani Purush Dada Bhagwan is the founder of this temple and he is also referred to lovingly as Param Pujya Dadashri. The address of the temple is as follows:
Address: Simandhar City, Ahmedabad-Kalol Highway, Adalaj, Gandhinagar, Gujarat 382421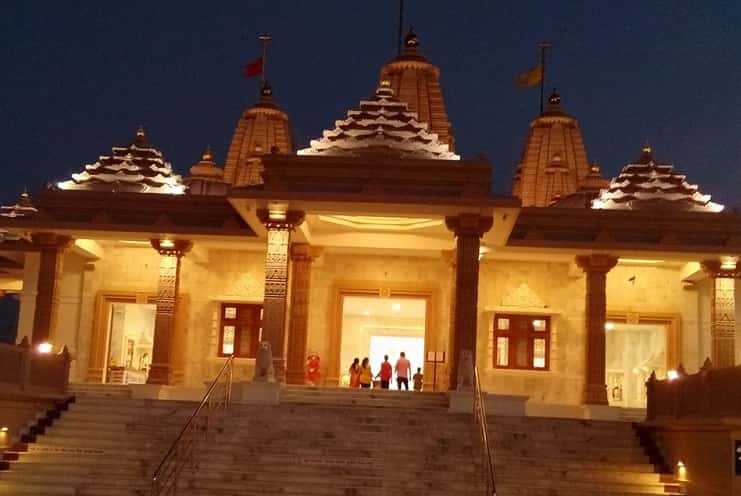 The temple is an excellent spot for family visits, spiritual Mullings, worship, meditation and presents an opportunity for learning about the inspiring life of Dada Bhagwan and his unique inspirational teachings. The temple firmly believes in religious unification as Dada Bhagwan's philosophy was "as long as there is disparity in religions in the world…peace cannot exist".
Dada Bhagwan History and Achievements
Dada Bhagwan was popularly known as Dadashri and he was born as Ambalal Muljibai Patel. He is a spiritual activist and a thought leader from Gujarat who is credited with the foundation of Akram Vignan Movement. His original name was Ambalal Muljibhai Patel and he was born on 7th Nov 1908. In 1958 he suddenly gained spiritual realisation at the railway station in Surat and post this he manifested many symptoms of manifestation of great spiritual power. People began calling him Dada Bhagwan and he left his professional life to embark on the path to enlightenment. He founded the Akram Vignan movement where one can gain instant purification of the spirit through the blessings of Simandhar Swami. The attainment of Moksha and Gyana were the two driving forces of Dada Bhagwan.
In Ahmedabad, a stretch of road has been named the Dadabhagwan circle and movies and documentaries have also been made in his name. Dada Bhagwan's movement has now spread to Maharashtra, Gujarat and some Indian communities in USA, UK etc. the Dada Bhagwan Foundation Trust and Simandhar Swami Aradhana Trust now carry on his legacy. In his life (1908 to 1988) he has influenced thousands of people and has experimented with concepts that use both spirituality and science. His two hour spiritual knowledge transfer sessions have been a topic of constant discussion and appreciation.
Temple Structure
Dada Bhagwan's philosophy for building the temple is to build an ode to salvation. Right now there are many Trimandirs in India but the most famous one is still in Ahmedabad while the biggest one is in Adalaj.
The Trimandir is two storeyed and the ground floor is acoustically treated and embellished with marble flooring. 600 people can fit into the main hall and it's here that all Satsang activities are held (the hall has multiple cameras, live recording facilities and projectors). The temple has idols of Tirthankars, Ajitnath Bhagwan, Rushabdev Bhagwan, and Mahavira Bhagwan along with Shashaa Devis, Padmavati Devi, and Chakreshwari Devi. Towards the left sanctum, there is a Shia Linga along with idols of Ganapati, Parvati and Hanuman while the right sanctum has statues of Yogeshwar Krishna Bhagwan, Tirupati Balajee, Amba Mataji and Bhadrakali Mataji.
The Nirantan accommodation guest houses, Vigyan Bhandar and other ancillary structures are also a part of the temple complex.
Temple Amenities and Facilities
There is a bookstore called Vignan Bhandar Bookstall that sells books and CD's on Dada Bhagwan's TEACHINGS. Amba health Centre (this dispenses Ayurveda medicines at nominal charges), Amba Refreshments, AC and Non AC rooms for pilgrims, children's school etc. are also a part of the temple premise. Multimedia and puppet shows are organised in the premise to teach.