India abounds in temples, some of them quite ancient. These temples are dedicated to Goddesses of the Shaktu cult, to Vishnu, Shiv and Lord Krishna. However, temples of the Swaminarayan sect are of recent origins, not older than 200 years. Ghanshyam Pande a native of Chhapaiya in Uttar Pradesh, born in 1781 AD, is the founder. Spiritually inclined from a tender age, he wandered far and wide and one of his wanderings took him to Gujarat. Gujarat is home to large number of followers of the Swaminarayan sect. Regardless of the fact that there are sects within that sect, the temples of Swaminarayan are pilgrimage spots for devotees who make it their duty to take a tour of these temples in Gujarat.
Ahmedabad – Gandhinagar
Ahmedabad is as good a starting point for the Gujarat Temple Tour of Swaminarayan temples as any other city in the State. The city itself is home to a couple of prominent Swaminarayan temples and dozens of others. The Kalupur Swaminarayan temple is worth a visit with its architecture based on carved and colorfully painted teak wood. It is said Swaminarayan swami himself was responsible for its construction and built it on 5000 acres of land gifted by the British. The Central Gateway is artistically carved and depicts stores carved in wood. The heart of the complex is the Nar Narayan temple carved in teak depicting episodes from mythology. One must also visit the Akshar Bhavan and Rang Mahal. One peculiarity of Swaminarayan sect is that men and women may not worship together and as such there is a separate temple for women in the western part of the complex. From here one proceeds to the Shahibaug Swaminarayan temple, another grand complex with a collection of temples and guest houses. Hire a taxi and proceed to the grand Akshardham temple in Gandhinagar with its beautifully landscaped gardens, an impressive temple and exhibition show-hall.
Swaminarayan Mandir, Vadtal and Sarangpur Temple in Salangpur, Botad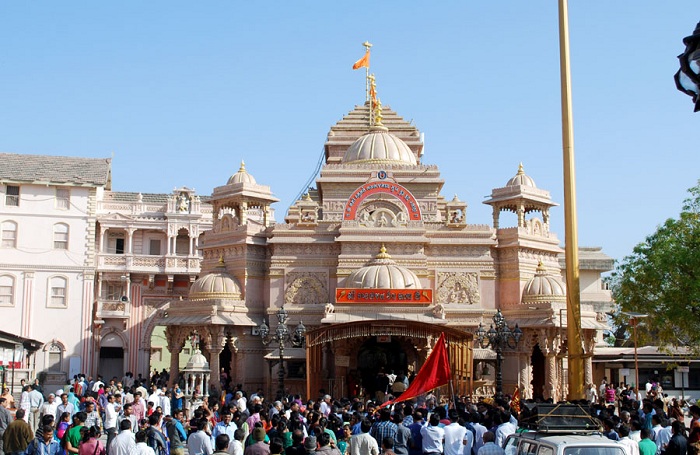 After the passing away of Swaminarayan, there was a schism with the Kalupur temple going one way and the split group setting up headquarters in Vadtal in the temple said to have been built by Swaminarayan. Devotees make it a point to visit Swaminarayan temple at Vadtal in Kheda district. The temple in the shape of a lotus has three shrines. The temples house idols of Lakshmi Narayan believed to have been installed by Swaminarayan in 1824. There are also idols of Shri Ranchhodji, Shri Dharmdev and Shri Bhaktimata, Shri Radhakrishna Dev and Shri Harikrishna Maharaj. The temples also have the Dakshinavarti Shankh and Shaligrama representing Lord Vishnu. The temple played an important role in the uplift of the population mainly consisting of farmers and Vadtal is known as Swaminarayan town. While on the way to Gadhada, take a detour to Salangpur in Botad to visit Swaminarayan temple in Sarangpur. It has a temple with an idol of Lord Hanuman and it is said that whoever has any affliction, it is cured. Saturday is when believers flock to the temple for fulfillment of their wishes.
Swaminarayan Temple, Gadhada
From Vadtal one can proceed to Gadhada located in Bhavnagar district by hiring a car from a car rental agency in Gujarat. Lord Swaminarayan is said to have supervised the construction of the Gopinathji temple, as this temple is known, and there are six temples in all, developed by followers of the BAPS sect. Devotees worship at the shrines and also take a tour on the premises in which there is the Prasadi temple, a neem tree under which Swaminarayan gave discourses and the Ghela River where he used to bathe.
Swaminarayan Temple Bhuj and Baladia
A tour of Swaminarayan temples of Gujarat is incomplete without visiting Bhuj. Drive on and you arrive at the old Sri Swaminarayan temple said to have been built by Lord Swaminarayan. It has the idols of Narnarayan and Harikrishna Maharaj in the sanctum besides those of Ganpati and Hanuman in other locations. Notable about this temple is that it houses the personal items of Swaminarayan used during his life. There is also a newer temple that is far more beautiful in looks, built in May 2010. From here you can drive on to Baladia. This is another temple where Swaminarayan is said to have spent some time during his pilgrimage and it is an important place for devotees of the Swaminarayan sect.
You will find that all Swaminarayan temples are well managed. In fact some of the swamis handling the temples are highly qualified and experienced professionals who have chosen to serve people through Lord Swaminarayan. Each temple has facilities for accommodation and also offers satvik food to devotees so you get equal doses of spirituality and healthy food that is like prasad during your pilgrimage to Swaminarayan temples in Gujarat.