Ahmedabad was known as the Manchester of India at one time but most of the large textile mills have vanished. It still remains a commercial hub of the State. What is not so well known is that it also has some places that are definitely worth a visit. Not for nothing has the city gained the status of World Heritage city.
Attractions & Tourist Places of Ahmedabad
1. Kankaria Lake
This historic lake was built by Sultan Qutbuddin sometime in the 1450s was a source of water and remained a favorite picnic spot until recently when it was given a makeover. The chief attraction is the island in the middle accessed through a walkway. The island is known as Naginawadi, once the favorite haunt of lovers but now entrance is by purchasing a ticket and one can get to see a laser show after sunset. The lake has a mini toy train for kids and plenty of entertainment. There is a zoo close by and a recreational area for children known as Balvatika with rides and amusement. The Dutch cemetery lies on one side of the like. This is an out and out entertainment centre where one can pass an evening just walking around, sitting or enjoying the amusement facilities.
2. Sidi Bashir Mosque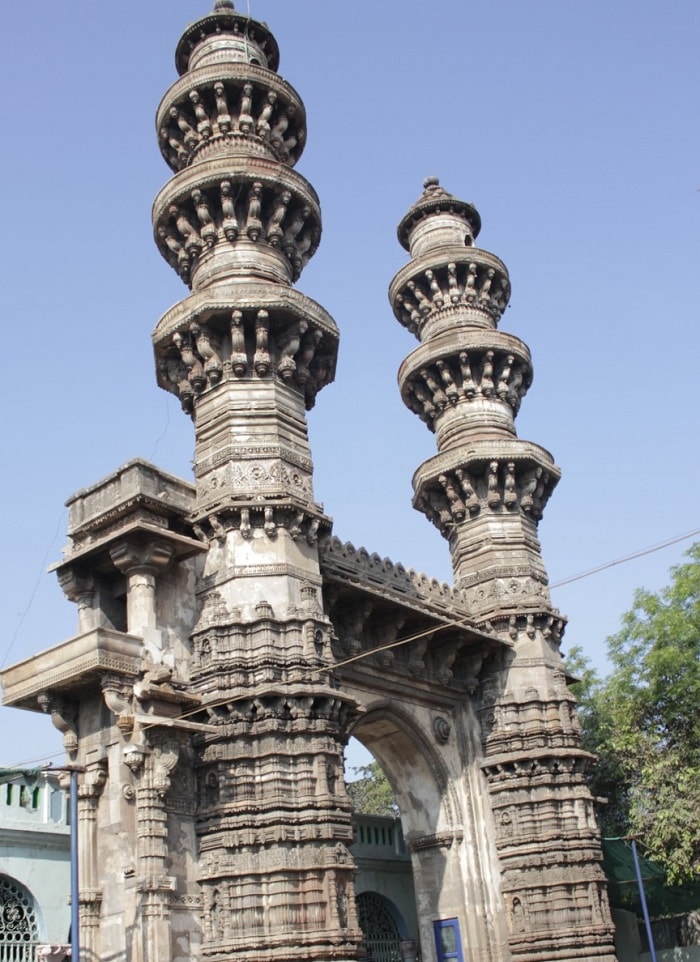 In fact there are two jhulta minaras in Ahmedabad. The Sidi Bashir mosque near Kalupur Railway station is one. There are two towers or minarets. One climbs to the top and the attendant pushes a stone which makes the tower sway. What is surprising is that the twin tower connected to it through stone will also sway. The mosque was damaged during the wars and now no one is permitted to climb the towers. The other jhulta Minara is in Gomti pur area and like the Sidi Bashir mosque minarets, no one is allowed to climb up.
3. Mahatma Gandhi Ashram at Sabarmati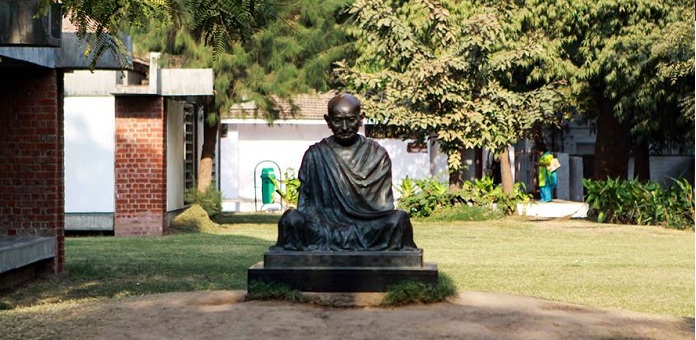 Also known as the Sabarmati ashram, Gandhi ashram is a national monument. This is the place where Mahatma Gandhi lived and conducted his campaign that resulted in independence for India. Located on the banks of the Sabarmati River, the ashram has the cottage where Gandhiji used to live and a museum that showcases his works, books and charkha. The complex has buildings like Vinoba Kutir, Upasna Mandir, Magan Nivas and Nandini, all named after people who were companions of Gandhiji.
4. Shree Swaminarayan Mandir Kalupur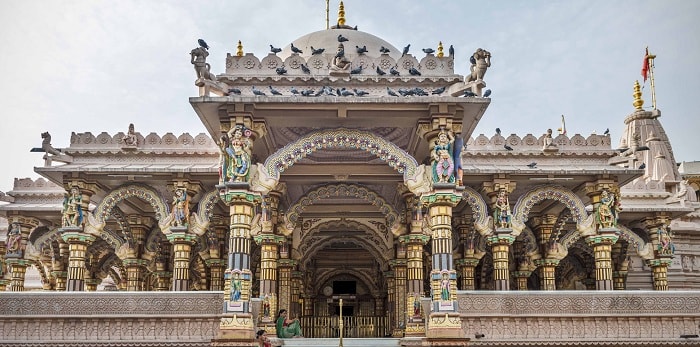 There are quite a few Swaminarayan temples in Ahmedabad but the Swaminarayan temple in Kalupur is one of the oldest, built in 1822 under the directions of Lord Swaminarayan. It is built in wood with intricate carvings and rich ornamentations. The temple comes alive on festival days with lakhs of people thronging to the temple to offer prayers.
5. Adalaj Vav
Adalaj Vav or stepwell is located about a half hour's drive from Ahmedabad on the road to Gandhinagar. Rana Veer Singh is credited with its construction in 1499 but he was killed by Mahmud Begda even as the stepwell was half finished. Mahmud Begda continued with its construction. The stepwell goes five storeyes down into the ground and each floor has pillars with rich carvings and ornamentations that are floral and geometric in nature. The architecture represents Solanki style that was popular in that era. The old well has stone deities that were defaced by the Muslims and, in all; it presents a unique mix of Hindu and Muslim architecture.
6. Dada Harir Vav, Asarwa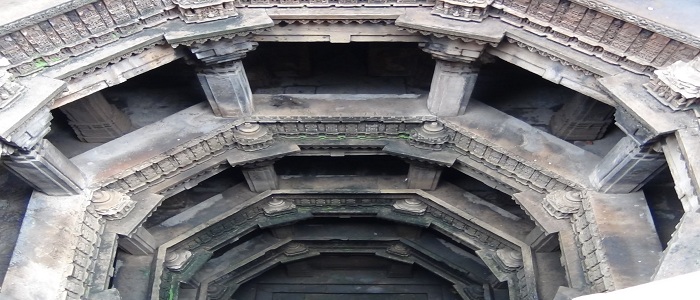 The Dada Harir Vav in Asarwa is not as much visited as the Adalaj Vav but it is no less beautiful in its rich carvings and architectural layout. It was built by Dhai Harir, a lady in the harem of Mahmud Begda sometime in 149. The well has an octagonal structure and there are five storeys that go deep down.
7. Matar Bhawani Ni Vav & Temple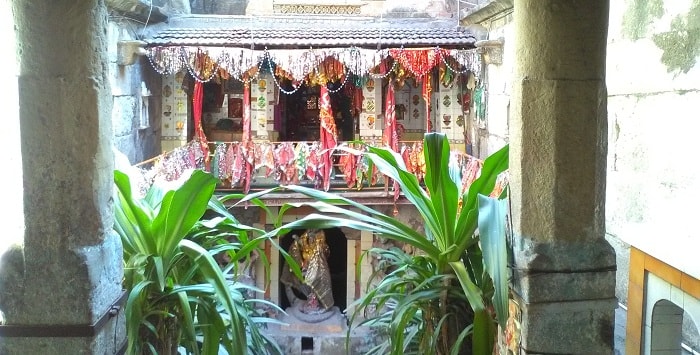 Though not quite as elaborate as the Dada Harir Vav, the Mata Bhavani Vav nearby is a Hindu structure built by kings of the Chalukyan dynasty in the 11th century. The idol of goddess Bhavani is housed in a small temple in the lower part of the step well that has a rather more open construction.
8. Amritavarshini Vav, Panchkuva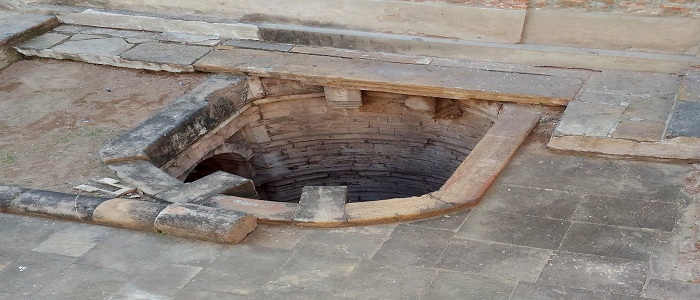 Sitting right next to the Panchkuva Darwaja in Kalupur area, the Amritavarshini Vav can be missed altogether because of shops and traffic. Enter inside and one finds five wells with the structure going three floors underground with L shape architecture. Raghunathdas, the Diwan of Haider Quli Khan, the governor of Gujarat, built this stepwell in 1723 as a source of water for people living nearby.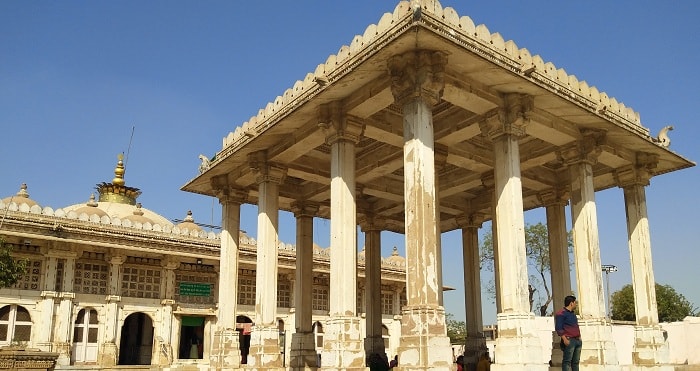 The Sarkhej Roza in Sarkhen is inarguably the finest and most elaborate one of its kind in Ahmedabad and a place one must visit. It is a large and impressive area, known as the Acropolis of Ahmedabad, where one can find the tomb of the Sufi saint Shaikh Ahmed Khattu Ganj Baksh. It was he who suggested to Sultan Ahmed Shah to set up his capital whereupon Ahmedabad came into being. Shaikh Ahmed Khattu Ganj Baksh died here and Muhammad Shah II built a tomb here in his honor. Sultan Mahmud Begada developed Sarkhej by building a large lake here surrounded on all sides by stone steps and several buildings and a palace. He also built a mausoleum for himself and his family. This is where he, his son Muzaffar Shah II and his queen Rajbai are buried. The mausoleum of Shaikh Ahmed Khattu Ganj Baksh is impressive in its stone trellis work. Sitting next to it is a mosque that rivals the Jama Masjid of Ahmedabad. One enters a different world when one enters the Sarkhej Roza area.
10. Tour of Pols
Ahmedabad is an old city at its heart which is exemplified by its hundreds of pols with narrow lanes lined by two storeyed houses. This is an entirely different world. One can enter a pole at the Astodia side and then keep walking through narrow lanes, traverse Manek Chowk and then go through the maze of paths to emerge at Kalupur. There are over 356 pols and each pole has some significance. Some pols were home to rich people and are typified by elaborately carved wooden structures. There are pols where only Jains reside, pols for Muslims and pols for other people. If you wish to know the heart of Ahmedabad, spend time walking through the pols. Some dwellings of rich seethes have been renovated and are on public display. It is enlightening and richly rewarding, a travel past in time. Most temples, masjids and other buildings are the same as one finds in countless cities but the pols of Ahmedabad give you an insight into how people lived here.
11. Manek Chowk, Badshah no Hajiro, Rani no Hajiro, Jama Masjid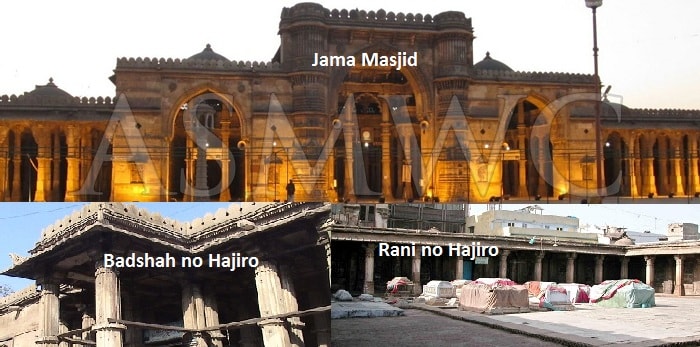 Manek Chowk is the bustling marketplace core of old Ahmedabad. It is densely packed with shops and hawkers. It is the centre of gold and silver trade, the place where the old stock exchange used to be, the place where one can buy fruits and vegetables as well as herbs, spices and provisions. Walking here and shopping is an immersive experience. Manek chowk is where one will find Rani no Haziro, the final resting place of the queens as well as the Badshah no Hajiro. Ahmed Shah Badshah tomb is located here and Mughli Bibi's tomb in the Rani no Haziro. Mughlai Bibi was the wife of Muhammad Shah II and mother of Mahmud Begada. The Jama Masjid is not far away. It was built in 1424 by Ahmed Shah I and it has a splendid 75 metrex66metre courtyard lined with colonnade on three sides. There is a water tank in the center for ablutions and a prayer hall at one end. In all there are over 260 columns and 15 domes in the structure. While there is noise and hubub outside, inside the premises it is peace and quiet. At one time the mosque was used for private prayers by the Sultan but today, members of the public gather here to offer prayers. The Bhadra fort is within walking distance but it is so crowded with hawkers that one may give it a miss. It was built in 1411 during the rule of the Marathas and it is better known for the Kali Temple here. According to legends the Goddess Lakshmi stepped inside and blessed the Sultan that the city would always be rich.
12. Iskcon Temple
The ISKCON temple is located on the Sarkhej Gandhinagar highway and it is dedicated to Lord Krishna and Radha. Built in modern style, the temple is a popular place for locals and tourists alike and some people love the wholesome satvik food offered here while others pursue discourses. It is worth a visit.
13. Sardar Vallabhbhai Patel National Museum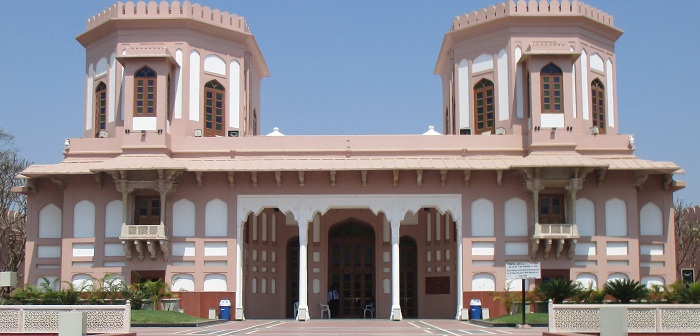 Located in Shahibaug, this Museum was once home to Emperor Shah Jahan and then became part of the British Cantonment. After independence it became the Governor's residence and ultimate turned into a museum.
14. Calico Museum of Textiles
This museum too is located in Shahibaug and is within the large premises of the Sarabhai Family, once the owners of the famed Calico mills. It has a wonderful collection of fabrics and textiles that one must visit.
15. Vechaar Utensils Museum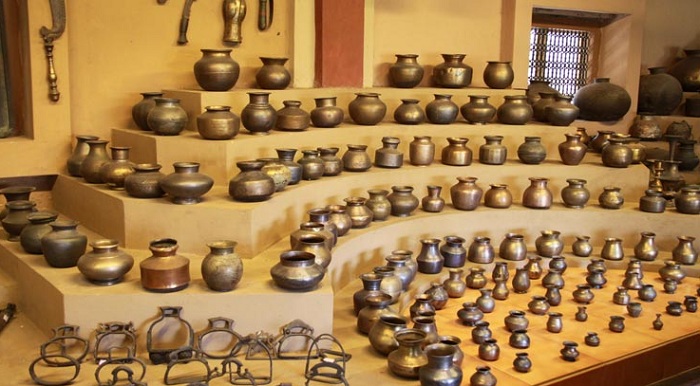 Set up by Surendra Patel, architect and owner of Vishalla, a village type restaurant in Sarkhej area, the utensils museum showcases various utensils. A visit can be enlightening as one can see over 4500 exhibits of utensils collected from all over India.
16. Auto World Vintage Car Museum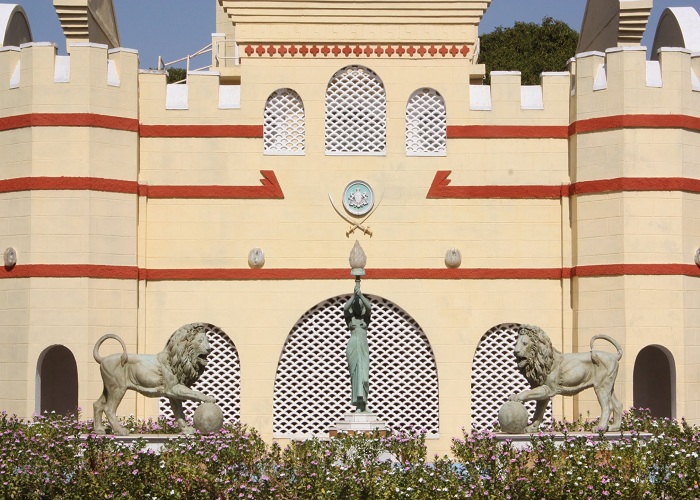 Located near Kathwada on the SP ring road near Odhav, this is a must visit place. It showcases vintage cars, once used by the maharajas of India and the rich landed gentry. The collection of Rolls Royces, horse drawn carriages and even a couple of motorcycles, is just impressive and certainly one of its kind in the State.
17. Sidi Saiyyed Mosque

Sidi Saiyed Mosque's claim to fame is its exquisite trellised stonework windows, one of which is iconic of Ahmedabad. One wonders how the master craftsmen could create such delicately filigreed carving in stone.
18. Hutheesing Jain Temple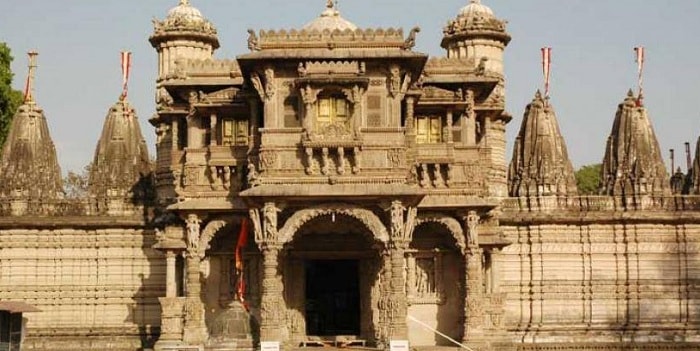 Hutheesing Jain Temple is located on the Shahibaug Road outside Delhi Darwaja. It is a Jain temple complex said to have been built by Sheth Hutheesinh who initiated the work that was carried on by his wife after his death in order to support labourers during the famine period. The main deity is Lord Dharamnath whose idol graces the main temple building. The main temple is surrounded by a gallery that houses 52 small shrines with exquisitely carved idols of various tirthankaras.
Ahmedabad is not just about places to see. Come here during Navratri and each street has dancing going on till late night. Come here on Uttarayan on 14th January and the city erupts into a frenzy of kite flying. Sample foods such as ganthiya, khaman, fafda and you know what makes an Amdavadi.