Narmada Mata Temple is an ancient temple in Gujarat's famed Bharuch city. It is a Devi temple belonging to Goddess Narmada who is believed to be the dream fulfiller of her devotees. This is a powerful spiritual destination where devotees gather in large numbers to pray to the Devi and get their wish fulfilled. The temple of Narmada Mata is a beautiful amalgam of well-thought execution, extraordinary architecture, world standards and unique layouts. The temple holds an immense traditional importance for Hindus. The Temple lies in vicinity to River Narmada.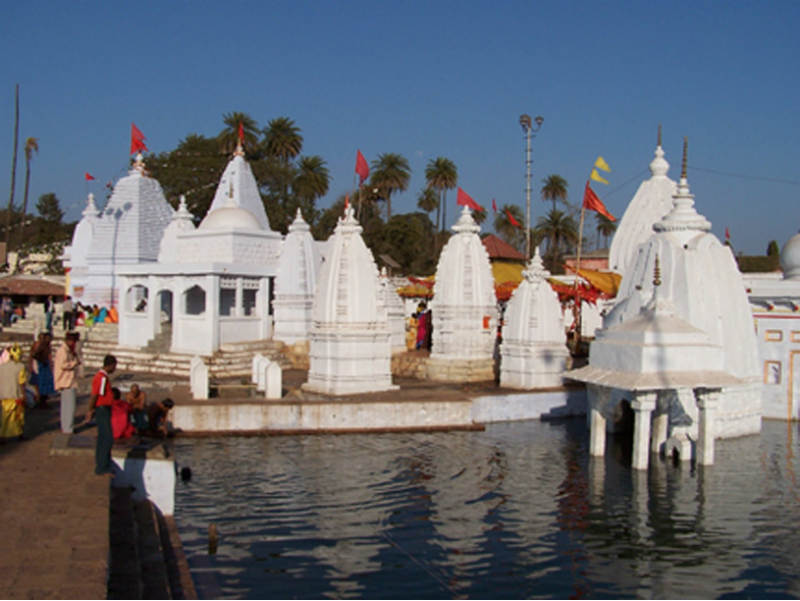 Temple Architecture
This temple dates back to 150 years and is the prime example of architectural masterpiece. The temple architecture is done in pure white. The temple consists in multiple Shikharas or spires sporting small sized red and yellow flags. There's a small, pellucid lake towards the back of the temple. According to the locals this lake is actually River Narmada's origin. Devotees make sure to take a holy dip into this lake as they believe that the waters of the lake can purge one of sins and diseases.
Temple Location
The temple stands along River Narmada's banks in Gujarat's Bharuch city towards the east. Dandia bazaar area is the area to which the temple belongs. The temple comes within Gujarat's Bharuch district.
How to Reach
The temple can be reached by roadway, railway and airway
If you wish to travel by air, you have to take a flight to Vadodara airport or Surat airport. These two airports lie in vicinity to the temple. The rest of the journey can be completed by means of road transport.
If you wish to avail the rail route you need to make a train journey to Bharuch Junction rail head from where you have to complete the rest of the journey by road, covering a distance of nearly 3kms
If you wish to avail the road transport then you must know that Bharuch has very well developed road connectivity with all other major cities of Gujarat plus of many neighboring states such as Madhya Pradesh, Rajasthan, Maharashtra, and Delhi. Public and private buses regularly ply on these roads transporting people from one place to another.
Best Time to Visit
The ideal time to visit Narmada Mata temple is between months October and March. That period marks the winter season in the region and winters in Gujarat are pleasant enough. Try to avoid the summers; i.e. between months April and June and Rainy season; i.e. between months July and August. Summers are very hot, sunny and unbearable while the rainy season is uncomfortably humid.
Other Places to See Around
Around the Narmada Mata temple there are many other important and interesting visit-able places such as Nagkut Mountains, Pretshila hills.
People visiting the temple also often set out to explore Bharuch and in the process visit places like Bharuch fort, Kadia Dungar caves, Gayatri Mata temple, Narmada part, Golden bridge, Neelkanteshwar, Ninai waterfall, Shoolpaneshwar wildlife sanctuary etc.
Accommodation Facilities
There are many decent hotels offering hospitable services and a comfortable stay experience around the Narmada Mata Temple. Luxury hotels, budget hotels and many other accommodation options are available for you as per your choice. Some of the well known hotels around the temples are Hotel Ashish, Hotel Empire International, Hotel Apple Inn, Hotel Corona, Hotel Apex, Hotel Shalimar, Hotel Nyay Mandir etc.
Food
You could sample authentic Gujarati thalis and snacks around the temple. Most of the local restaurants and dhabas sell typical Gujarati foods such as bajri no rotlo, Sukhadi, puran poli, Handvo, Kadhi, Sukhadi etc.