Lord Shiva is known as Bholenath because it is easy to appeal to him and get boons granted. Devotees of Lord Shiva visit his many temples dotted across India and one such temple where by pray for salvation, for wealth, for freedom from disease or just for knowledge is Pimpleshwar Mahadev temple in Gujarat.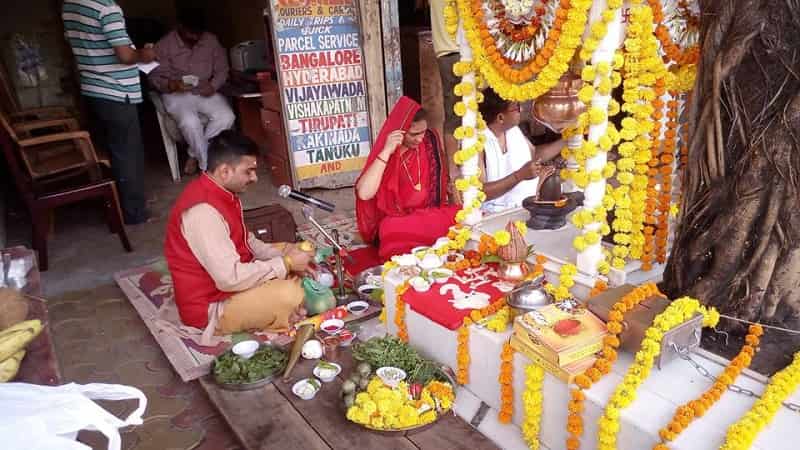 Location
Not many know about Pimpleshwar but it is quite popular with Shiv bhakts and the locals. The temple is located in Saldi village in Mehsana district in North Gujarat in the western part of India. What makes it unique is that unlike other temples where a lingam represents Shiva, here, it is an aquifer from which water spouts in the shape of a lingam. In order to reach Pimpleshwar most people arrive at Ahmedabad, about 60 km away, by train, by bus or by air. From here it is an hour and a half or two hours' journey to Pimpleshwar Mahadev in Saldi village. The village and the temple environs are full of Pimpal, Bili and Vakhada trees.
Origin and Legend
The temple owes its origins to Salvabhai Patel, son of Teja Patel, originally a resident of Champaner. He migrated to Saldi about 200 years ago and settled at Saldi. A cowherder noticed that one of his cows would release her milk every day at the roots of a Pimpal tree and on further search they found a source of water here. The cow's offering was considered as a ritual of pouring milk over the lingam of Shiva and the people of the village assumed that this was a sacred spot. A temple was put up by Petha Patel at this spot sometime around 1086 AD. The temple in its present state has not been renovated for 100 years but the original temple was reconstructed by Sayajirao Gaekwad of Baroda sometime in 1895. In recent times trustees have undertaken major renovation work.
Temple
The temple, since it was set up, has always attracted devotees. It occupies an area of about 50 acres and there are other temples inside the campus as well. There is a temple dedicated to Umiya Mata, the favorite deity of this region, one for Amba Mata, another for Lakshmi Mata and another for Nag Dev. There are also statues of Hanuman, Parvati and Ganesha carved on the walls of Pimpleshwar Mahadev that, as usual, has the Sabha Mandap and the Garbha Griha in the traditional North Indian architectural style. In addition there is a separate building for guests, a meeting room and an area where food is prepared and served.  There are plenty of activities going on in the temple premises such as the daily Aarti rituals and meditation. One of the special features is a Bilva Patra Pooja in which devotees with the help of a priest make an offering of leaves of the Bili tree with chanting of mantra.
The temple is crowded with pilgrims throughout the year but it really comes alive on Shivratri day as busloads of pilgrims arrive. Special food is prepared and brahmin priests perform Yagnas and Havans. Shravan, the holy month, is another period during which devotees flock to the temple. It is during this month that the annual Saldi fair is held here visited by lakhs of devotees from across the world.
When to Visit
You can arrive in Ahmedabad by air, by bus or train and take a train to Mehsana from where you can travel to Saldi by road. There are jeeps and buses available besides private taxis. One can travel to Ahmedabad and take a state transport bus to Mehsana or Saldi. Pilgrims do not have to worry about accommodation because the Dharamshala attached to the temple has plenty of rooms. Still there are hotels and guest houses in Mehsana. One can visit any time of the year but keep in mind that summers are exceedingly hot. Winters are mild and Shivaratri, occurring around February could be a good time.  Shravan is also a good time, a holy month for Shiv Bhakts and it rains so the countryside becomes green and attractive. You could also observe the bel pooja conducted during this month. If you have a wish, possibly it could be granted.