The western most and one of the most culturally rich destinations of India, Gujarat is home to some of the most magnificent sites, peaceful views and a rich historical background. This is the place which has also produced some of the most iconic faces of India from the father of the nation, Mahatma Gandhi to the current prime minister of India Narendra Modi. From being home to the endangered Asiatic lion population and relaxing beaches to the stark white salt landscape of Rann of Kutch and other majestic and opulent historical structures, Gujarat is a colorful kaleidoscope of age-old traditions as well as one of the prime pilgrimage destination since it is the place which also houses the ancient and sacred char dham temple of Dwarkadheesh which is frequented by pilgrims from all over the world on a daily basis.
Here are a few places in Gujarat that will feel like you have stepped into the bygone era:
Rani Ki Vav: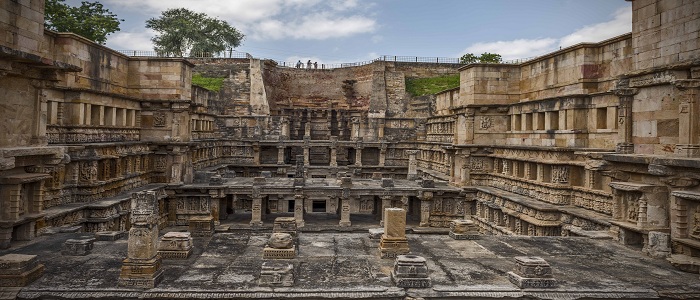 Also popularly known as the queen's stepwell, this is a UNESCO world heritage site that was constructed during the 11th century and clearly demonstrates the traditional arts and architecture that had defined the true meaning of elegance and grace. This stepwell consists of elaborately carved out multi storey pavilions, numerous detailed panels and opulent pillars. This place represents the architectural marvel that was utilized during that time by the master craftsmen. Every step of this stepwell leading downward is elaborately carved out with images of various gods and goddesses. You will also be able to witness some magnificent carvings on the side walls depicting apsaras.
Timings – Monday to Sunday; 8:30 am to 7:00 pm
Laxmi Vilas Palace: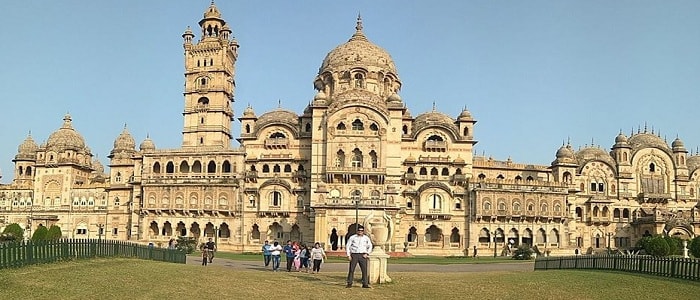 Serving as the official residence for the Gaekwads – the royal family of Vadodara, this magnificently opulent Laxmi Vilas Palace covers a massive area of 500 acres. The time taken to construct this piece of architectural marvel was 12 years and is known for being 4 times the size of Buckingham palace. This 'largest private dwelling in the world', represents a combination of various styles of architecture like – Hindu, Gothic and Mughal. The palace is enriched with numerous charming and affluent factors including a museum filled with rich artifacts from across the world, a manicured garden along with a 10-hole golf course.
Timings – Tuesday to Sunday; 9:30 am to 5:00 pm
Dholavira: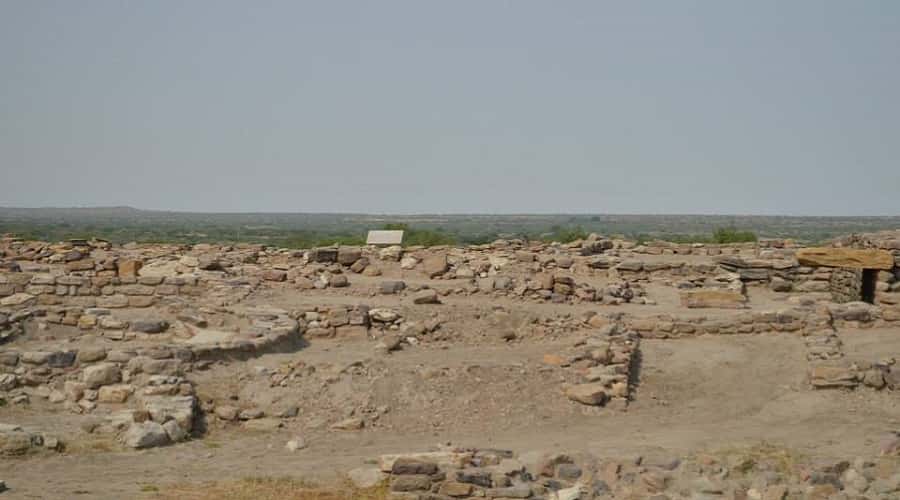 If you want to take a look at the bygone in a more up close and personal manner then visiting this well-kept historical and archeological site is the place to be. This site dates back to the birthplace of civilization – Indus valley civilization. This place is filled to brim with numerous historical evidences and items like – stone sculptures, pottery, letters depicting the Indus script, sign board and so many other items that will completely paint the picture of what the normal life was like during these times. Every visitor will be pleasantly surprised with the well-preserved quality of this site and it may also seem like this place was once a thriving hub for the local life and society for the people of Indus valley.
Timings – open throughout the week at all hours.
Lothal: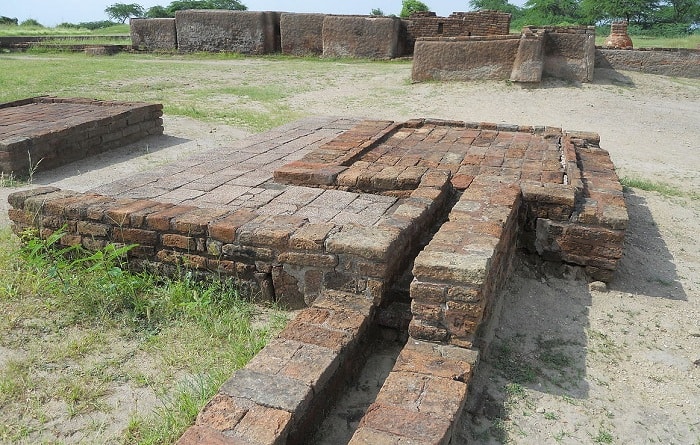 Situated in the region of Saragwala this is another well preserved historical site which dates back to the Indus Valley civilization. The place consists of a series of neatly stacked bricks that showcases the intelligence of our ancestors. Some iconic places that you can explore here include – terracotta ornaments, painted pottery, artefacts, Shell objects among a whole plethora of others that will be successful in making you imagine what life was during that age. This place also gives the visitors an idea of life of the people of Indus Valley though an archeological museum present there.
Timings – open throughout the week; 10:00 am to 5:00 pm
Champaner Pavagadh Archeological Park: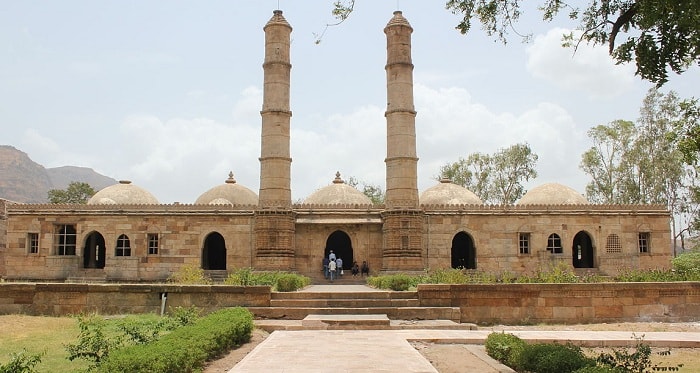 This UNESCO world heritage site is situated close to the historical location of Champaner that was built by Sultan Mahmud Begada of Gujarat. This historically rich park consists of numerous cultural as well as heritage structures like palaces, mosques, entry gates, temples, residential complexes and so much more that gives this place a personality of its own. Going here will be like stepping into the magnificently opulent history. This archeological site also showcases an impressive blend of both Hindu and Muslim designs through its buildings and structures that date back between 8th to 14th centuries. Visiting here will be like stepping into the rich and elegant historical representation of what it was like in the bygone ages.
Timings – open throughout the week.
Modhera Sun Temple: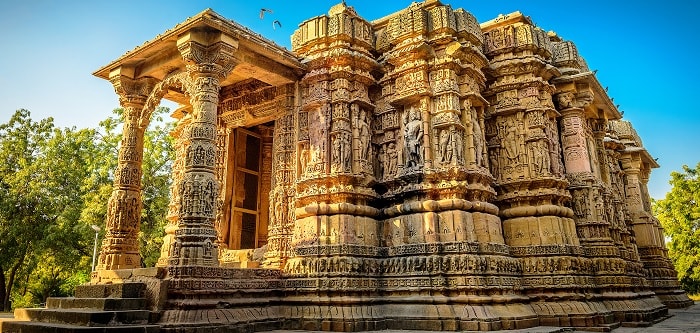 As per the name suggests this sacred temple is dedicated to the sun deity or Surya and is located in the district of Mehsana. This temple is one of the most iconic sign of sheer and brilliant architecture and was built during 1026 0 27 CE. This temple is also a representation of some of the most legendary craftsmanship. The Maru – Gurjara style of architectural design will definitely impress all the visitors. The walls and pillars of the temple is covered in various designer and intricate carvings of gods and goddesses that makes this place extremely spiritual.
Timings – Monday to Sunday; 8:00 am to 7:00 pm
Sabarmati Ashram: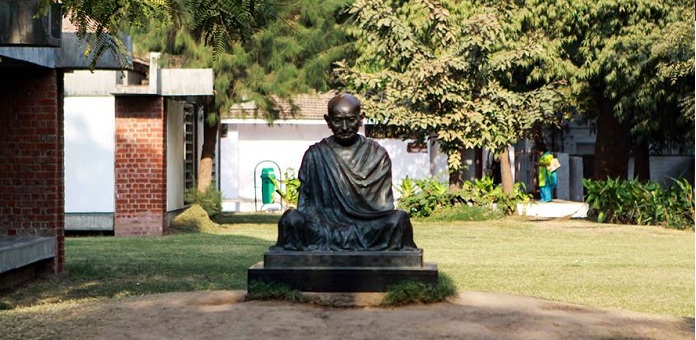 Sitting right next to Sabarmati River this ashram has been witness to some of the most legendary and iconic locations in India which is credited with the development of the freedom struggle in India. This place was also once functioning as the headquarters for Mahatma Gandhi who had an active and continuous participation in the struggle for freedom. Visiting here will open your eyes to the life of our 'father of the nation' Mahatma Gandhi. The place is quiet, serene and offers the visitors a glimpse into what actually went down during the freedom struggle.
Timings – Monday to Sunday; 8:30 am to 6:30 pm
Sidi Saiyyed Mosque:



Popularly known as Sidi Saiyyed Ni Jaali this mosque was constructed during the 16th century and is one of the most popular landmarks in the entire Gujarati landscape. People going on a sightseeing tour of Gujarat will definitely be taken to this opulent mosque that is covered in Indo – Saracenic styles and is a complete treat for the eyes. The stunning visuals carved out in the Mosque offers one of the most opulent and intricately created works of art in Gujarat.
Timings – open throughout the week; 7:00 am to 6:00 pm