Saurashtra, earlier called as the Kathiawar, is a peninsular region of Gujarat which is stretched over the Arabian Sea coast. The region consists of around 11 districts engulfing about a third of Gujarat and thereby cleanly, separated by the Gulf of Kutch on the west side and Gulf of Khambhat on the east side. This place is also largely celebrated among all the Indians since it is the birthplace of country's most prominent activist 'Mahatma Gandhi', who brought Independence for this nation through his non-violence principals.
Saurashtra is famous for its diverse dynamics because the region can be seen rocking back and forth from the city's hustle-bustle life to the village's quiet life. The peninsula is home to some famous sacred temples atop the hills, fabulous architectural sites, gorgeous beaches, and a notable wildlife sanctuary. And during Navratri, particularly this region of Gujarat shimmers with some beautiful colours.
Below is the list of top 10 places to visit in Saurashtra region of Gujarat, India.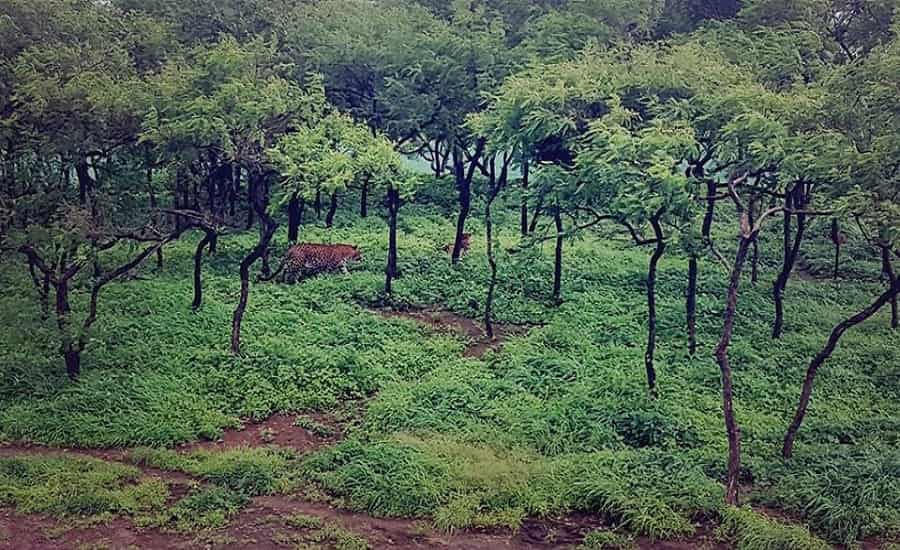 Gir National Park is a pride of India because it has been a shelter of Asia's last wild lions since 1965. The park is located 65 km in the south-east direction of Junagadh and stretched over a massive of 1150 sq. Km of the area. According to the reports, the numbers of lions in this park have increased from 200 to 400 and many tourists come here just to see them walking wildly. The sanctuary is also home to some other rare species like leopards, antelopes, large deer, gazelle, and wild boars.
There is a Kamleshwar dam in the vicinity of this park where one can also dwell in the thrill of watching wild crocodiles and birds breathing freely. Earlier, a small tribe used to live in this area who were later relocated to some other region but still, some of the people of that tribe lives here in the wilderness.
Best Time to Visit: December to April.
Opening Hours: 6am-9am, 9am-noon, 3-6pm (Only runs through mid-October to mid-June).
Entry Ticket: Mon-Fri (Rs.800 for an Indian/ Rs.4800 for a foreigner) and Sat-Sun (Rs 1000 for an Indian/ Rs.6000 for a foreigner).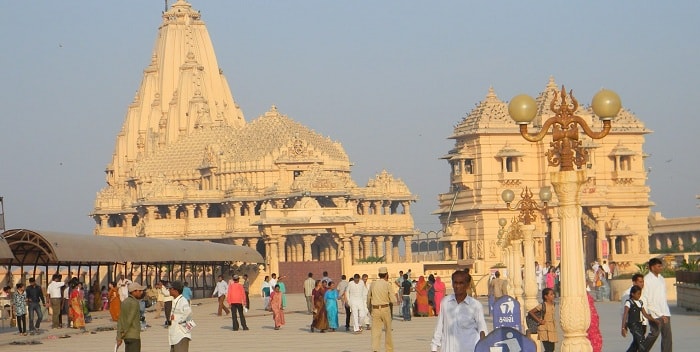 Somnath temple is a very sacred pilgrimage site of Hindu community and often, visited by thousands of devotees every day. The temple is the first of all the twelve 'Jyotirlingas' (a form representing Lord Shiva) and is of the reason why it is always deeply reverenced by the Hindu community. The temple is only 79 km away from Junagadh and lies on the western coast of Gujarat.
As per legends, the temple was built by moon God himself purely with gold. But the temple was later reconstructed with other different materials as King Ravana turned it in silver, Lord Krishna then turned it in sandalwood, and then lastly, it was built with stones by the rulers. There is no entry fee for the visitors.
Best Time to Visit: October to March and major festivals are celebrated here during this time.
Opening Hours: Darshan time (6:00 am to 9 pm) and Aarti time (7:00 am, 12 noon and 7:00 pm).
3) Girnar Hill
Girnar is a centuries-old hill in the Junagadh district of Gujarat and it is regarded as a very sacred site by the Hindus and the Jains. There are a total of 866 Hindu as well as Jain temples up on this hill for which one have to walk down around 10,000 steps to pay homage to their Gods. This hill encounters the greatest number of devotees during Parikrama festivals, which is held on the 14th day of every year.
The trek to this hill starts from Girnar Taleti and after taking 2000 steps, one could easily see themselves surrounded by the panoramic view of this hill. The most gorgeous view one can have here is during the sunrise time when the sun shimmers the whole mountain in golden colour.
Best Time to Visit: October to March
4) Shatrunjaya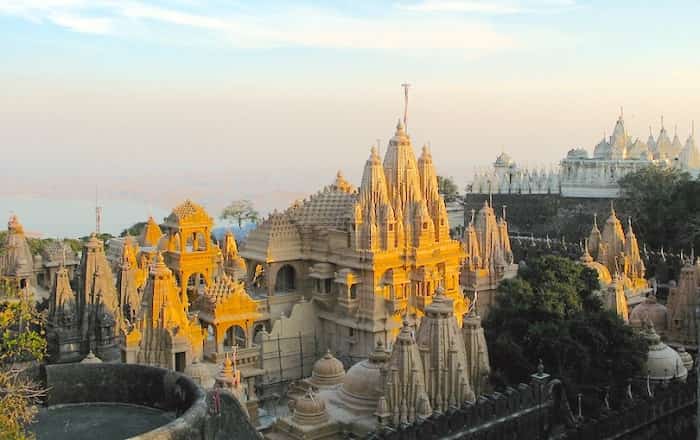 Shatrunjaya is another such sacred hill, situated at an altitude of 50 m above sea level in the Bhavnagar district of Gujarat. It is also crowded with lots of Hindu as well as Jain temples which are presumed to be built 900 years back. The famous temple of all the other temples is Shatrunjaya temple, which is considered to be the most sacred Jain temple.
There are only 3300 steps as compared to 10,000 steps for Girnar hill and will hand you the most splendid view at the top. The hill is famous for holding a 'Teerth Yatra' during Kartik Purnima and is considered a very great event among the Jains who never fails to pay their homage at that time.
Best Time to Visit: October to February.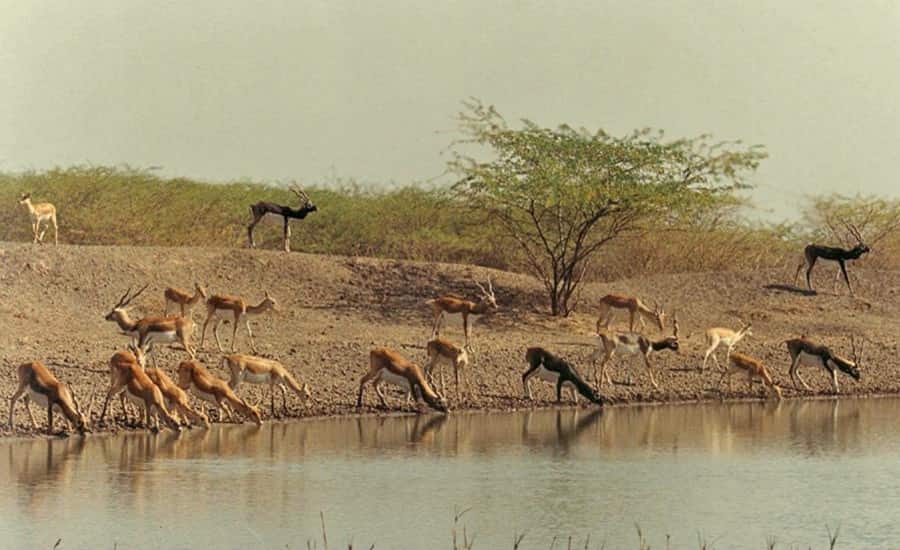 Blackbuck National Park is located only 49 km away from Bhavnagar city and lies on the border of Gulf of Khambhat. The park covers around 34 sq. Km of the area which is mostly surrounded by agricultural field and wastelands. The park is famous for its blackbucks – a very beautiful creature who also sports two spiralling horns.
The park is also popular for its wolves and some other species like striped hyenas, hunting cheetahs etc. As per estimation, a total of 1600 blackbucks roam freely in this area and many travellers make their way to this park in the wake of catching a beautiful and rare sight of those blackbucks.
Opening Time and Hours: From 16th October – 15th June and is only visited from dawn to dusk.
Entry Ticket: Rs.400 for an Indian/ Us $40 for a foreigner.
Devbhumi Dwarka is also the third pilgrimage site of Chardham Yatra lying on the East zone of India. This place is often held with great reverence in the history of India because it was helmed by Lord Krishna himself. Many pilgrims come to this play to pay their hearty homage to the ruins of Lord Krishna's kingdom.
The place is popular for its Dwarkadhish temple which is dedicated to Lord Krishna and is estimated to be built 2,500 years ago. The place is also home to some other notable religious places like Rukmini Devi temple, Gomti Ghat, and Bet Dwarka.
Best Time to Visit: October to March and many festivals are being held at this place during this time.
7) Uparkot Fort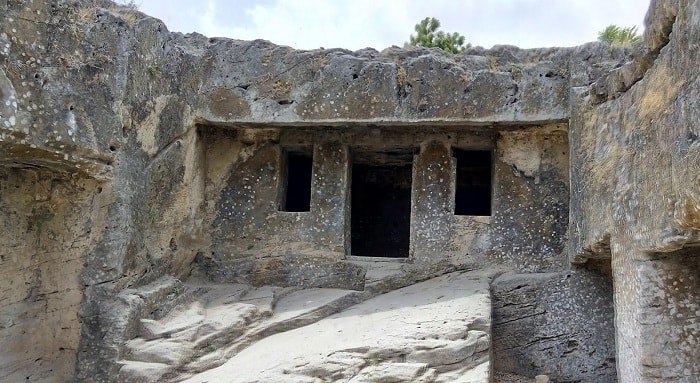 Uparkot Fort is a historical fort which was constructed by the Mauryan Emperor Chandragupta, somewhere around the 319 BC. The fort is located on the east side of Junagadh which consist of a beautiful mosque, a set of Buddhist caves and a pair of step-wells.
As per legends, it is believed that this fort once withstood 12-years of the military blockade. Standing on the rooftop, one can have a gorgeous view of the whole city and at night, the sight becomes really celestial.
Opening Hours: 8:00 am to 6:00 pm.
8) Diu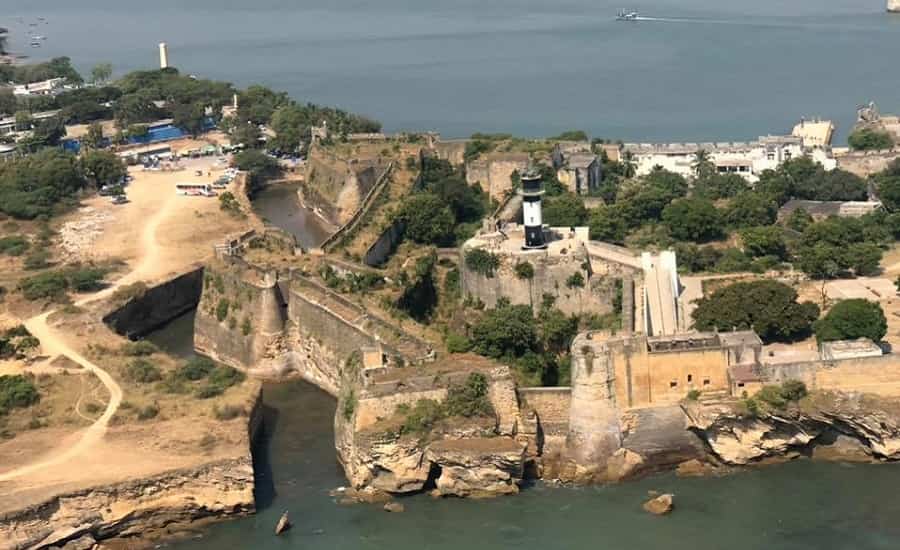 Diu is a quaint town owning everything in Portuguese style which is located on the Southern coast of Gujarat. It is also the union territory of India which is often visited by young travellers because of its quiet life. Since the territory is separated by a tidal creek which is why it is only accessible by a bridge from the mainland.
The island has some pretty impressive attractions like Diu fort, caves, and some gorgeous beaches. The fort is a major landmark which showcases the authentic Portuguese culture. The beautiful beaches also beautify the island's low skyline in a very elegant way.
Best Time to Visit: During monsoon from August to October.
9) Mahabat Maqbara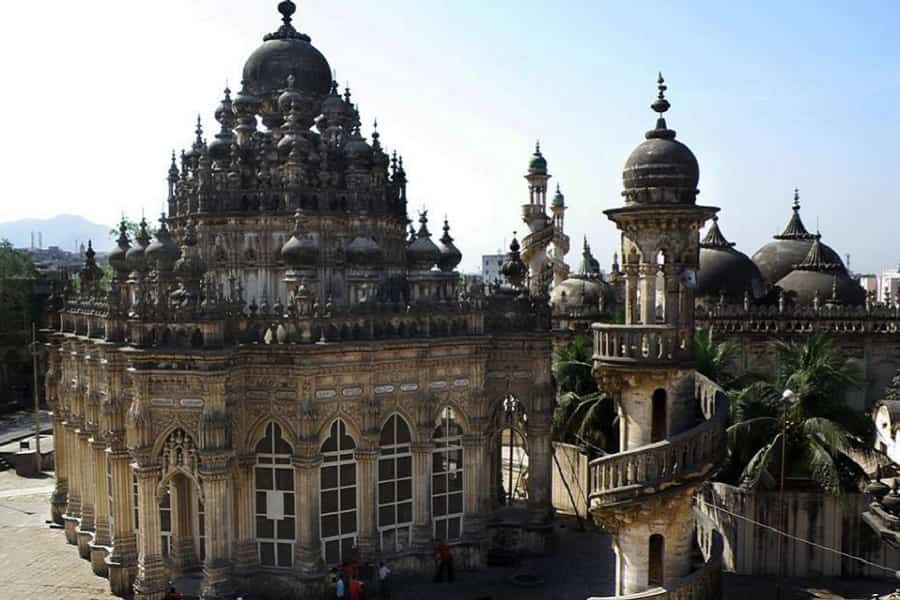 Mahabat Maqbara is an architecture of great excellence which was built by Nawab Mahabat Khan II of Junagadh. The mausoleum is located in the Junagadh district of Gujarat and is a living example of Euro–Indo–Islamic monumental design.
The mausoleum is often visited by the people chasing historical monuments around India. It is must visit place if one is planning to visit the Saurashtra region of Gujarat.
Best Time to Visit: Throughout the year but it is advisable to plan a visit during winters from Oct-Mar.
10) Vazir's Mausoleum
Vazir's Mausoleum is another such architecture which stuns people with its admiring beauty. It is a neighbour to the earlier mosque and yet, attracts many travellers to have a duly visit to this place. This mausoleum has four storybook minarets within its walls which can only be approached by French styled spiralled stairwells.
It is also a must-visit place in the Saurashtra region of Gujarat if one is hoping to see some centuries old architectural design.
Best Time to Visit: Throughout the year but it is advisable to plan a visit during winters from Oct-Mar.
With this above list of 10 places to see in Saurashtra region of Gujarat, one can experience the diverse dynamics of India. You will also come with people still wearing their old customs clothes in this region and not following the western culture very much.