The westernmost state of India, Gujarat, is home to some of the most interesting and unique places. From exploring the traces left behind from the Indus Valley civilization in Dholavira and Lothal to the stunningly stark white salt marshland of Rann of Kutch. However the cascading waterfalls of Gujarat are a nature's gift to the visitors. Gujarat has an impressive collection of waterfalls owing to the nature of its landmass, which is coupled up with a lush green, thieving surrounding. A visit to these serene and picturesque waterfalls will definitely put all your stress and frustration at bay.
Are you planning on a visit to Gujarat? Then these beautiful waterfalls should definitely be visited:
1. Gira Waterfalls (Saputara)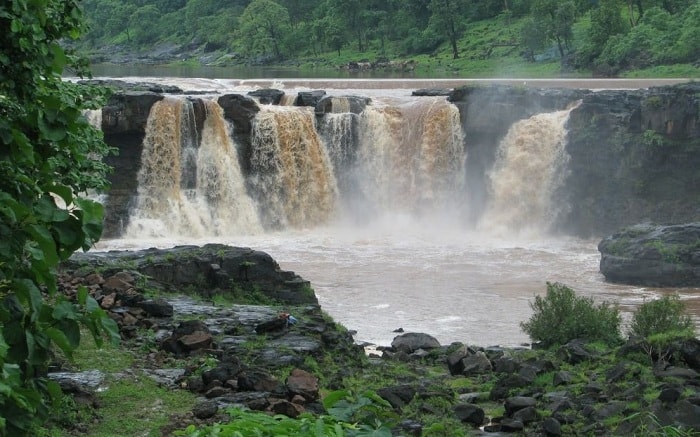 Situated at a comfortable distance of 5 kms from the town at Waghai this magnificent looking, rushing waterfalls is set amidst one of the greenest covering in Gujarat. This waterfall naturally and magnificently into Ambica River and is open for visitation throughout the year and can also be easily accessed. There are a few stalls located around the waterfall where the tribal artists sell their traditional arts and handicrafts. Also known as Gira Dhodh this is one of the most popular waterfalls in Gujarat. Here you will be able to witness the might and sheer beauty that nature presents. This place can be reached via a jeep ride which is available for hiring. Here you can spend a day of picnic and taking baths in it's water.
Best Time to Visit: June to January (avoid taking baths during the monsoon months when the water here are extremely harsh).
2. Girmal Waterfalls (Girmal)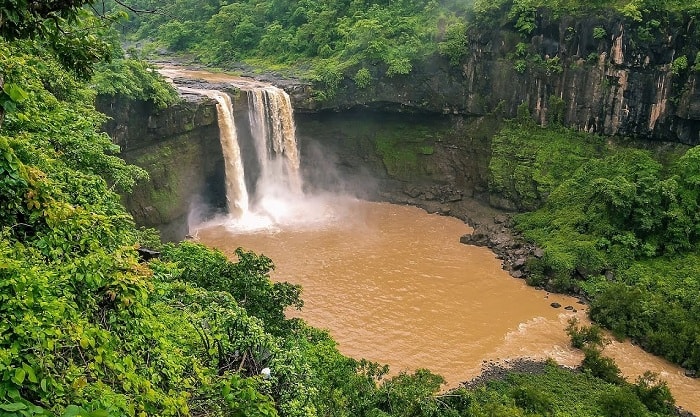 Often confused with Gira waterfalls, Girmal waterfall is located close to Subir, Ahwa. This waterfall is a relatively quieter and a more solitude option for people looking to spend some time away from the crowd. Deemed for being the tallest waterfall in Gujarat this waterfall is situated deep inside the thick green wild forests of Dang. One can witness some of the most alluring rainbows here along with gazing at this majestically falling water. The forest department has made numerous view points along its route which offers some of the most spellbinding views of the fall. Safety railings and roads are provided for the convenience and safety of every visitor.
Best Time to Visit: July to December
3. Chimer Falls (Songadh)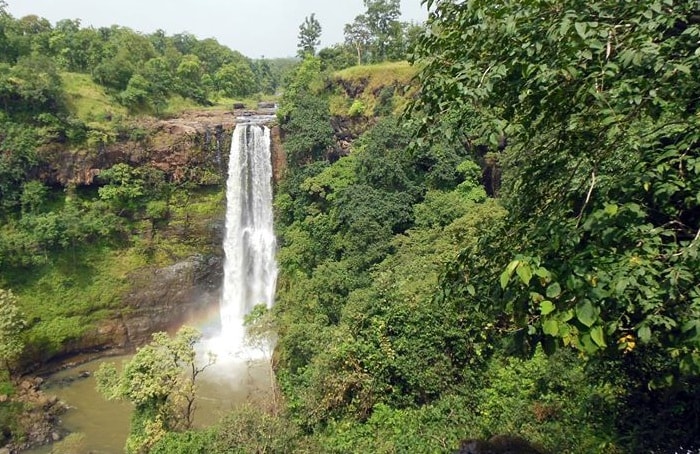 Also known as Chichkund Waterfall and located amidst the thick green forest surroundings and scenic hilly tracts, Chimer is known for being the highest waterfall of Gujarat (unofficially). You will be required to cover a short walking distance in order to reach it, which is however an extremely fruitful effort since you will be treated with peaceful environment. This falls has managed to remain away from the prodding eyes of the tourists which have allowed it to be a hidden gem of Gujarat. Apart from the main waterfall, there are 2 small and 2 large waterfalls in the same area as well.
Best Time to Visit: June to December
4. Shiv Ghat (Ahwa)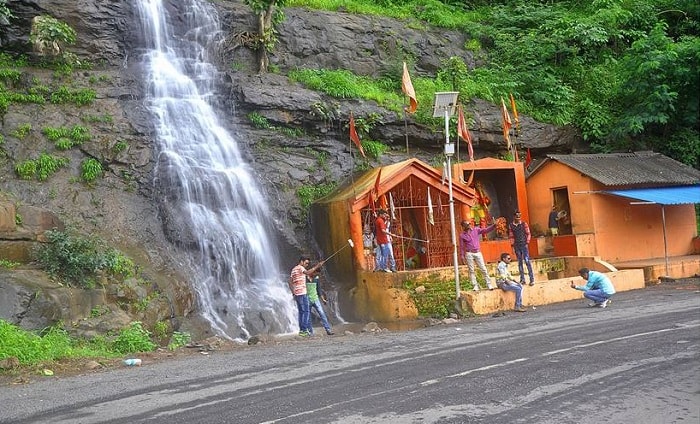 Situated at a distance of 10 kms from Ahwa this simple looking, humble waterfall is located right next to a holy temple dedicated to Lord Shiva and is visited by a number of pilgrims and devotees looking to offer their prayer here. This explains why the waterfall is named so. The accessibility to this waterfall is extremely easy since it is located right on the Ahwa – Waghai road. After offering your prayers to the temple located here then you can dip your feet in the fall's refreshing and cooling water pool that accumulates right next to the temple.
Best Time to Visit: June to January
5. Barda Waterfall (Chankhal, Ahwa)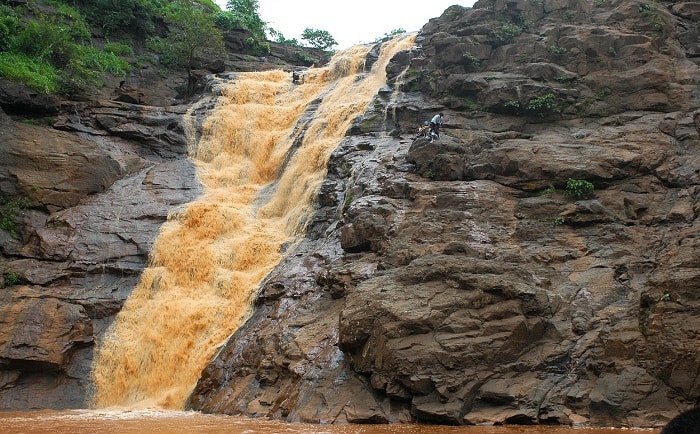 Situated amongst the hilly terrain of the surrounding Dangs, Barda waterfall is known for being one of the most unique natural waterfalls in Gujarat. The waterfalls by covering 12 steps and can be reached after covering a hiking distance of 30 minutes amidst the green woods. Being a hideaway spot this waterfall does not have any eating joints or stalls present so it is advisable for you to carry along with you some refreshment items or eatables in case you are planning on spending a day amidst the natural beauty and peace that this Place has to offer. If you are a hiking enthusiast or a nature lover then a visit to this magnificent waterfall is a good option.
Best Time to Visit: June to December
6. Bilpudi Jodiya Waterfall (Dharampur)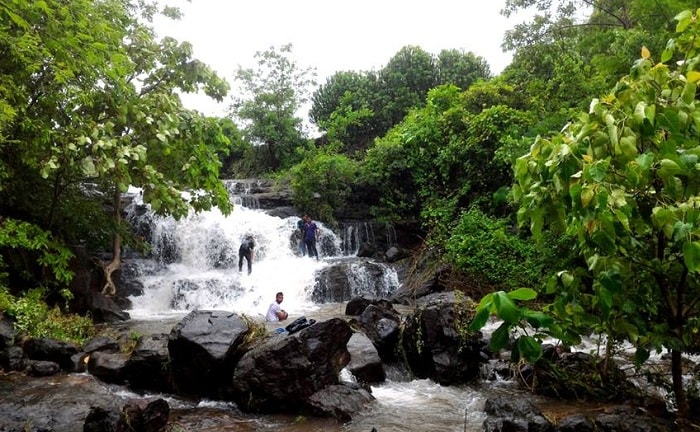 Located at a distance of 35 kms from Valsad this waterfall is a true gift of nature. Situated amongst some of the most picturesque views and serene surroundings, this waterfall is the perfect option for people looking to go on a small yet moderately difficult hike. The fresh air, jagged rocks and looming tall trees is what gives this place a personality of its own. This place remains flocked by tourists all year long especially during weekends and is also one of the prime centres of attractions for people looking to get a break from the daily hustle bustle. The waterfall looks elegant yet dominant while falling from a height of just 20 feet to 30 feet.
Best Time to Visit: June to Mid – November
7. Khuniya Mahadev Falls (Pavagadh)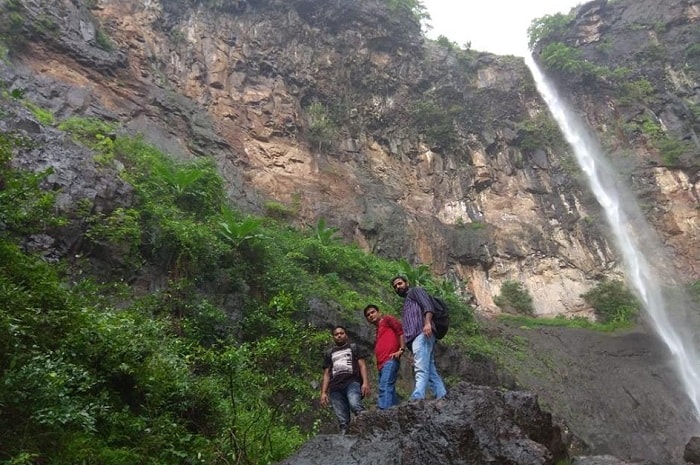 Located in close proximity to Pavagadh this waterfall is located behind a temple dedicated to Lord Shiva. This place is hiding in plain sight and is not popular among tourists making it the perfect place for you to achieve some much-needed peace of mind. The place is also popular during the 'Shravan' months. You can also go on a mini hike to the waterfall where you can enjoy some of the most awe-inspiring views of the natural surroundings. This place represents the beautiful blend of nature and spirituality.
Best Time to Visit: July to Mid-November
8. Zanzari Waterfall (Dehgam)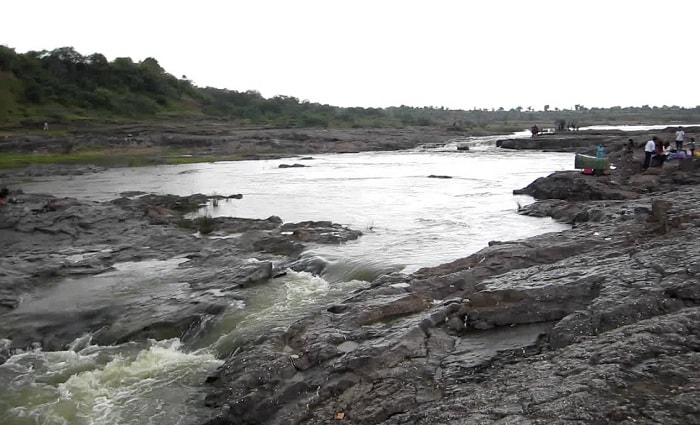 This hidden gem is located in Dahegam and is one of the most peacefully falling waterfalls in Gujarat. With easy accessibility and yearlong availability of packaged food and other food stalls, Zanzari is quickly become a family favourite picnic spot. Although the accessibility to this waterfall is easy and the tourist rush here is at its minimal which makes this spot a well-kept secret of Gujarat and there are a few eating stalls available here that offers some basic items like tea, coffee and other packaged items. Going here with your family will be a good option for you if you want to bond with your family amongst the quiet.
Best Time to Visit: June to November
9. Zarwani Waterfall (Dediapada)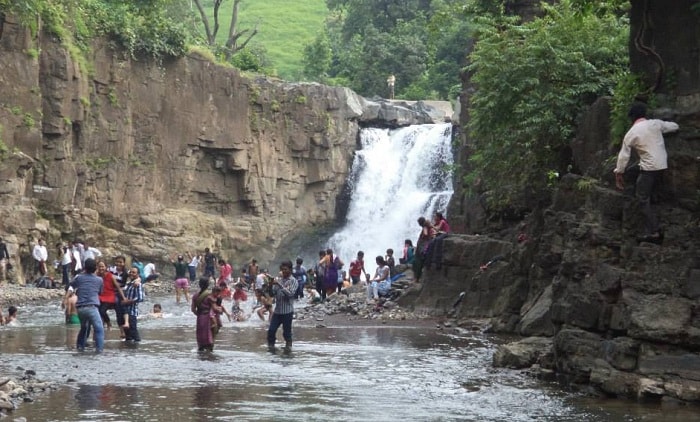 Situated amidst, jagged, bare rocks of Shoolpaneshwar sanctuary, this imposing waterfall is easy to access and you can have a good and peaceful time with your family and loved ones here. This place is also known for being a popular campsite among avid outdoor sports enthusiasts and with the help of the forest department you can also arrange a day picnic or treks. Here apart from the waterfall you can also pay a visit to the Shoolpaneshwar temple and Gheer Khadi.
Best Time to Visit: June to November
10. Hathni Mata Waterfall (Vadodara)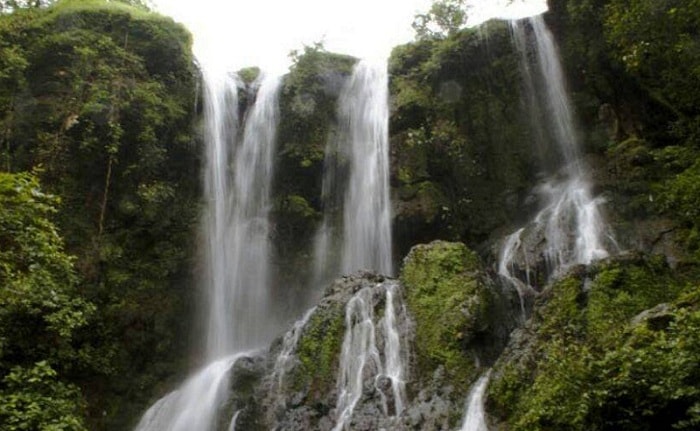 Known for being one of the most scenic and beautiful waterfalls in India this 100 metres tall water is set amongst some of the most serene lush green settings. The water falling down from a great height on the rocks along with the sweet sound of breeze will definitely have a soothing effect on you. This place must be visited during the monsoon months and is extremely popular among the younger crowds and locals for its serene appeal. Located at a close distance from Jambughoda this waterfall should definitely be on your list of must-visit waterfalls of Gujarat and should not be missed out on.
Best Time to Visit: June to November