Wisely said by Frank Borman "Exploration is really the essence of the human spirit." Certainly, when we travel to new places, it's the best time we invest. For some, it is a way to refresh soul but to some, it's the key to happiness. Who doesn't get excited when it comes to exploring new destinations? Of course, everyone out there is keen to explore new places and knowing the unknown facts. Interesting know?
The world is full of mesmerizing destination and Gujarat is among those destinations. A place like religious Somnath Temple adventures Gir Forest National Park, and spiritual Sabarmati Ashram are spots that are 'must to visit' in Gujarat. Gujarat has wonderful infrastructure that makes the city one of a kind. Gujarat has a wide range of lip-smacking dishes which are very famous all over India. The Best Time to Visit Gujarat arrives in between June-March. It is very well connected to other parts of the world through a couple of international airports.
Rann of Kutch being Gujarat's 'heaven on earth', the endless Tharp dessert shines like a bright diamond on full moon night. Rann of Kutch is also said to the home of flamingoes. The best time to visit Rann of Kutch is Ram Mahotsav.
Gujarat has scenic beauty, amazing historical monuments, and picturesque gardens. A visit to Gujarat's gorgeous gardens shall not be missed. Time has gifted so many amazing sights to Gujarat of which big gardens and parks are favourite sites for family outings.
List of the 6 Most Popular Gardens & Park of Gujarat
1. Parimal Garden, Ahmedabad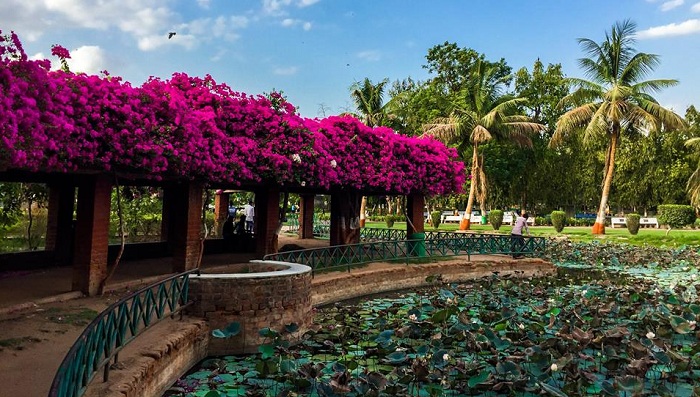 Parimal Garden has one of the most beautiful sights in Ahmedabad. The garden has amazing slides, swings, and magnificent flowers. Being the best place for children to enjoy, it also has lush greenery and beautiful flowers which makes it the perfect place for family outings. The sunset from Parimal Garden is one of a kind.
2. Jubilee Garden, Rajkot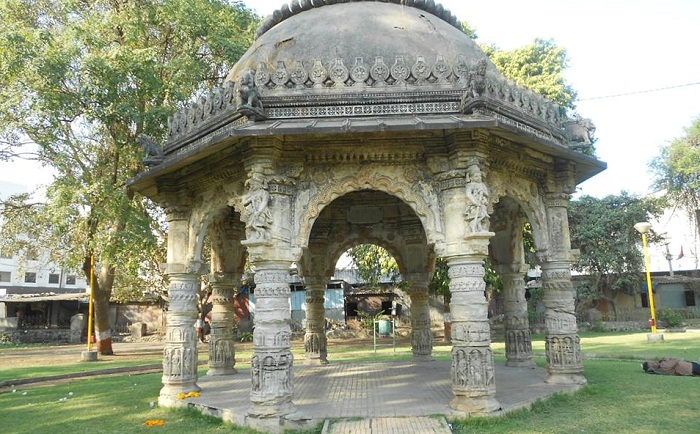 Rajkot has huge industries and very busy lifestyle. In such a beautiful city, Jubilee Garden is one of the best places to visit. The garden has pleasant ambience and plush greenery to be experienced. Interestingly, Rajkot has a rich history and Jubilee Garden is a very salient part of it. The garden was developed during colonial times which make this admirable picnic spot of Rajkot. The blossoming flowers all around the place attract not only the residents but also a lot of tourists. The beauty of garden rises due to migratory birds. Since it is a site for family outings, you will find many food stalls in Jubilee Garden. Food stalls provide all kind of tastiest yet mouthwatering local food. Watson museum in Jubilee Garden has relics of Mohenjo Daro, ancient jeweller, silver wear, tribal costumes' and many more items from our history. For people who are fascinated by literature, Lang library in Jubilee garden has the finest collection of books for you. You will notice some books made up of leather and homemade paper beautifully imprint with gold.
3. Sayaji Baug, Vadodara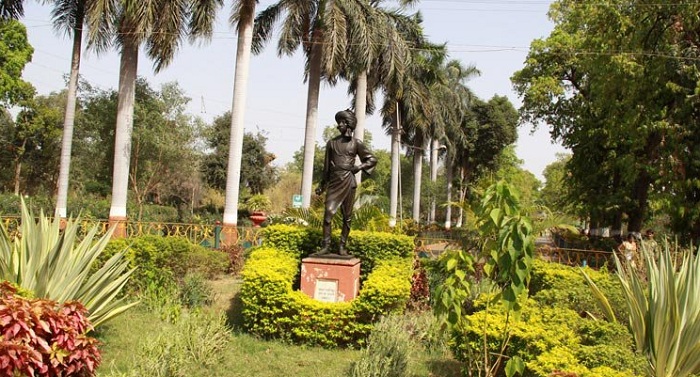 Sayaji Baug by Maharaja Sayaji Rao Gaekwad III in 1879 was primarily dedicated to citizens of Vadodara. Sayaji Baug, famously known as Kamati Baug is ion the river Vishwamitri. It is amongst the largest public gardens in Western India and is rich in flora (more than 97 species). One of the finest gardens Sayaji Baug is maintained by Vadodara Municipal Corporation. Thousands of residents visit this garden for their morning walk as well as for the alluring view of the garden. The toy train (gifted by the Gaekwad Dynasty to the children) ride there runs on a track that gives the entire view to the garden to the riders. The Sayaji Baug, situated on the banks has a zoo as a part that offers 166 types of 1102 animals. Asiatic lions are popular of all the attractions. In 1962, an aquarium was added to the zoo that contains 45 species of fishes. It also has a floral clock which is indeed beautiful.
4. Aji Ali Garden, Rajkot
Rajkot, due to attractions like Aji Ali Garden is the most allured place of tourism. As the name suggests, Aji Ali is a dam that is built on river Ali along with pretty recreational facilities and fantastic sightseeing. The Aji Ali Garden has an infrastructure with features like wildlife zoo, bird shelter, step garden, Crocodile Park and amusement park. It is located in such a place that has backdrop vision of mountains, spellbinding view of reservoirs and heavenly sightseeing of cascading water. Aji Ali garden is the most allured attraction on state highway 25. Kids amongst the residents and tourists are fascinated to visit this garden due to its beauty, swings and rides and recreational activities.
5. Sneh Rashmi Botanical Garden, Surat
If one looks forward to a captivating spot to spend their evening in Surat, they look no further to the pretty Sneh Rashmi Botanical Garden. Consigning one with lovely contrasting tincture of a host of a range of flora, this garden is just perfect to catch the glimpse of the beautiful sunset. The garden has a pristine, purity and a well-maintained environment is idle to also enjoy a walk.
6. Step Garden, Rajkot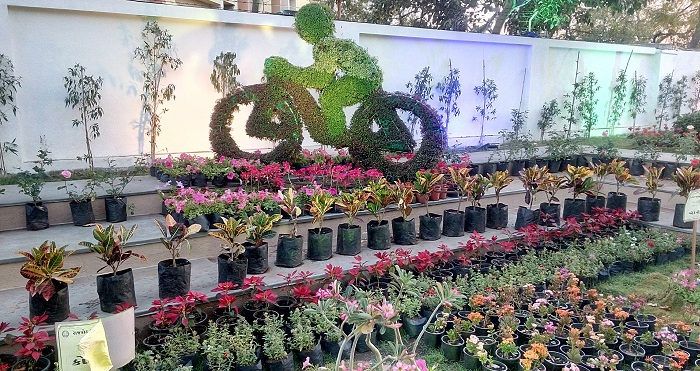 Step Garden in Rajkot is one of the finest, well-maintained gardens in Gujarat. It is located on the Table Land Road in the territory of Dang forest of the Sahyadri Mountains. Step Garden, as the name suggests, the garden is laid out in a number of steps which are adorned with beautiful flowerpots and vases which have vibrant flowers growing in them. The presence of wooden carvings on decorative artifacts is placed throughout the place. The walls are lined with pine and other trees. The garden is indeed arranged beautifully, is clean and well maintained. The place attracts the residents and the tourist because of its beauty, seating place and birds chirping on trees. In the centre of Step garden, there is a forest hunt placed mainly for the tourists.
Gujarat is a beautiful place to have a wonderful holiday. You will be enlightened to see so many heartthrob sights.