Gujarat is one of the most popular exotic destinations in India. From the ethnic tribes, places of religious significance to the colourful festivals and welcoming people it is a wholesome place which will fill your heart with love and respect. One of the most underrated places in Gujarat is Bhavnagar which is located at a distance of almost 200 kms from its capital Gandhinagar. Mostly famous as a trading centre and ship breaking yard there is much more this place has to offer than meets the eyes. It has a rich history of Indian rulers as well as being under the British regime which has carved its modern-day face which is enigmatic and vibrant.
Here are some places you could visit in Bhavnagar:
Nishkalank Mahadev Temple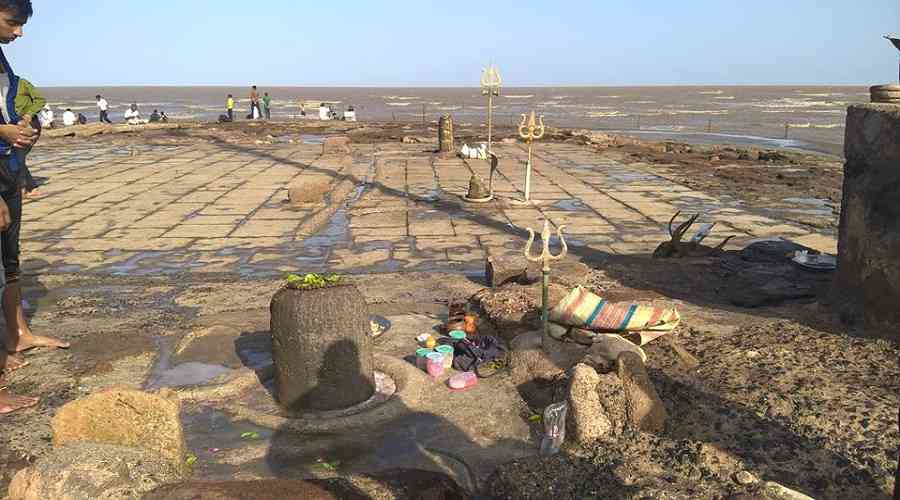 A unique and a peaceful temple which can only be accessed when the sea tides are at their lowest point, Nishkalank temple is located at a mere distance of 3 kms from Koliyak village. The 5 Shiv Lingas established within the temple complex is said to have been established by the Pandava brothers after they had won the Mahabharat war. This is one fact which makes it an important place of worship for devout Hindus. The walk which covers the 1.5 km off the shore is very scenic and peaceful. Remember to check the visitation time table before visiting as the entire island gets submerged underwater by evening. One of the best parts about the place is the fact that it is situated close to a beach which can be like an add on for a fun and spiritual day out with the family.
Victoria Park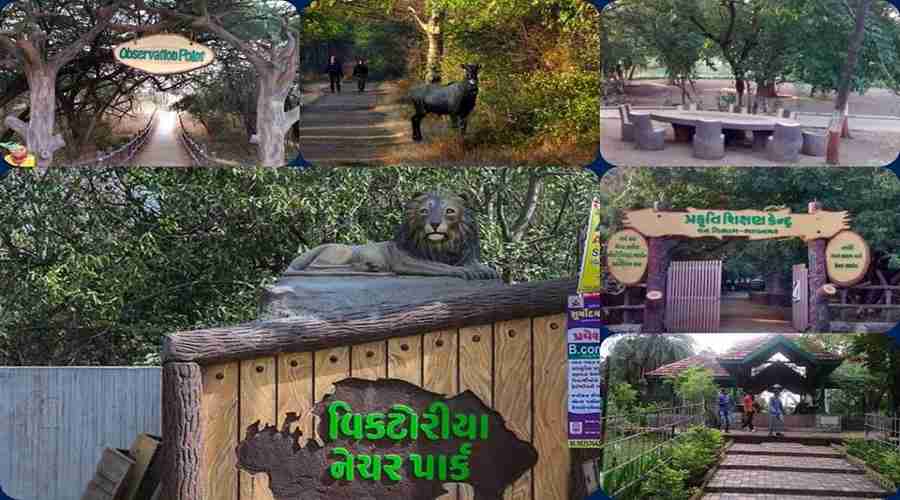 Bhavnagar is a teeming cultural centre and a bustling town. Victoria Park adds a sense of calm and tranquillity to it. Situated on the shore of the peaceful Gaurishankar Lake is a 2 sq. km. of protected forested region that forms this park. Designed in the year 1888 one can spot colourful exotic birds, fox families, peacocks, butterflies etc as well as a vibrant collection of cheerful flowers. It is the perfect place to get away from the chaos of the city and all the well-known crowded tourist spots. There are various nurseries inside the park and several water bodies serving as watering holes for the animals residing there. The picnic site here consists of benches, picnic tables and concrete pavements which is perfect for a stroll with the family.
Nilambag Palace
Gujarat is well known for its opulence and elaborates buildings and Bhavnagar is a testimony to it as well. The construction of this humble yet royal structure dates back to 19th century by a German architect named Simson for Takhat Singh. Initially the palace belonged to the Gohils whose old family title called Rawal or Raol has been traced back to the time of Alauddin Khilji in Chitor. Consisting of sprawling green lawns and an authentically Gujarati atmosphere this place now stands as a wonderful heritage centre and hotel. A defining feature of this distinctly European palace is a well-stocked library laid out with antique furniture and with a wonderful blend of modern amenities which only adds on to its charm. One must definitely go to this place if you are looking for a richly authentic experience in Bhavnagar.
Blackbuck National Park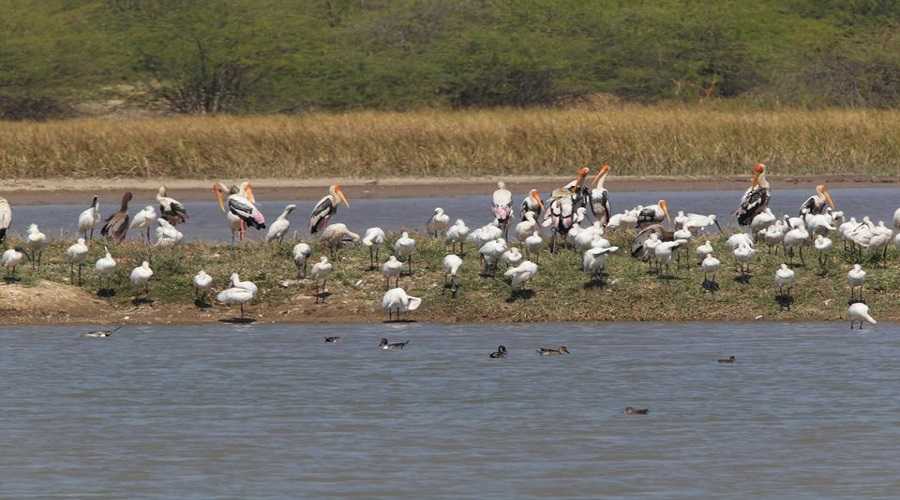 Established in the year 1976 and spread out over an area of almost 35 sq. km. this is one of the most prized possessions of not only Bhavnagar but in all of Gujarat as well. The entire place is covered in tall grasslands serving as the perfect environment for Blackbucks to thrive. During the yesteryears it was a popular black buck and cheetah hunting grounds from the maharajas but later on due to the depleting population of these magnificent species becoming extinct, hunting was banned. One can choose to go on a jeep safari ride where you may witness some of these blackbucks sprinting around, resting or chewing grass happily. The rich biodiversity also consists of nilgai, striped hyenas, antelopes, short-toed snake eagle etc among a plethora of other flora and fauna collection.
Takhteshwar Temple
Built in the year as far as 1893 AD Takhteshwar temple is famed for being one of the oldest temples in Gujarat and is mostly visited by a huge throng of visitors from all over the world. The best part about the location of this temple is that it is perched on top of a scenic hillock with a stunning view of the surrounding. The entire humble temple structure is supported by 18 elegantly and ornately carved pillars along with a wonderful main hall as well as the unique 3 eyed idol of lord shiva. Gracing the elegant courtyard of the temple right below the shikara is adorned with exquisite marble carvings and a small statue of Nandi the bull. From the temple one can get a mesmerising view of the glorious Gulf of Cambay. It is best visited during the holy occasion of Shivratri festival but the aura of spirituality here is unmatched throughout the year.
Aksharwadi Temple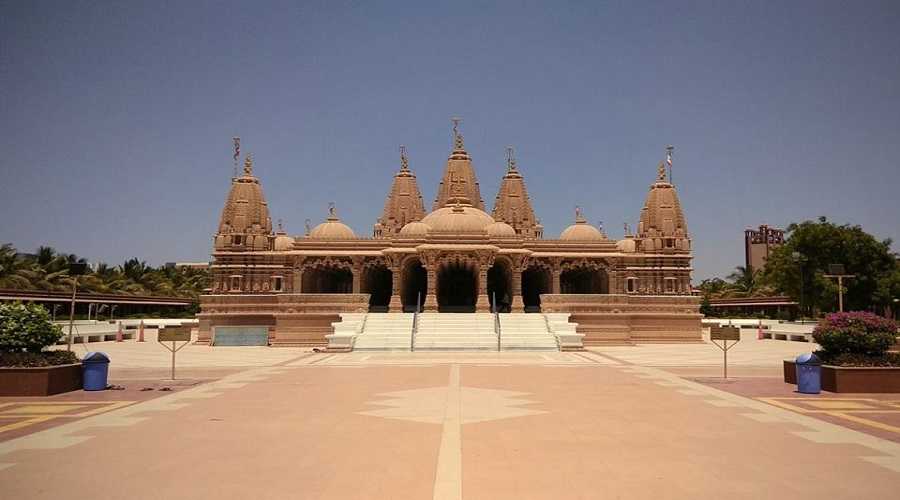 The beautiful temple is dedicated to lord Swaminarayan and it is not only a place of worship for devout but it also serves as an educational and entertainment centre for visitors. There are several interesting and engaging elements within the temple complex. The entire structure is carved out elegantly and finely with great care by the society of Shri Seva Sansthan. The temple also displays a plethora of terracotta works, wall hangings, paintings and idols dedicated to various gods and goddesses including lord Krishna. It is famed for resembling the Swaminarayan temple in London. A visit here will definitely be a wonderful experience especially if you are travelling with your family and kids. The holy atmosphere surrounded by a stunning landscape serves as the perfect place to sit back, relax and have an enlightening time. It is a well-maintained place with all the facilities and amenities for a good day out.