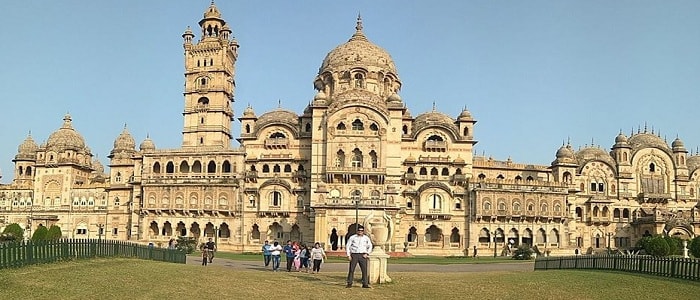 Situated in Vadodara and constructed by the Gaekwad family this is probably one of the most opulent and magnificent work of architecture that depicts the rich Culture and heritage of Gujarat. The majestic palace was designed using Indo – Saracenic revival architecture by Maharaja Sayajirao Gaekwad the 3rd in 1890 and costed around rupees 27, 00,000/- during that time. The entire palace complex is covered in lush green formal lawns and vast, expansive open spaces. A part of the palace is being used as a luxury resort hotel while the remaining part is still being utilised as the residence for the royal family to spend their vacations in. this extravagant palace is famous for being 4 times larger than Buckingham Palace. The palace is so in touch with nature and aims at coexisting with the surrounding greenery that you can spot monkeys jumping around from one tree to the next and beautiful peacocks adoring and lawns and building tops.
About the Palace Structure
The chief architect for the immaculate palace was Major Charles Mant who followed the Indo Saracenic style of design to construct it. The usage of hybrid Hindu, Gothic and Mughal architectural forms are also very clear with the presence of majestic domes, arches, minarets etc. within the complex there are several elements and spaces that gives the whole place a royally vibrant touch. These include the LVP banquets and convention halls, Moti Bagh palace, Maharaja Fateh Singh Museum building etc. To help you with a more convenient and achieve a better understanding of the place an excellent audio tour is available.
What to Expect Inside the Palace
The interiors here are richly decorated and adorned in pristine and finely delicate artwork and chandeliers this means the moment you step inside your eyes will be directed automatically towards the ceiling which is just a phenomenal work of creativity. During the time it was built it boasted of some of the most high-tech facilities like elevator services which gave it kind of a western touch as well. One of the lesser-known facts about the palace is that it was built only for the Maharaja and Maharani but it contained overall 170 rooms. According to the architect's predictions the palace was not expected to survive a long period of time but 125 years later is still never ceases to amaze its visitors. The Darbar hall which will be the first thing you see on entering is richly adorned with colourful mosaic floors, antique furniture, classical Venetian chandeliers and impeccable Belgian stained-glass windows.
Activities in Laxmi Vilas Palace
Spread out lavishly over an area of 700 acres there is plenty to do within the complex walls which will keep you and your family pre occupied throughout the day. One can visit the beautiful Navlakhi Stepwell, Maharaja Fatehgarh Museum and a small zoo where you can see a bunch of crocodiles resting and sun bathing on the rocks. The museum houses several remarkable and popular paintings by the ardent Indian painter Raja Ravi Verma and many more artefacts depicting the rich heritage of Rajkot and Gujarat. A miniature train line is also present that connects the palace to this museum which had initially served as a school for the royal kids which had made commuting to school easy for them.
Best Time to Visit
The preferred months for travelling and exploring the beauty of Laxmi villas palace is during the months of October to march when the temperature has dipped and the atmosphere is cool with pleasant breeze especially during the evening time. Summer time is also well spent here due to its location of being right next to the open ocean but no sightseeing can be done of other place since the climate is unwelcoming and very hot and humid.
Timings and Entry Fee:
Opening Time – 9:30 am
Closing Time – 5:00 pm
Lunch Time – 1:00 pm – 1:30 pm
Note – Mondays Closed
Entrance Fee for Museum – Rs. 60/- per person
Entrance Fee for Palace – Rs. 150/- per person
How to Reach
The palace is easily reachable and is also included in various packages for Gujarat. It is situated on Nehru road which makes the palace very easily accessible and reachable by road. One can hire a cab, taxi service or an auto rickshaw to reach. Being one of the most prominent places of tourist attractions in Gujarat it can be reached from any part of the city and most conveniently by road.
Travel Tips
Photography is strictly restricted inside the palace. Remember to follow all the given rules and guidelines.
Carry a bottle of water and do not litter the premises.
Audio guide is available in various different languages so that eliminates the need for a paid guide.
Wear a good pair of comfortable shoes since you will be required to walk a lot for around 2 hours or more. There are resting places available.