This birthplace of the father of the nation, mahatma Gandhi is an enigmatic capital of Gujarat which is situated at a mere distance of 23 kms from Ahmedabad is home to some of the most attractive tourist places in Gujarat. The popular and holy Sabarmati River runs on the western bank of the place. The entire area is dotted with lush parks, extensive greenery and an atmosphere of immense tranquility. The extremely religious and popular Akshardham temple is situated in Gandhinagar along with other places of religious interest. Lined with broad avenues and neatly created lanes this place is a huge contrast to the rest of the state which is primarily a concrete jungle. Home to a myriad of entertainment options like parks, gardens and religious centres Gandhinagar is quickly becoming a tourist hub. This place is replete with a rich cultural and traditional heritage and complete with serene environment and a kaleidoscopic representation of its vibrant and rich history. There are numerous places to visit in Gandhinagar which are of immense tourist interest and offer the people to have a look at the magnificent displays of art and culture.
If you are planning to visit Gandhinagar then here are some of the places which you should not miss out on:
Akshardham Temple: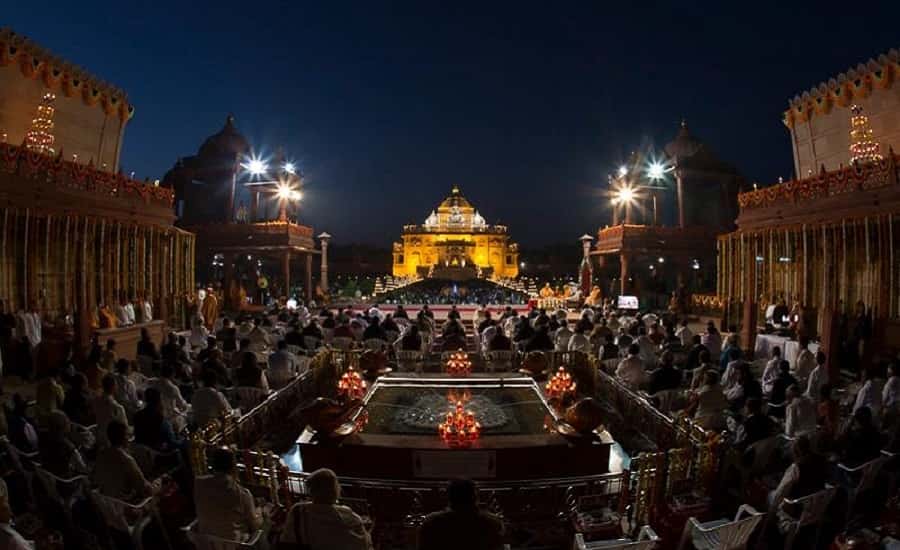 This magnificent and opulent temple is one of the biggest temples in India which attracts a huge swarm of pilgrims and devotees on a daily basis. Dedicated to Lord Swaminarayan and built by the BAPS Swaminarayan Sanstha, the temple is an iconic landmark and boasts of fine carvings, designs and engravings which makes this religious destination unique and one of a kind. The massive construction work for the temple complex took 13 years to complete which was completed and inaugurated in 1992. Panning over a massive area of 23 acres and created by utilizing the unique pink sandstone this temple is a great representation of the authentic religion and culture of Gujarat. The temple is a great melting pot of various traditions since people from different beliefs, faiths and backgrounds visit here and interact with each other. A visit here is considered to be a must for every devout Hindu.
Temple Timings – 9:30 am to 7 pm (it remains closed on Mondays)
Adalaj Stepwell: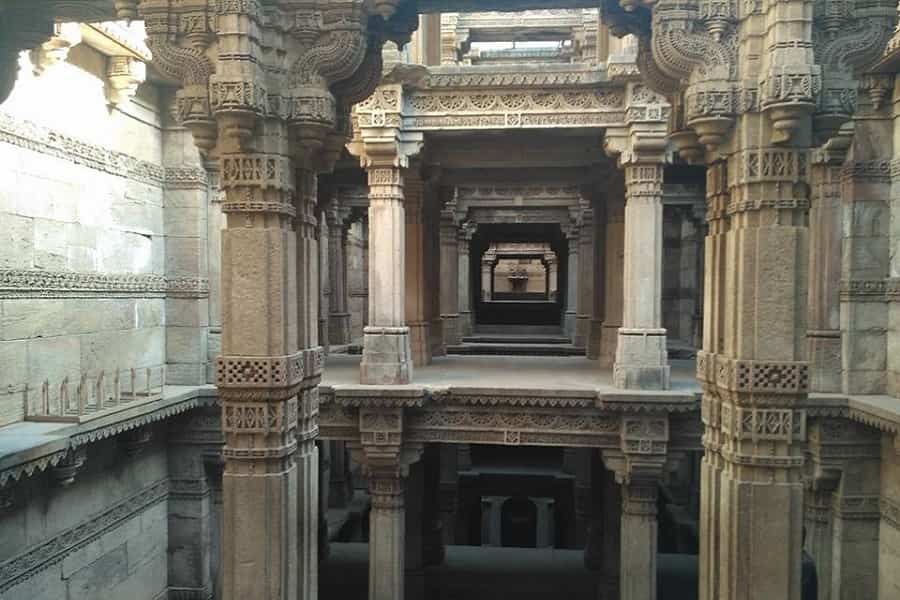 Built in the year of 1498 and situated at a distance of 3 to 4 kms from Gandhinagar this marvelously opulent structure was created with an aim of curbing the water crisis which was persistent in the Adalaj village which is situated nearby. Serving the purpose of a Stepwell there are a series of stairs which lead down till the ground water. The overall architecture of this structure is impeccable and extremely well made. The Stepwell represents some of the most finely created illustrations which were done by the Indian architects and engineers of that age. The entire place is extremely tranquil and a visit there is a great way to ease your mind. When it was first built the Stepwell also used to serve as a peaceful and a spiritual stopover place for the resting purposes of exhausted pilgrims. One of the most unique features about this place is that you will experience a sudden and an eventual drop in the temperature, due to the presence of a water source making the place extremely comfortable to explore even during a hot and scorching day.
Stepwell Timings – 9 am to 5 pm
Adalaj Trimandir:
Situated at a distance of 20 kms from the main city of Ahmedabad close to the village of Adalaj, this impressive temple pans over a massive area of 40,175 sq. ft. this temple complex is surrounded by neat and lush gardens which contains several benches and a glorious fountain in the centre. The unique feature about this temple lies in the fact that the 3 main lords of Hinduism is placed together in one platform. These lords are of different beliefs which are Jainism, Vaishnav and Shaivite sects. This place not only serves as a religious destination but it is also a great place for friends and families looking to spend some quality time with each other and doing activities like picnic. The religious site is located extremely close to the popular Adalaj Stepwell and Vaishno Devi temple. There are a number of entertainment options present here which includes a wholesome museum and even a mini theatre which showcases the cultural history of Gujarat.
Temple Timings – 5:30 am to 9:30 pm
Sarita Udhyan:
The name of this park is derived due to its geographical location of being situated next to a river, since the word 'Sarita' means river. Situated right next to the holy River Sabarmati this lush green and peaceful garden is one of the most favorite sites to visit for both locals as well as tourists. If you want to spend some peaceful time with your friends, family or loved one then a visit to this park will definitely be the antidote you need. The garden houses some fun filled recreational activities which is available for all age groups like deer park and botanical garden which attracts a range of visitors. Filled with a number of different trees and flowers, the entire park atmosphere is extremely fragrant and peaceful. The locals use this park for performing their morning routines like walking and jogging or even utilizing the open public gym present here.
Garden Timings – 8 am to 7 pm
Children's Park: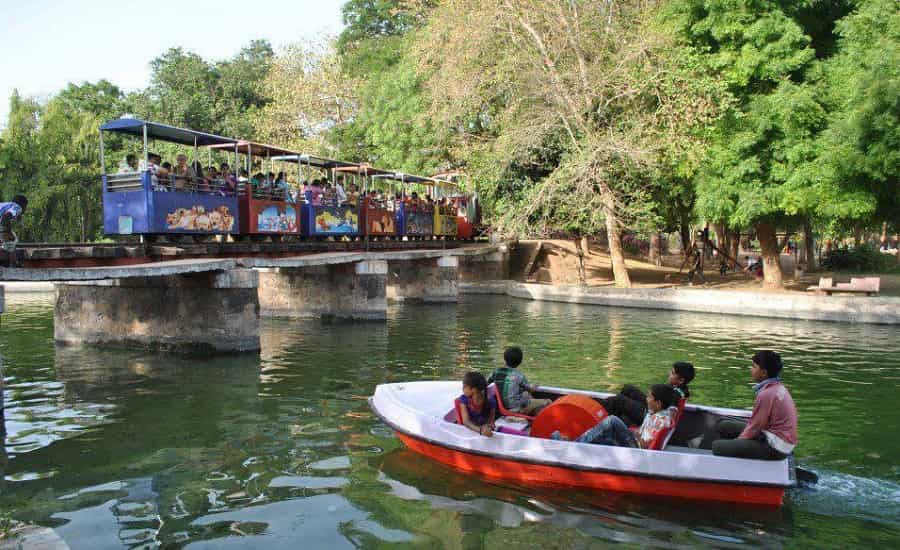 This park is extremely popular among locals and visitors for being one of the most fun packed entertainment centres in Gandhinagar. This prime tourist attraction houses a beautiful lake in the centre and is lined with colourful flowers, trees and a lush green covering. Families and children visit this beautiful park in the evening for a stroll or just for spending some peaceful time away from the maddening city crowds. Due to its location in the centre of the city the park receives a throng of children and visitors from all the sides. All the elements of the park from playing equipment to the flowers, everything is extremely well taken care of and maintained properly under the keen supervision of the authorities. During your visit you can sit here, relax and have a peaceful picnic with your family, friends and loved ones.
Park Timings – 6 am to 11 pm
Vithalbhai Patel Nagar Complex: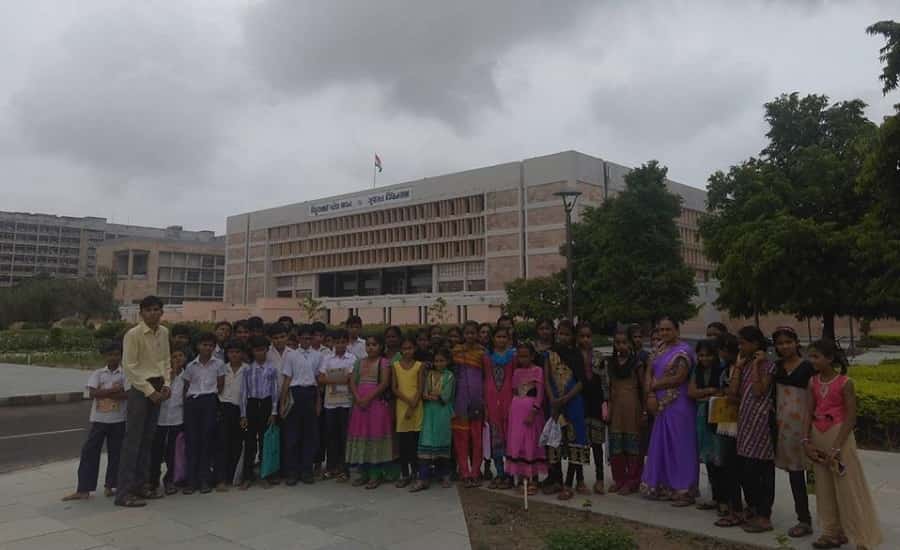 Situated in the greenest capital of the entire Asian continent, Gandhinagar is home to one of the most iconic building structures in India. Vithalbhai Patel Bhawan is one such magnificent building which attracts a huge throng of tourists from all over the world. As the name suggests this place is named after and Indian legislator and political leader who was also the co-founder of the Swaraj Party and the brother of Sardar Patel, Vithalbhai Patel. This place comprises of a Vidhan Sabha and a legislature office which is a stunningly striking monument which is constructed on a pedestal in the middle of the lake. This Bhawan also connects to Narmada Bhawan and Sardar Bhawan from within. To visit this iconic building a special clearance order is required to even enter the premises.
Complex Timings – 7 am to 7 pm
Fun World: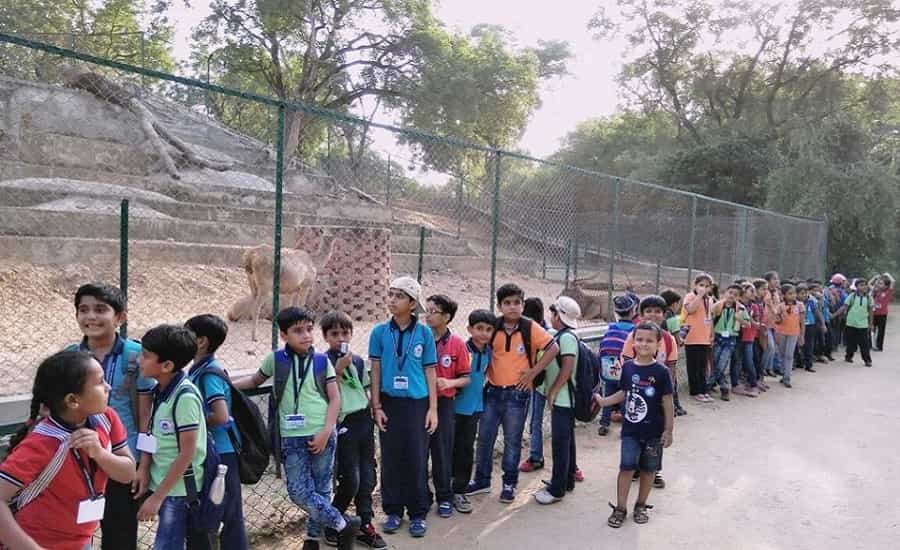 Created in 1986 and set up in 1990 this park is a first of its kind in the magnificent city of Gujarat. As the name suggests this place is an extremely fun place filled with thrilling and adventurous rides. Home to 26 such amusing rides this park is one of the prime centres of tourist activities. Spread over an area of 5 acres this place witnesses a turnout of over 1 million each day from all walks of life and different backgrounds. There is a plethora of rides and fun activities to indulge in fun world. Some of the most adrenaline pumping rides here include – sky train, saya trooper, roller coasters, jungle safari and the wonder tunnel. The premise of this amusement park also includes a restro lounge and a cafeteria where you can gorge on delectable food items after a day of fun.
Park Timings – 12:30 pm to 7:45 pm
Sant Sarovar Dam: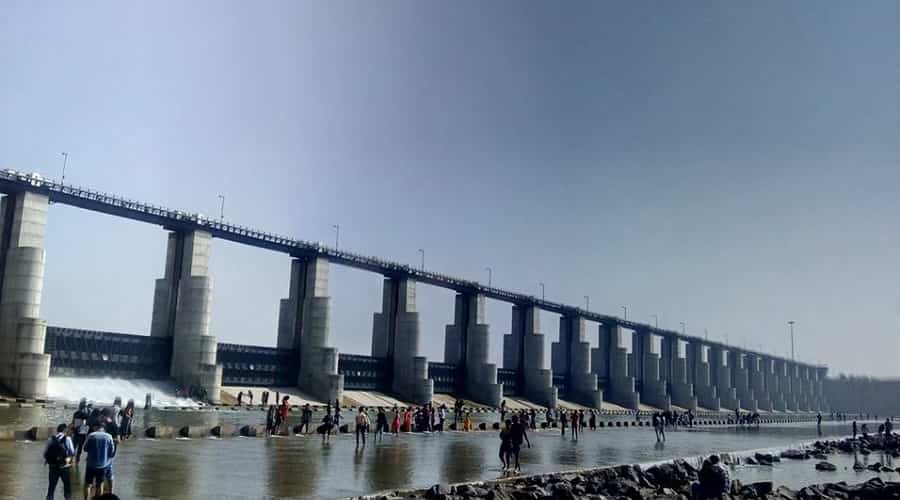 If you are on a visit to Gujarat the visiting this popular picnic spot is a must. Known for its incredibly mesmerizing and beautiful structure this reservoir serves a prime picnic spot for both locals as well as tourists. Built in the year 2006 by the Government of Gujarat, this place is situated right behind the Sarita Udhyan and can be visited as a part of your Gujarat tourism. People can visit here with their families and loved ones and have the time of their lives by bathing in the Sabarmati River's water. However, it is extremely vital for you to be extra careful here since the pull of the river water may cause you to lose your balance, be sure you only go inside the water if you know how to swim.
Dam Timings – open 24 hours