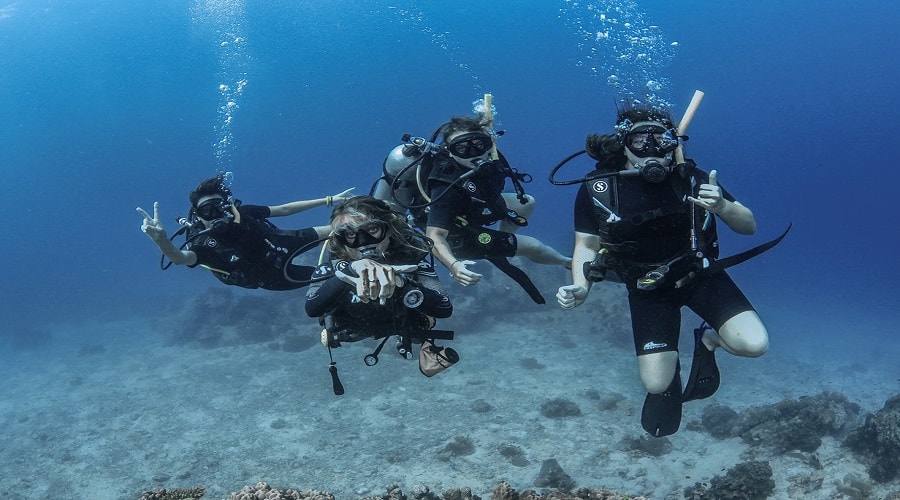 In addition to snorkeling, there is one type of other water sports that the traveler likes to dive. In contrast to snorkeling, to perform this activity one must have a basic skill to swim first. Especially if you want to become a professional diver, many stages that must be passed include a must have Diving License.
During this time many assumptions that diving is an easy activity that does not need skill or permit. Includes a diving ban if you have asthma. The assumptions are not always true and even seem misleading. For that Traveling summarize from various sources, things you need to know about diving.
Dive Must have Diving License
Many people think that to dive they do not need Diving License, but this assumption is wrong. Exactly if you want to be a professional diver should have it. It is the same function as a driver's license for pre-driver vehicles.
So what about the tour operators who provide diving services at various tourist attractions? Well, this is actually what makes people think Diving License is not important. At the tourist attractions, anyone can dive freely without need a permit.
Instructors will invite and guide tourists into the water as far as 5-7 meters. Bottom line they will not allow tourists to dive themselves. If you want to dive on your own without an instructor but do not have Diving License, do not expect to do it.
Conditions Diving Can't Have Asthma, Myth or Fact?
The people who do these diving activities should be people who are physical, spiritual, middle-aged and have basic swimming skills. Testers will see this condition when creating a Dive License. The reason is, they will enter into "other realms" that can not necessarily breathe without help tool.
But is it true that people affected by asthma are impossible to do diving? Actually not too, according to some seasoned dive instructors stated that the most important is the anticipation of asthma. Of course, a person with chronic asthma is not immediately allowed to dive, they need a doctor's certificate before taking a dive course.
Like Miss Scuba International 2011, DayuHatmanti for example. He claims people with asthma, but he was diligent in therapy and find out what things that provoke asthma to relapse. Now he claims to be healthier by undergoing diving activities.
Diving is One of The Activities That are Risky
Some think if diving is a risk less activity. Basically, all activities contain risks including diving. Generally, the people who say the dive is not at risk are those who prioritize commercial interests. When in fact diving is a sport as well as the adventure that cannot be separated from the risk.
Not meant to scare off potential divers. Because every risk can be minimized knowing the true origin of the theory and practice of the right diving. Seawater is not like water in a quiet bath because even in the ocean have currents. Not to mention the diving spots inhabited by wild animals. For that, it takes a good understanding for divers to reduce the risk during the dive.
Air Tube For Diving Not Just Contains Oxygen
we know every diver always equips himself with the long air tubes. As a layman, we know that the tube contains oxygen. The fact is the air inside the diver's oxygen tub is different from the air we breathe in the wild.
In the gas cylinder contains nitrogen, oxygen and the rest are other gases. That's why divers always have a safe time limit to be in the water. The reason is simple, this diver breathes air with high nitrogen levels, inhaling it for a long time causes decompression or nitrogen gas fails to come out of the surface of the skin that makes air bubbles in the bloodstream.
Learning Diving is Fun
One of the requirements of the dive must have a basic swimming technique. That's why many people who fail to learn to dive because they can not swim. Do not be afraid, because we can learn all this in a relaxed, easy and fun way.
Most importantly before going to a diving course, you learn to swim. In a dive course, the instructor will be teach the basic theory of diving, including focusing on the comfort of being in the water. Later there will be a real scenario facing various difficulties in the water. Dive instructions you do right then learn diving is not as spooky as imagined.