Whenever I plan my travel I don't like to book any service because that cuts of the excitement and we have to travel according to the service planner. My first religious tour was Somnath Dwarka Tour.
In Oct – Nov 2019 I along with my wife, daughter and father in law did Somnath Dwarka Tour just before Diwali I would just like to post that.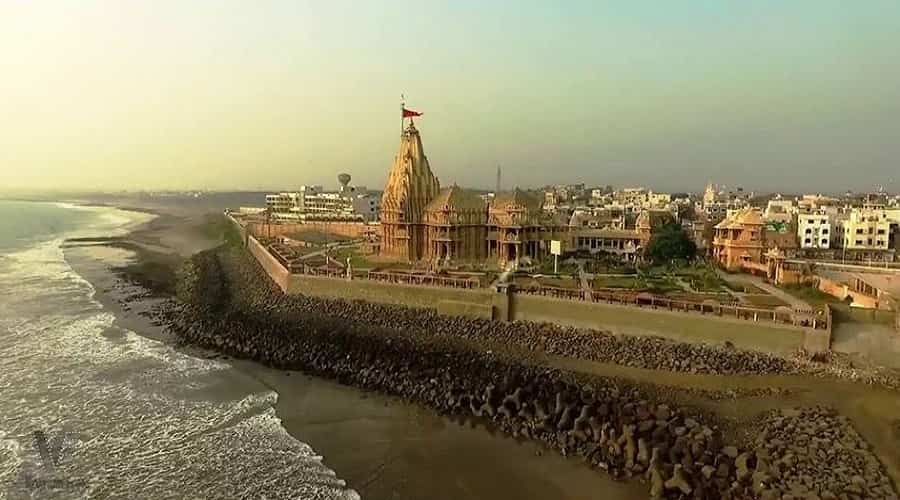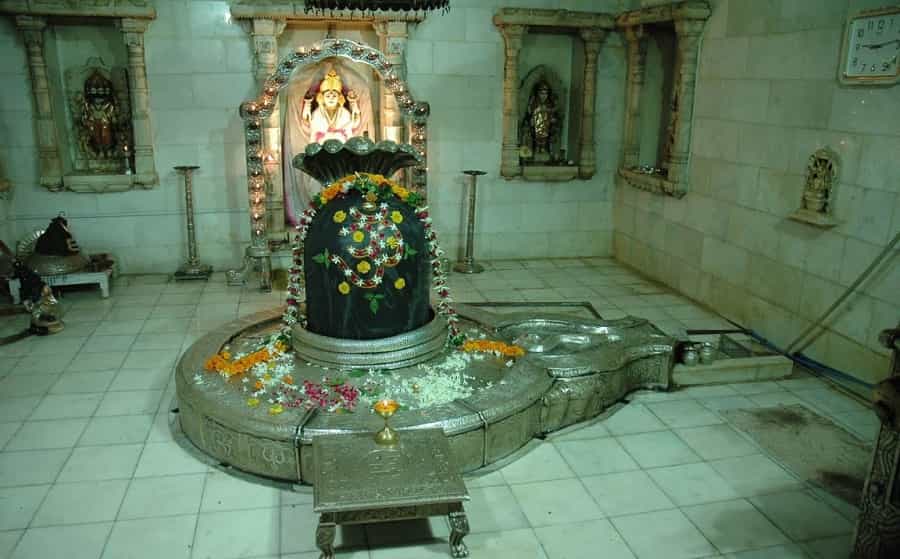 Day 1- 2 (SOMNATH) 28 – 29 October, 2019
We booked the ticket in Saurashtra Mail from Mumbai to Veraval for our Somnath Dwarka Tour. It starts at 8.30pm from BCT and reaches Veraval at 3.30 afternoon next day. From Veraval, Somnath is around 5 kms and private rickshaw takes Rs.200. We stayed at Shree Somnath Trust lodge .The rooms are okay with attached bathroom. After getting fresh we decided to visit Somnath temple. Temple complex I think is the second biggest among all Jyotirlingas after Rameswaram. The temple is large and fantastic made with red stone. But the most ultimate scene is view of the great Somnath Jyotirlinga. It's large and my eyes couldn't move to any other thing as long as we were there. The best thing which happened was we were at the time of Pooja and Aarti at 7.00 pm. First the local Pandit decorated the lingam and then after 15 mins Aarti Started. The Aarti music was so great and loud that it created vibrations around the hall. When I remember that sound it still creates vibrations in me. After that since we were tired we had dinner and then slept.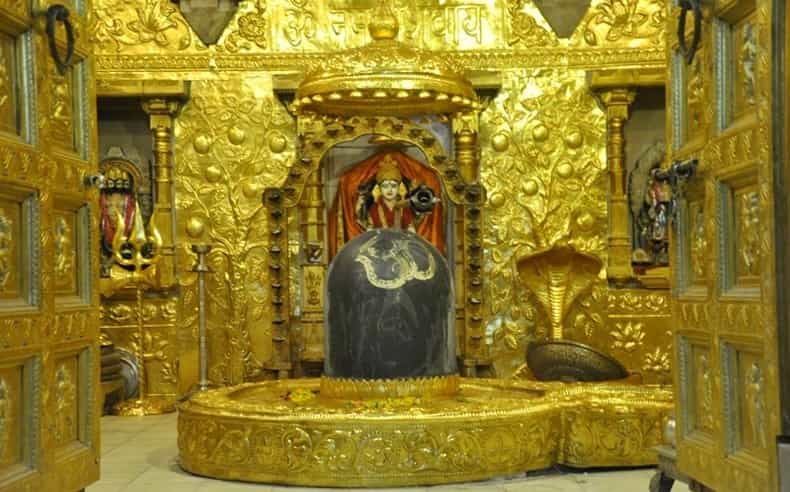 Gold plated Somnath Jyotirlinga[/caption]
Day 3. (SOMNATH) 30 October, 2019
The next day we decided to do local sightseeing. We booked a local rickshaw (Rs.250) who took us to all the places below.
Bhalka Teerth
This is the place where lord Krishna was shot arrow by a hunter before he left his body. It is around 3 kms from Somnath Temple.
Hunter who hit the arrow to lord Krishna was the Monkey King Bali in previous birth.
Lord Rama had killed King Bali in previous birth with an arrow. So in this birth Bali reincarnated as hunter hits Lord Krishna with arrow. This shows that lord is not partial, does fair justice and even he gets fruits of his karma whether in the same birth or the next one.
Somnath Dwarka Tour is a great one for the people who love temples.
Kamnath Mahadev Temple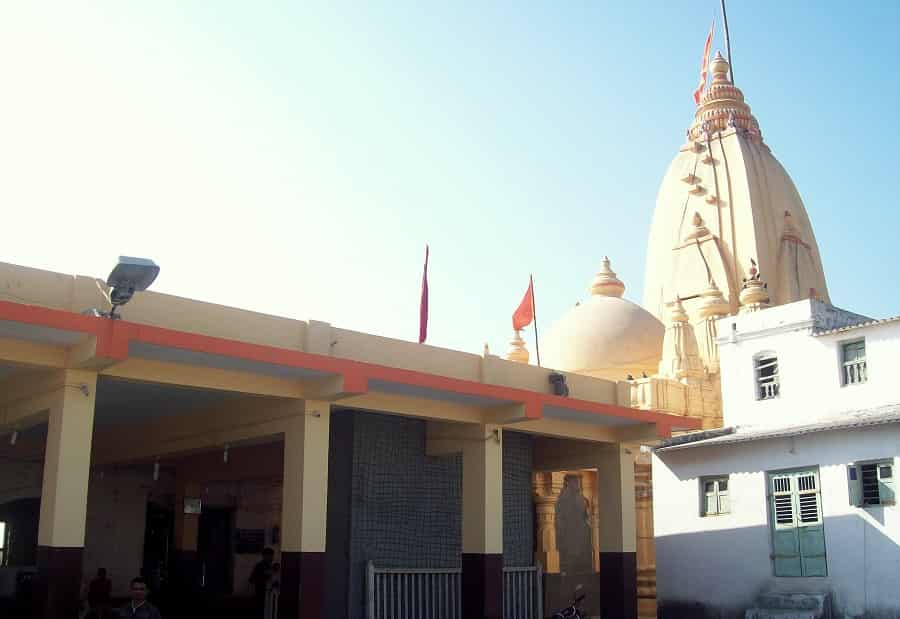 Veneeshwar Mahadev
It's a must visit when one performs Somnath Dwarka Tour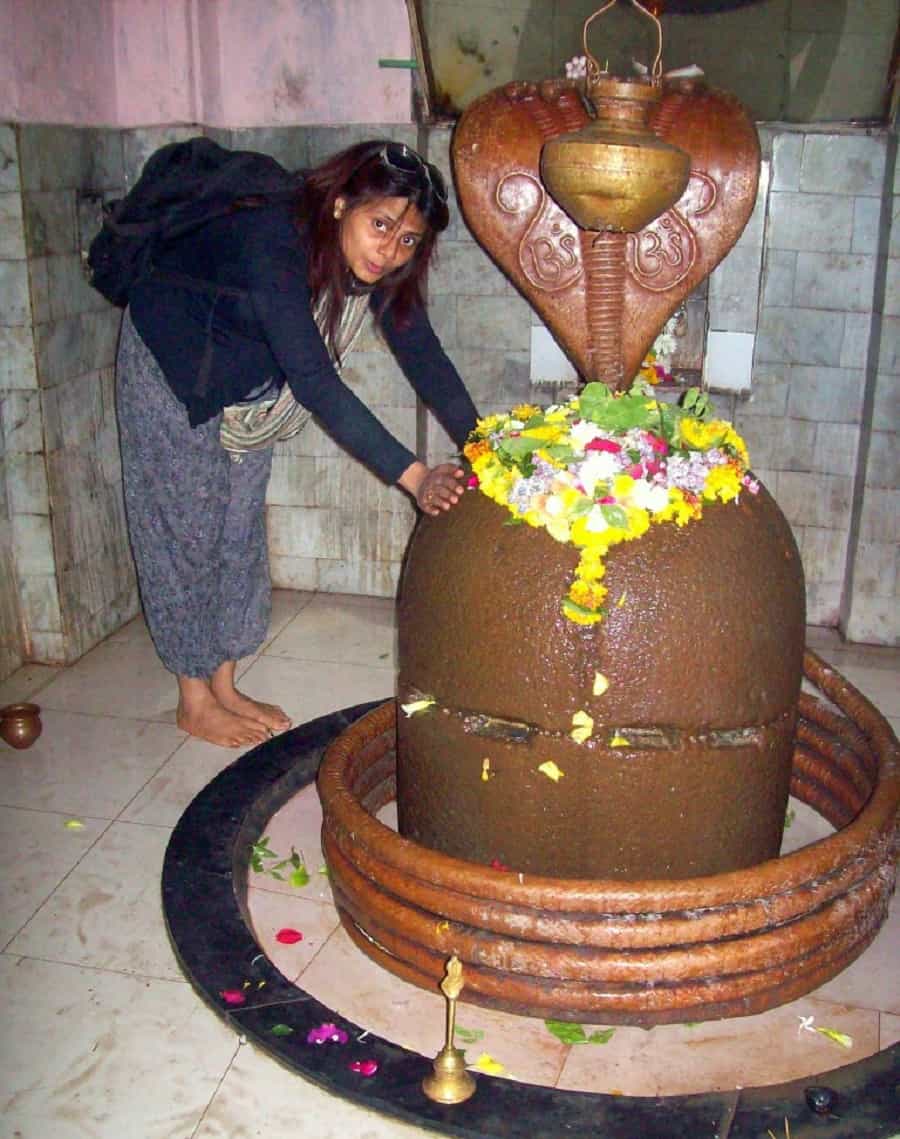 Gita Mandir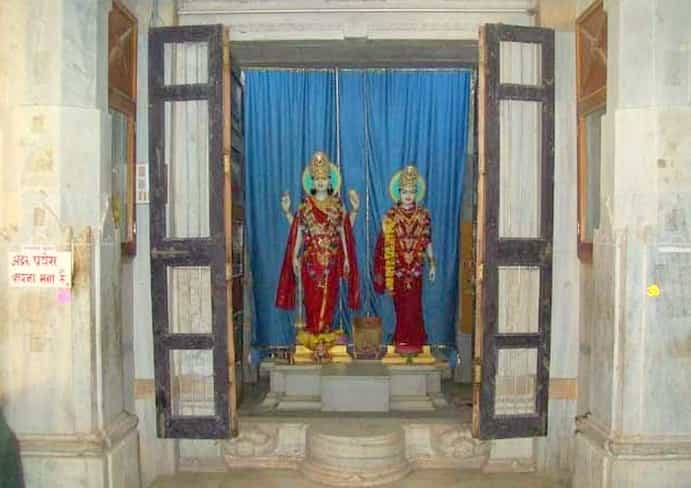 The 18 chapters of Bhagvadgita are engraved on the walls of the Gita Mandir Temple
Golok Dham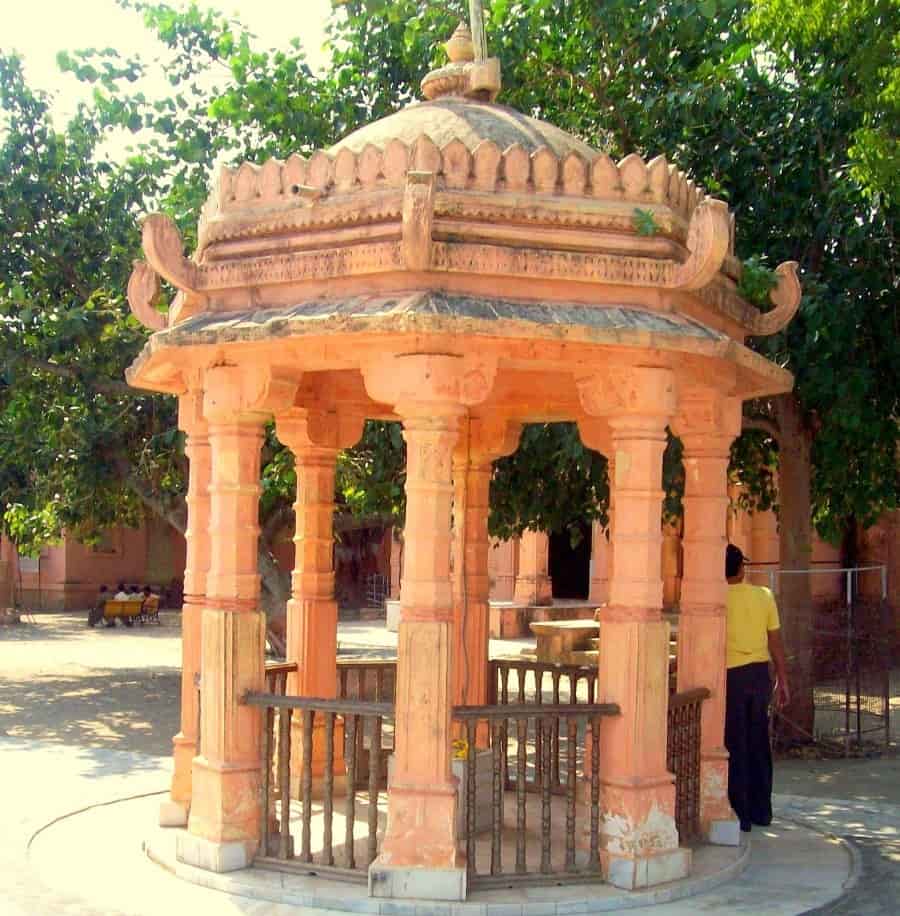 This is the place where lord Krishna Left his body after bathing in Triveni Sangam.
Footsteps of lord Krishna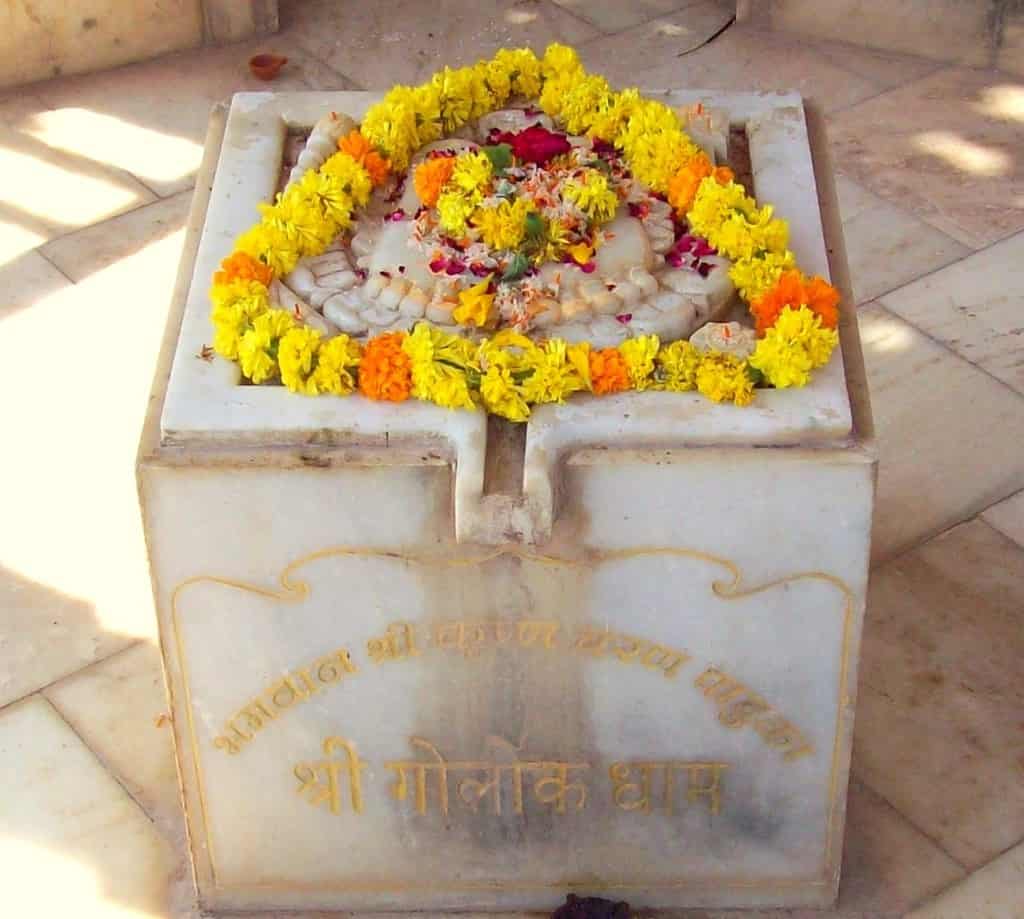 Triveni Sangam
After this we left for hotel for lunch and nap. It took around 3 hours to do this sightseeing.
In the evening we again went to Somnath Temple for Darshan. We went to Old Somnath temple also made by Pujya Rani Ahilyabai Holkar. Here you can touch the Shivling and do Abhishek.
Then we had Camel ride in the beach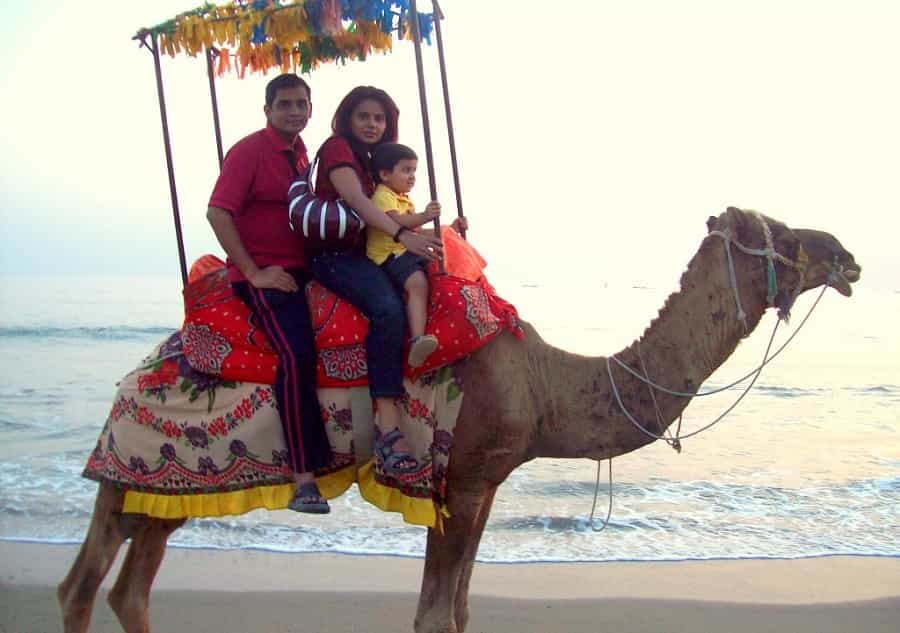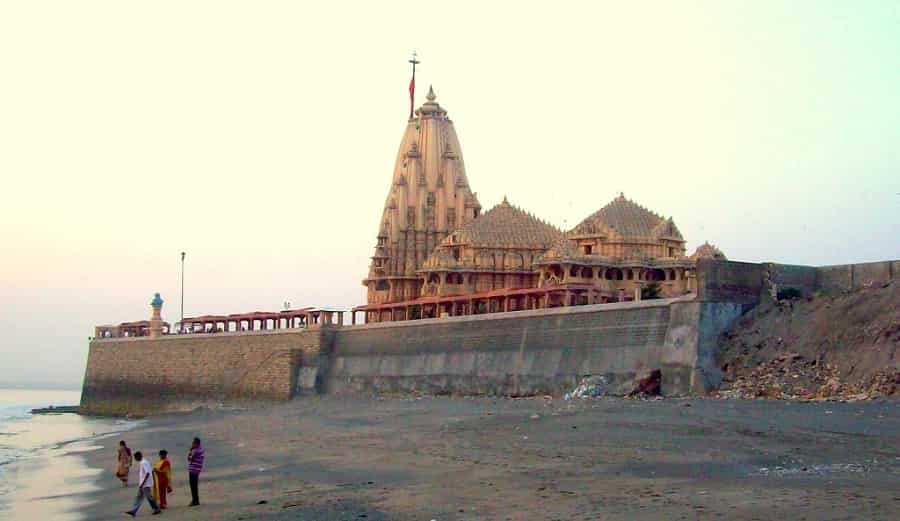 Next day early morning we left for Dwarka at 8.30 am. Two private buses leave for Dwarka one at 8.30 am and other at 2.30 pm. They charge Rs.260 per head. Dwarka is around 230 km from Somnath. It took around 5 hours to reach Dwarka .In between we had Darshan of Harsiddhi Mata after Porbandar. The whole road is fantastic near the Sea . You can see lot of Windmills.
We reached in afternoon and stayed at Kokilaben Ambani Hotel (Reliance). The hotel is fantastic and best in Dwarka. The room has lot of basic amenities, clean and tidy. And above all rate is cheap Rs.550 / day.
Evening we decided to visit the Dwarkadhish Temple. It is around 7 – 10 minutes from the hotel.
About Dwarkadhish Temple
it is believed to be originally built by King Vajra, the great-grandson of Lord Krishna and the architecture standing tall at present was constructed in the 16th century CE. This 5-storied magnificent temple is built up of sand and limestone and there is a flag hoisted at the tower of the temple that gets changed 5 times a day. There are two gates built in the temple where one of them is Swarga Dwar from where pilgrims enter into the shrine and the other one is Moksha Dwar, from where the devotees exit out of the shrine. One can witness the gorgeously flowing River Gomati by simply standing at the temple as Sangam is located closer to the place. However, Dwarka is called as the holy place of Lord Krishna yet there are various smaller shrines that are dedicated to Subhadra, Jambavati Devi, Balaram, Devki, Vasudeva, Satyabhama Devi, Rukmani Devi, and Revati. while you travel towards Bet Dwarka, you get to visit Rukmani Temple which is accessible via boat ride and you can also pay visit to the deity of Lord Dwarkanath nestled in the same region.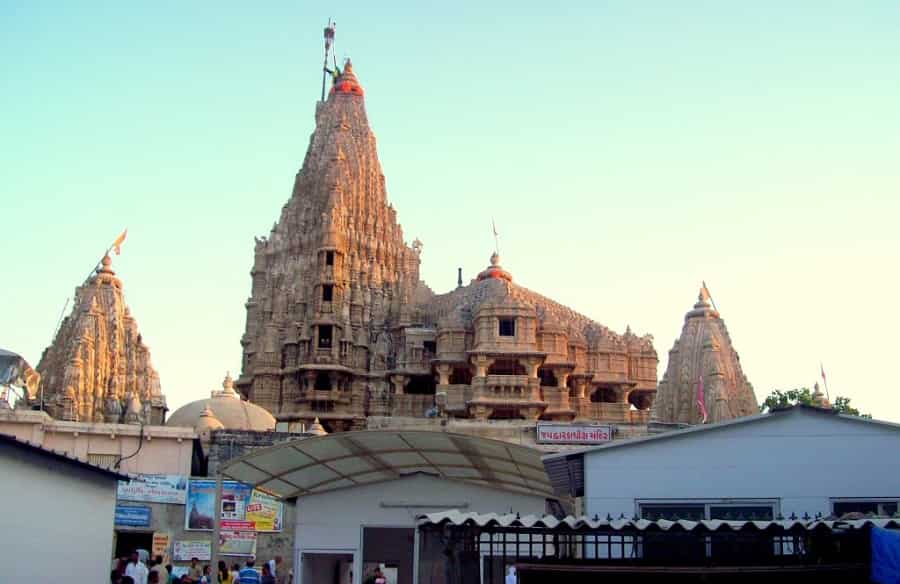 Dwarkadhish Temple (JAGAT MANDIR)
Dwarkadhish Temple also popular as Jagat Mandir among locals is the shrine where you can seek the blessings of different gods and goddesses like when you enter, you get to do the philosophy of Kusheshwar Mahadev who is believed to be the Kuldevata of Lord Krishna. There is a saying and belief that uness you don't do darshan of this deity, you don't get blessed by Krishna. When you walk across the temple, you will find many pandas who try to fool you for money. Initially, they will state that they are paid by the temple trust and then start giving you the details about the entire temple and on finishing they ask for money in a very pleasing way that is too hard to resist and you end up giving money to them.
The Idol of Lord Dwarkadhish so cute and sweet that you feel that you want to take it home.
After that we roamed nearby and booked the bus ticket for BET DWARKA and NAGESHWAR MAHADEV for next day at 2.30 pm from Dwarka Municipal corporation . One bus starts in Morning also at 8.00 o'clock.
Day 5 ( DWARKA , BET DWARKA and NAGESHWAR Mahadev ) 1 November, 2010
Next Day again I went to Mangla aarti in the morning at 7.00 o'clock . This Aarti has religious significance and you cannot miss it. Be at 6.30 to take Darshan as soon as curtains open at 7.00 am.
Then Again at 8.00 o'clock I came with family. We had Bath in Gomati river besides the temple .
Then we decided to cross Gomati and have Darshan of 5 Wells made by Pandavas, Lord Vishnu Laxmi and Garuda, Ram Stone floating in water, place where Rishi Durvasa meditated.

This is also the place where Rishi Durvasa meditated.
After completing places near the temple we did lot of shopping specially sweets and Gola Sharbat which is very famous. Sight Seeing Nearby Dwarka traveling in Bus in afternoon.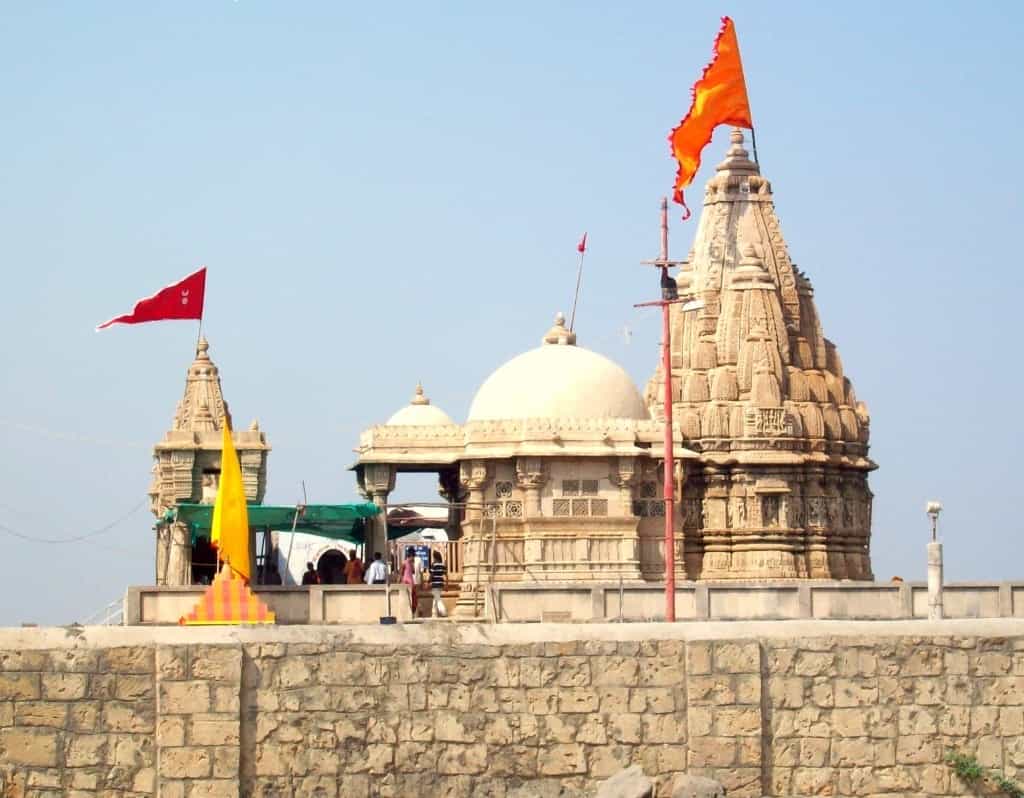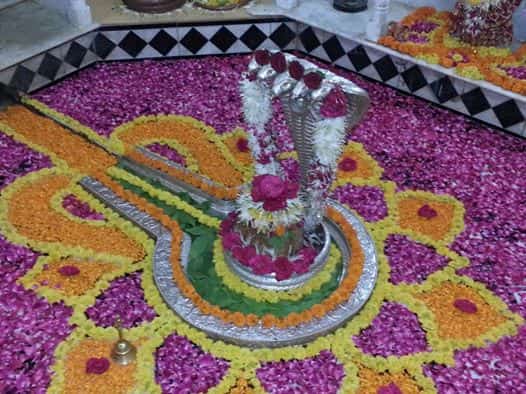 Large statue of Lord Shiva at Nageshwar Jyotirling. Here we get only 20 minutes for Darshan of Lord Nageshwar.
Gopi Talav is a lake between Nageshwar Jyotirlinga where Gopis used to bath
Entrance to Bet Dwarka
Again in Bet Dwarka there is a place where lord met Sudama. While visiting Dwarka it is must to visit Bet Dwarka otherwise the trip is incomplete.
We Reached Dwarka at 8.30 evening.
Day 5 (Dwarka to Mumbai) 2 November
Next Day again after having Darshan we left for Mumbai in Saurashtra Mail at 12.00 o'clock.
Traveller: Vishal Rathod