Dandiya Raas which takes place not only in Gujarat but also in the rest of India and also among the Guajarati communities living abroad. This dance form is ancient and depicts the fight between Durga Maa and Mahishasur and is performed in pairs primarily during the auspicious time of Navratri. People dress up in their best traditional Gujarati attire and cook some of the most delicious Gujarati traditional meals whilst offering heartfelt gratitude to the goddess and protector of the world. This is a fun way of dancing by swaying with a pair of Dandiya sticks in your hand and moving according to the beat of the music.
Here is everything you need to know about this wonderful dance form:
History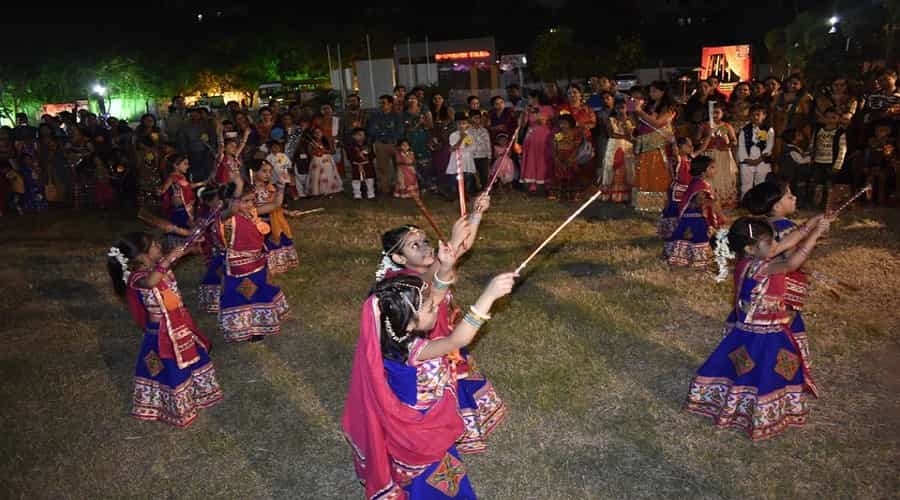 Dandiya Raas originated as one of the forms of the devotional dance style of Garba that is to be performed in the honor of goddess Durga. Third particular dance form has also be referred to as either stick or sword dance. Its origin supposedly can be traced back to the life and times of lord Krishna but even to present day it is one of the most important aspect of any Guajarati celebration. There is a lot of symbolism associated with his dance like the Dandiya sticks refers to the swords belonging to Durga Maa. This dance has become one of the most important parts of this celebrations related to the goddess. The dance used to traditionally be performed in concentric circles with an earthen pot in the center and the participants would sway gracefully from side to side. However with changing times this trend was modified further and there is almost 0 differences between Garba and Dandiya Raas. All in all it is an ode to the sacrifices made by the goddess to conserve the earth.
Dandiya Raas Attire
Women – Traditional women attire includes of designer, colorful and glimmering Chaniya Choli which is extremely bright and vibrant looking and available all over Gujarat during this time. This is accompanied with large chunky Jewellery pieces of mirror work like bangles, anklets, earrings and necklaces. Every piece of attire is very vibrant and shines through brilliantly and sets the dance in motion.
Men – Men adorn traditional attire of turban along with Kedia which can differ from one region to the next in the state. They wear special Kurta and Pyjama set which they only adorn in special traditional occasions. The men also sometimes wear special Guajarati rings and necklaces on top of the attire to complete the look as a whole.
Steps of Dandiya Raas
Performed by men and women dancing in concentric circles around the image of Goddess Durga in the centre this dance is relatively easier to do as compared to other traditional dance forms of India. This is a special feature of Navratri celebration in the evening. Women move in a simple
and graceful manner while rotating around the mandvi. The sticks are held in both hands and men and women touch these sticks in regular intervals creating not only a mesmerizing sight but also a sound that is very sweet to the ears. One of the circles moves in a clock wise direction while the other circle moves in the opposite anti – clockwise direction. The sight of dancers moving around in circles is truly a rhythmically awe inspiring sight to behold.
Difference between Dandiya Raas and Garba
With the changing time and era Dandiya Raas has successfully emerges into the form of Garba dance which is also originated in this region itself. There is a lot of confusion among people who don't know the difference. Well, for starters, both dances hold 2 different relevance and significance. The main difference is that Dandiya Raas is played using sticks while Garba is done only with the use of hands and feet and without any additional props. Dandiya steps require an even number of dance participants while there is no such requirement when it comes to Garba. The circular dance movements in Dandiya Raas are a lot more complicated and complex as compared to Garba.
Months of Celebration
The Dandiya dance celebration takes place during the autumn winter months of September or October. This year 2019, this Dandiya Raas will take place from 29th September 2019 to 7th October 2019. These mark the 9 days of Navratri which is celebrated all over India with great zeal and enthusiasm.
Dandiya Raas Celebration Places
The Dandiya night celebration is probably one of the most awaited nights in Gujarat and also all over India. Here are some places that organize fun filled, traditional Dandiya Raas nights for the entertainment of family and friends. Here are some places where you can go and have one of the most memorable nights of your life:
United Way Garba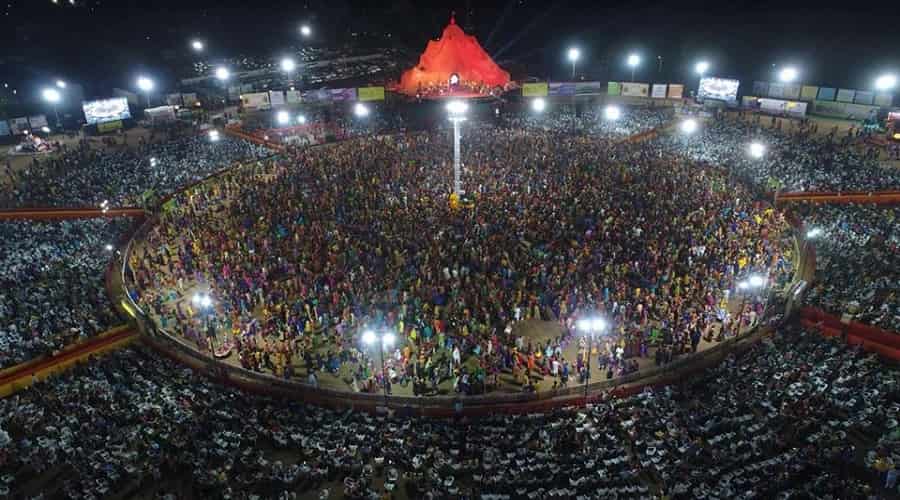 This has to be one of the most well-known places for celebrating this amazing occasion. Folk singers visit this place to liven up the environment and receive around 30,000 visitors on each day of this night.
Mirchi Rock and Dhol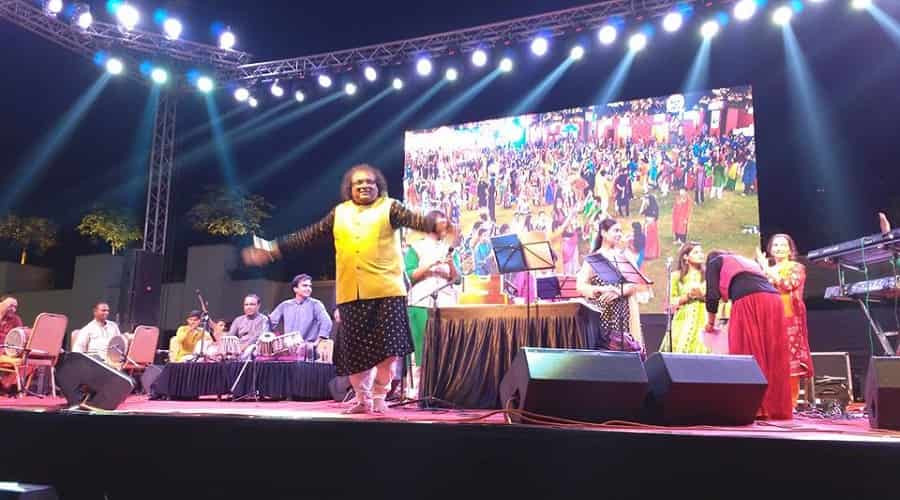 The name itself depicts that this will be one of the most memorable times of your life. Around 50,000 Dandiya dancing folks gather here to dance to the tunes of star singers and performers and offer a very unique and a different than usual experience. The merriments here continue on till late at night and for 9 whole nights the entire environment remains doused in a deep sense of generosity and spirituality.
Maa Shakti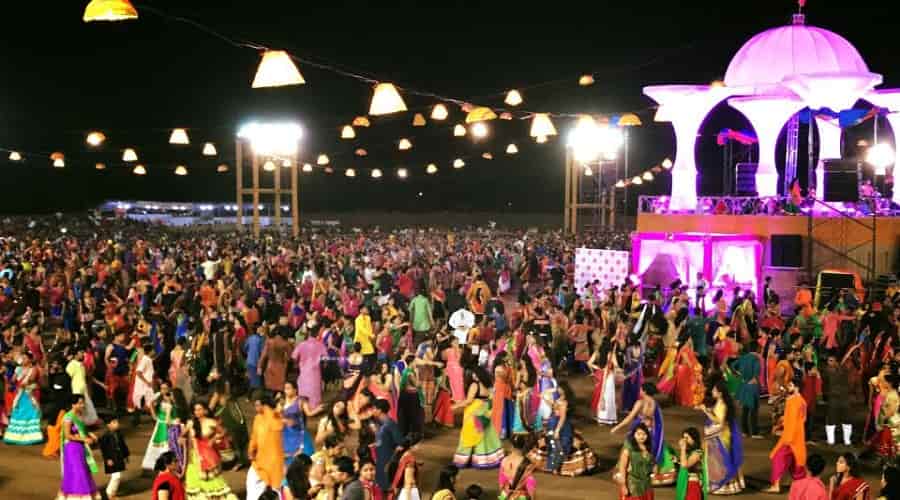 If you are in Vadodara around the time of Navratri then you must visit this place which has also been mentioned in the Limca book of records due to the enormity of the event. This is famed for being one of the biggest Garba events in the world and is attended by almost 40,000 dancers maybe even more than that!
Shankus Dandiya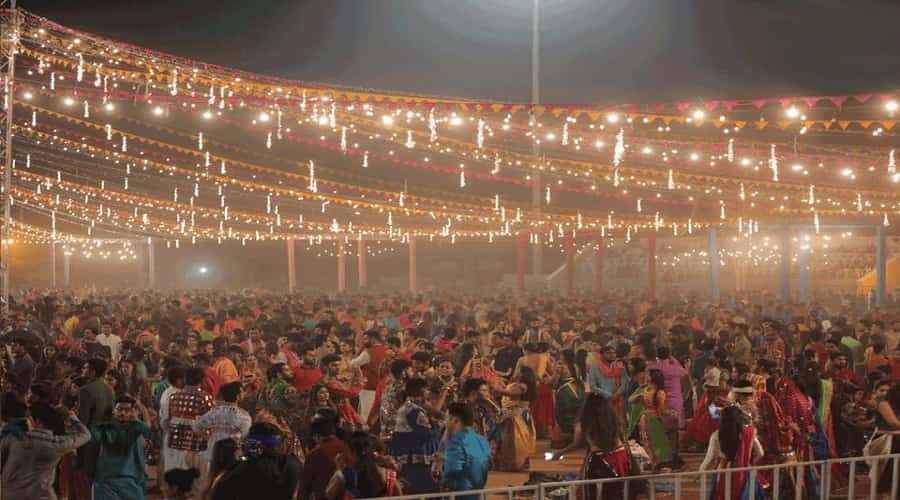 Hosted by AMZ entertainment this event feels like a full-fledged fun packed entertainment experience. There are various activities here of which the visitors can be a part of. Various popular artists also attend this amazing event from all over the world and dance till they drop.