One thing that comes to mind when someone talks about Gujarat culture is the grand celebration of Navratri. During this time the entire state is teeming with festivities and preparations. One of the most important part of this auspicious 9 days are the Garba and Dandiya dance performances. People wearing colourful Chaniya Choli and other traditional clothes dance to the traditional music together as one celebrating the victory of good over evil. Every street is adorned with colourful lighting and the air reverberates with the Gujaratis tunes and the people forget all about their worries and celebrate this joyous occasion as one. People from different corners of the world make their way to Gujarat in order to get the real and authentic feel of Navratri. If you are planning on being a part of this celebration in the most traditional manner then here is a curated list of places organising these events. Get the real taste of a proper Gujarati Navratri experience by going to the following places:
Ahmedabad: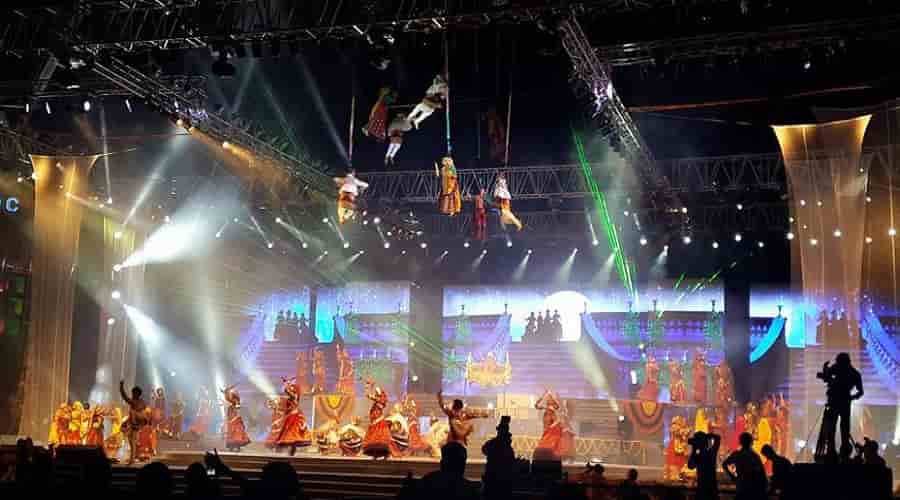 Ahmedabad is famous for hosting some of the most grand, large scale and glamorous Dandiya celebrations. It is because of this reason it gets packed with visitors from not only all over Gujarat from different parts of India as well. Several artists are also invited to perform and be a part of the celebrations. Some places are:
Baal Raas Adukiyo Dadukiyo – Venue: Baghban Party Plot, Thaltej – Shilaj Road, Thaltej.
This is one of the most exclusive ways of celebrating Garba in Ahmedabad where a mother and a child can participate. They add a lot of fun and surprise elements to their celebration. You can gather up all your neighbourhood women children and have a memorable time.
Rajpath Club – Venue: S.G. highway, Bodakdev, Ahmedabad
This is another one of the most grand and remarkable ways of celebrating the joyous festival. Experience the real vibe of Amdavadi Dandiya accompanied with disco Dandiya, dance performances, musical numbers and even some fun packed good-natured competition.
The Garba Nights – Venue: The Ummed – Ahmedabad international airport road, Hansol, Sardarnagar.
This one is Garba and Dandiya nights with a hint of Bollywood and modern music. The event is graced by the presence of a DJ who plays fun remixes of Bollywood and traditional songs that makes you dance in a fun manner and in unison wearing beautiful Chaniya Cholis.
Vadodara: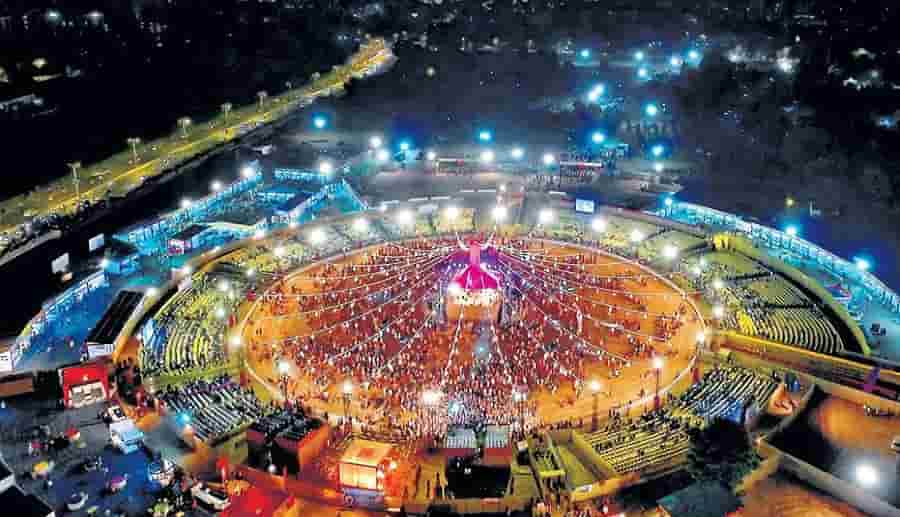 Also lovingly referred to as the cultural capital of Gujarat, if you wish to have a Garba and Dandiya celebration which is more in touch with the authentic spirit of Navratri. The occasion and festivities here feel very vibrant and real making it one f the best places to be during this auspicious time of the year. Here are some places for it:
United Way – Venue: 9th floor, Sidcup Towers, Race course
This place is host to one of the biggest Garba celebration venues in Vadodara which attracts around 400,000 people every night of the holy days. The place offers amazing delicious food, different dance competitions with enthusiastic participants and an overall aura of positive festivities.
Maa Shakti Garba Ground – Venue: Subhanpura, Vadodara
This particular Navratri celebration is one of the most sought after Garba experiences in Gujarat. This event has also found its mention in the Limca book of records for being the biggest Garba in the world once. Apart from the locals there is also quite a number of foreign tourists as well.
Vadodara Navratri Festival – Venue: Behind Reliance Mega Mall, OP Road, Akshar Chowk
This is probably one of the most famous traditional Garba Raas function that takes place every year for their enthusiastic fans. The best part? If you get to acquire a pass then you may even be able to check out some top-rated Bollywood stars and celebrate the holy day with them as well. The Dandiya performances here are nothing but filled with good vibes, fun and enthusiasm.
Rajkot:
Famed for being the 4th largest city of Gujarat Rajkot is host to some of the largest scale and enigmatic Navratri celebrations. The grand festivities here commence almost a month prior to the scheduled date of the festival and attracts a throng of crowds looking to explore the culture and traditions of Gujarati folks and population. If you are in Rajkot around September then you must stay a little longer to experience a true Gujarati Garba and Dandiya at the following places:
Khodaldham Navratri Mahotsav – Venue: Nana Mahuva (Mava) Chowk
This is one of the most enthusiastic places to celebrate the fun Navratri event which is also accompanied with energetic dances and musical performances. They are also famed for creating some of the most amazing chain Garba in the world along with some other fun elements making this celebration extremely fun and incredibly memorable.
Neel's City Club Navratri Celebration – Venue: Neels City Club, Sanjayraj Estate Near Saurashtra University Gate, Off Kalawad Road.
This club is known across Gujarat for organising fun packed Garba and Dandiya nights for visitors from India as well as abroad. The tickets are cheap in price and can easily be acquired if you are looking for a memorable time to spend for Navratri. The club lawns make for the perfect venue to indulge in some fun traditional dancing.
Classic Party Lawns – Venue: Avadh Road, Off Kalavad Road, Near The Elegance Party Lawn.
Classic party lawns attracts a large number of crowd and the organisers for Navratri and Dandiya nights. It is a lush open space and caters to a number of people looking to have a fun time this festive season while being simultaneously accompanied with rhythmic fun music and an overall a fun environment.
Jamnagar: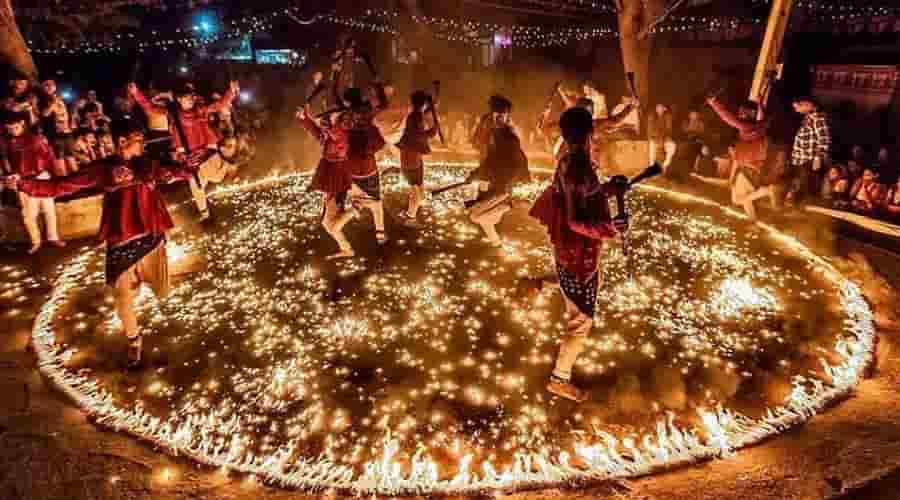 The entire city of Jamnagar gets completely covered in the colourful colours and vibrancy of Navratri for 9 whole days with fun, dance and music. Not only do people organise these events but also keep the people engaged all the time through various events, fun competitions and other such elements making it a memorable experience for both kids as well as adults. Here are some places for that:
Utsav Navli Navratri – Venue: Navli Navratri, Galaxy Nagar, Jamnagar
One of the most awaited event of the year in Gujarat, Navratri is celebrated with amazing vigour and enthusiasm. Throughout the 9 days everybody visits  this event venue and makes sure to have an enthralling time. from India as well as abroad you can see everybody mingling here and having a good time.
Aradhana Navratri Mahotsav – Venue: Sanidhya Party Plot, Jamnagar
Presented by the Saptak group of Jamnagar this is another one of the most exciting places to experience the Navratri festival. Organised by the Saptak group this venue starts teeming with colourfully dressed people swaying in rhythmic unison to the traditional music being played by the live orchestra present there for this fun purpose.
Royal Rasotsav – Venue: New Jamnagar Road
This is probably one of the mega events of Jamnagar which is organised by the royal enterprises. The organisers here invite big time singers and performances by well known stars and other personalities. This will definitely be an experience of a lifetime and you will probably keep coming back for more.
Celebration in Temples:
If you do not wish to indulge in the razzmatazz and the new age Navratri and Garba celebrations then you can even visit some temples that organise these events like Ashapura Mata no Madh in Kutch; Khodiyar Mandir in Bhavnagar and Chamunda Mata Mandir in Chotila. A temple visit is advised in case you want to have a deeply spiritual and religious festival experience. However, no matter where you go in Gujarat during these 9 days you will be enamoured with the traditional celebrations.