What comes to mind when someone mentions Garba? The grand land of Gujarat, colourful traditional attires, delicious Gujarati food and of course the rhythmically synchronised dance performance which is not only beautiful to look at but is also a very fun thing to be a part of. Initially restricted only to the western state of Gujarat, the place of its origin, Garba has now gained international fame and people from across the globe are doing this dance form which is actually an ode to goddess Shakti for her win over evil after 9 hard days of fighting the demons. There is a lot more to know about this wonderful dance which I am sure you may have not known before:
History of Garba Dance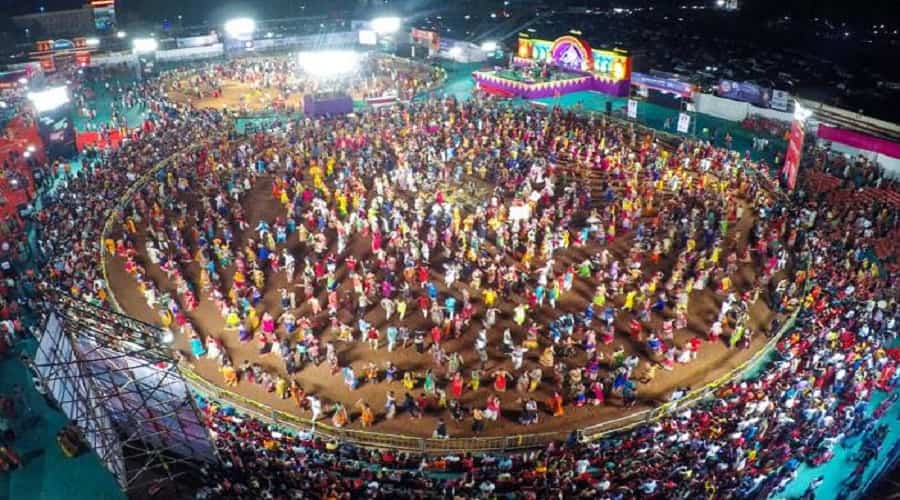 The legend related to this dance dates back to the time when the buffalo headed king of demons Mahishasura (a brahma worshipper) was creating havoc in the world. He was given a boon by the lord that no woman would ever be able to kill him. The gods were able to defeat him when he had attacked the Trilok and even the Indralok with his army. The gods went to Lord Vishnu for his help. Finally after much discussion and anticipation all the 3 holy trinity of lords, Brahma, Vishnu and Mahesh combined their powers to create goddess Durga (an incarnation of Parvati). After 9 days of continuously battling the demon head on goddess Durga stabbed the demon king and ended his atrocities hence saving the world from complete destruction. Garba is a dance done to thank the goddess for her persistence and hard work in bringing peace to the world.
Symbolism of Garba
The dance takes place in concentric circles comprising of male and female participants. These circles depict the circle of life representing every stage of life from birth to rebirth. In the centre of these circles is the main focus of the dance an earthen lamp of a deep placed in front of goddess Durga's picture as a way of honouring her. It also means that although people and time change the glories of the goddess remains intact and untouched. The dance represents the dramatization of the fight that took place between the demon king and the goddess. Sometimes people choose to team up the Garba dance performances with Dandiya Raas where bejewelled sticks are also involved. These sticks are symbolical of swords which the goddess had used to fight during her battle.
Garba Traditional Attire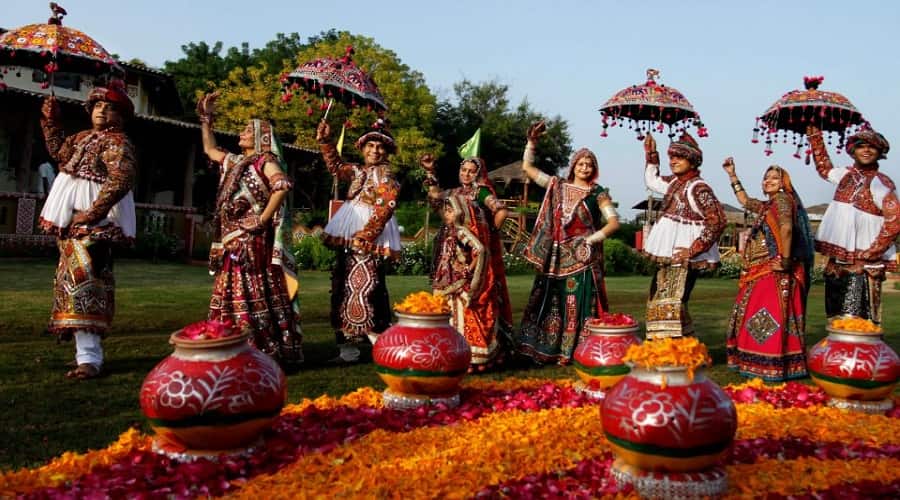 Since the dance is performed in pairs so there is traditional attire prescribed for men as well as women. Women wear colourful and shimmering Chaniya Cholis along with a Kamarbandha or a traditionally coloured and patterned waistband made out of a cloth piece. This is worn on top of a chunni which is also very traditional in its style and design to keep it in place and also from flying away. Women also like to pair up their dressing with some traditional jewellery like necklaces, rings, nose rings, anklets etc. Men adorn Keviya with Churidars. Keviya is a long-sleeved top like clothing along with a stitched coat and colourful frills. Churidars are tight trousers which are worn like pants and for extra comfort while performing the traditional dance.
Interesting Facts
The modern day Garba is actually a combination of Garba and Dandiya Raas. The movies and the media industry has modernised this traditional dance into a beautiful amalgamation which is performed today.
The dance starts in a slow tempo and as the music proceeds it picks up pace and along with it the dance also starts getting quicker and more fun.
In a previous and a earlier form of garba as a tradition the people used to place a pot in the centre and a lamp on top of their heads and move in circles chanting the name of the goddess.
Before the Garba dance starts the rituals and aarti takes place and the whole war between Mahishasura and Durga Mata are presented dramatically.
Steps for Garba
People dance around the centre while leaning side by side with every step accompanied with symbolic hand gestures and leg work.
People move gracefully and fluidly while clapping their hands in synchronisation which comes down together in a sweeping motion in different directions.
Every movement in the dance ends in a clap.
Garba dance style is not restricted to one form, every region in Gujarat have their own version of Garba dance.
Garba Celebration
Various Garba celebrations are organised and arranged in different clubs and regions. During the night of the garba celebration people dress up in their best traditional attire and go to pay their homage to the goddess who saved the world from evil. Here are some famous places in Gujarat which will make you feel the real vibe of authentic Gujarati Garba celebration.
Surat International Exhibition Centre
This place is one of the grandest places where celebrations of Garba takes place. It can accommodate around 20,000 people which is well air-conditioned and artists like Chetan Rana, Sanai Rawani, Priya Patidar among others also perform here adding to its festivities.
Navlakhi Garba Ground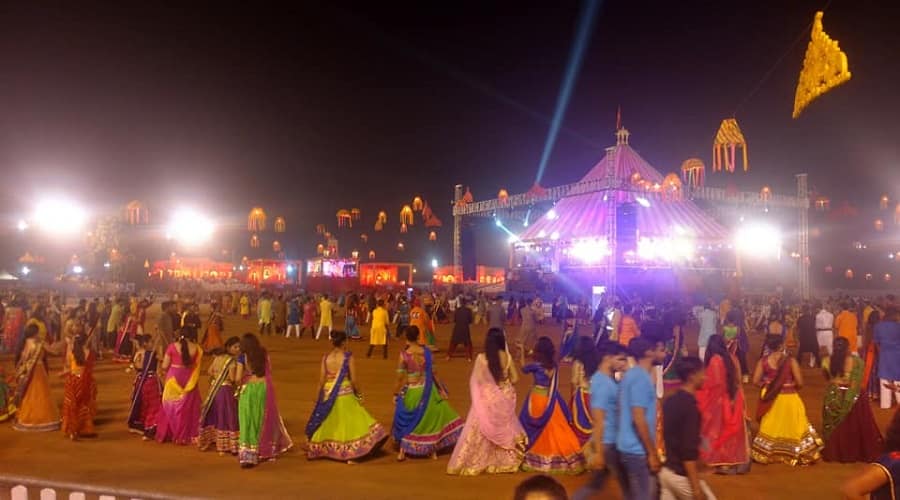 This is one of those rare places where you can still savour a rustic experience then you must be a part of the Garba dance that takes place here. performances by traditional singers takes place where they sing and entertain by singing folk musical number. Here you can even be a bystander and just be a part of the celebration as a viewer.
Mahi Party Plot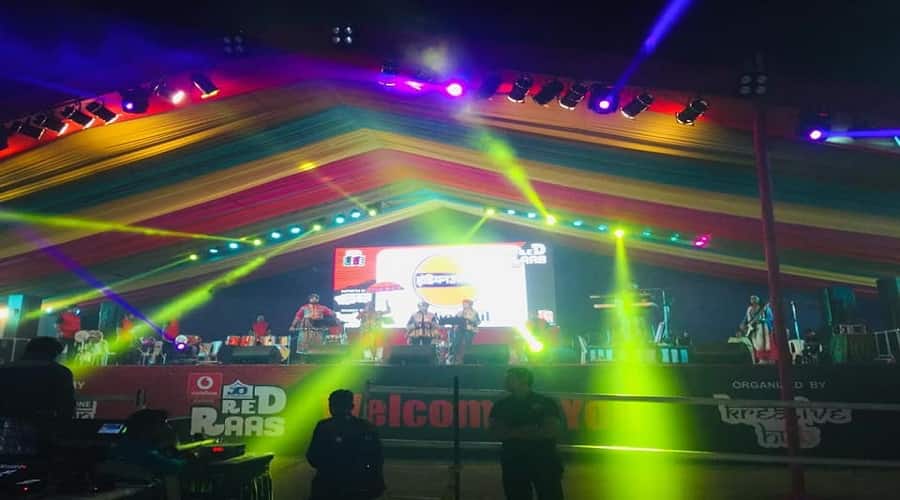 Hosted in Ahmedabad this Garba dance here is referred to as the red Raas and one of the most attractive features here is the performances by various new artists. For each day of the Navratri 9 new artists perform folk and traditional music. The entry fees are nominal so anyone can go there and have a memorable time.
Gujarati Dance